News > Crime/Public Safety
Remembering the 29 people killed in Spokane in 2022
Sun., Feb. 26, 2023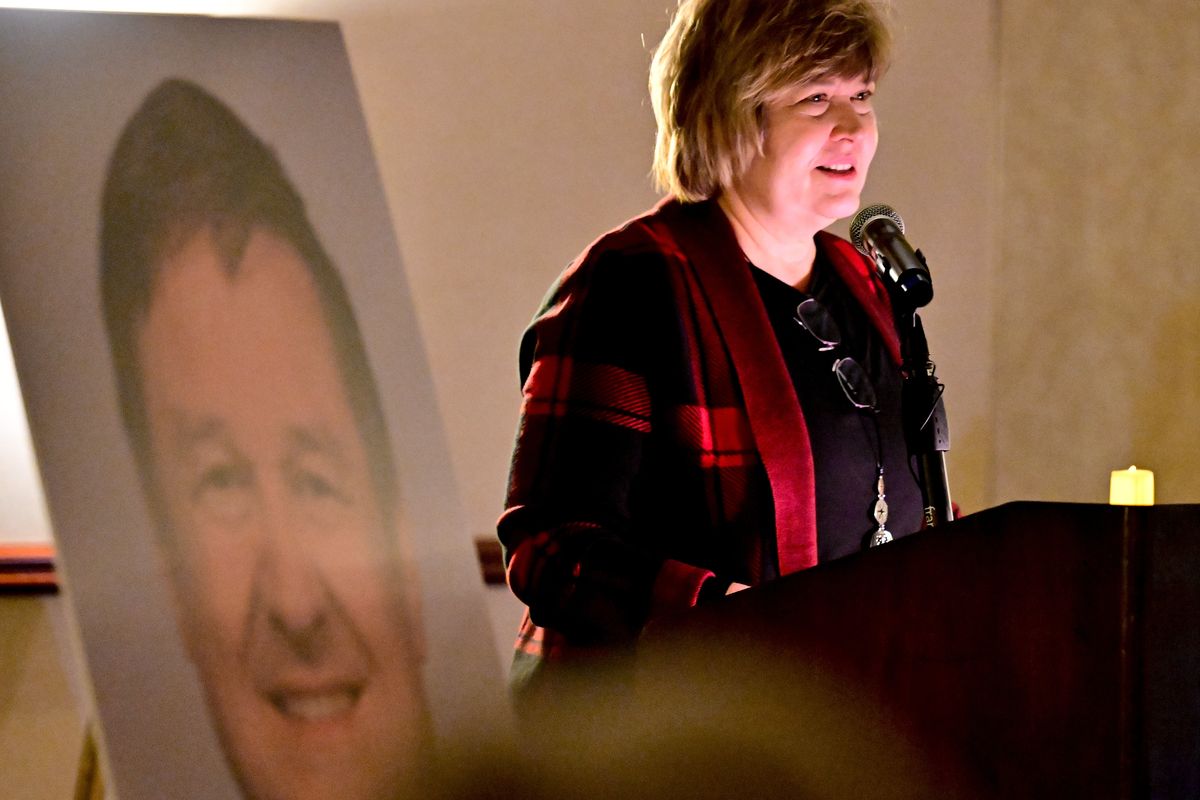 Douglas Brant's sister, Trudy Dant, smiles as she speaks Dec. 21 at the Double Tree by Hilton Hotel in Spokane of her brother's love for music and helping others during a vigil for Brant, the home nurse who was shot and killed while helping a patient on Dec. 1. (Tyler Tjomsland/The Spokesman-Review)Buy a print of this photo
January
Tony Loehding, 53, was working to repair his relationship with his son and dealing with a breakup when he got into an argument with his ex-girlfriend and her son on Jan. 8. The argument turned violent as the woman was moving out of the apartment they shared. According to court documents, Loehding pulled a knife during a verbal argument, and the woman's son, Albert Christie, drew his firearm and told Loehding to stop. When he didn't, Christie shot and killed him. After months of investigation, prosecutors declined to press charges against Christie, calling the shooting self-defense.
Shannon Ayers, 58, was shot in the head by her husband at their Deer Park home, according to court documents. Dean Ayers, 56, claimed his wife of eight years shot herself Jan. 18, but investigators say Dean Ayers provided inconsistent statements, and evidence gathered at the scene showed the gunshot wound was not self-inflicted. Dean Ayers, who called 911 that night, was the only other person at the scene. Family, friends and coworkers of Shannon Ayers told authorities the couple had a "toxic" relationship, often argued and that Shannon Ayers was not suicidal. Dean Ayers is scheduled for trial March 27 for second-degree murder.
Rana Lalita-Lopez, 74, died after her grandson assaulted her, including pulling her out of her wheelchair and punching her Jan. 9 at their apartment in the Chief Garry Park neighborhood, according to court documents. Lalita-Lopez died three weeks later from complications of a blunt-force head injury, the Spokane County Medical Examiner's Office ruled. Officers found 36-year-old Kevin Wilson in the apartment after the beating lying naked on a bed. "When I'm done with you, you'll know that I'm God," Wilson said during the attack, Lalita-Lopez told police. Wilson, who was previously convicted of child sex crimes, is charged with second-degree murder, first-degree assault and indecent liberties. He is scheduled for trial in June.
February
Joseph Quinn, 34, was caring, goofy and the "life of the party," according to his sister. Shayne Galloway, 30, shot and killed Quinn during an argument Feb. 6 outside a Spokane Valley apartment complex. Galloway sent messages before the killing that he was going to do something about Quinn allegedly hurting a woman, according to court records. Galloway pleaded guilty last month to second-degree manslaughter, as well as other drug and firearm charges. A judge sentenced him to more than 11 years in prison.
Jason Hughes, 46, was shot multiple times by his son who was high on methamphetamine. Drake Hughes, 25, called 911 the night of Feb. 10 saying he shot his father at his father's North Altamont Street home just outside Spokane city limits. The younger Hughes said he thought his father was evil for being a drug dealer, according to court documents. The father had no criminal history in Spokane County, and court records did not mention evidence of drugs in the home. Drake Hughes pleaded guilty to first-degree murder one month after the shooting and was sentenced to more than 23 years in prison.
Kenneth Whitton, 77, was a fighter to the end. His last act was telling police from his hospital bed at Providence Sacred Heart Medical Center who attacked him. Whitton died Feb. 28, days after he told police his former neighbor and caretaker, George Sessions, had brutally beaten him. Investigators arrested Sessions in July, days after receiving Whitton's final autopsy report. Sessions awaits trial for second-degree murder in Spokane.
March
Ammar Johnson, 28, was shot in the head during a drive-by shooting March 2 on the South Hill, just hours after an argument with a man who called Johnson a racial slur, according to court documents. A witness told police he was unsure what Johnson and Steven Bronowski, 57, were arguing about, but he did hear Bronowski call Johnson the N-word, according to court documents. Bronowski was arrested a short time later and charged with second-degree murder, first-degree assault and drive-by shooting. He is scheduled for trial in May.
Dustin Burrows, 41, was shot multiple times and found dead inside a burned RV March 6 in north Spokane. A judge dismissed a second-degree murder charge against 61-year-old Michael Adaszewski after a motion by a Spokane County prosecutor, according to court documents. Adaszewski claimed he was robbed and shot Burrows in self-defense.
Jeremy "Dreamer" Gauthier, 33, was a beloved big brother, father, friend and artist. He loved life, dreamed big and worked hard to battle his demons, his sister Jami Buckley said. Gauthier was shot and killed on March 7 at a pedestrian bridge south of the Maple Street Bridge where he was camping. Charles E. Jackson Jr., 49, also known as "Boogie," picked a fight with Gauthier, likely over a woman who was with Jackson, witnesses told police. Buckley isn't surprised her brother died protecting someone.
"I mean, he would have protected anybody at any cost," Young said. "And eventually it cost him."
Jackson is awaiting trial in Spokane County Superior Court.
Daniel Zellmer, 69, died after being attacked by a fellow patient at Eastern State Hospital on March 17. There is little publicly available information on Zellmer. Martay Ellis, 25, was arrested for assault related to the attack. He was later charged with second-degree murder. Ellis was also accused of assaulting a woman in downtown Spokane in March . Those charges were later dropped when a judge deemed him incompetent to stand trial due to mental illness, according to court documents. Ellis is undergoing mental health treatment at Western State Hospital before his competency will be re-evaluated.
April
Jaimeson Martinson, 47, was shot and killed in April, and police have yet to arrest anyone connected to the shooting. Multiple people reported hearing gunshots in the early morning hours of April 12 near Maxwell Avenue and Lincoln Street. Shortly after, police received reports of a crash close by, near Augusta Avenue and Wall Street, according to Spokane police. Martinson was found dead in the street, and was reportedly lying in the street and not moving. Martinson, who had been shot, died at the scene.
May
Marjorie Boyd, 93, was shot and killed by her husband, Frank Boyd, 94, in their Spokane Valley home on May 4. Frank Boyd then killed himself. The couple was considering moving Marjorie into full-time hospice care, their caregiver told investigators, according to police reports.
June
Chase Catelli, 35, was a sweet and caring man who loved to drive around with his dog at his side, according to his sister. Christine Catelli, Chase Catelli's mother, confessed to killing her son, cutting off his head and dumping his body in Whitman County. She told a detective she shot her son multiple times as he sat on a couch at her boyfriend's Spangle home. Christine Catelli, 58, faces a charge of second-degree murder and is scheduled for an arraignment Tuesday.
Jimmie Bailey, 45, went out of his way to help anyone in need, according to his obituary in the Coeur d'Alene Press. He was stabbed the evening of June 11 in downtown Spokane and taken to the hospital, where he succumbed to his injuries nine days later, according to court documents. No one has been charged.
July
James Clark, 53, left his apartment with plans to move to Camp Hope the day before he died on July 1, according to court documents. Before he could make it, he was stabbed to death and left in the grass of Rochester Heights Park, where he was later discovered by a passerby. Police spotted a woman they believe was Rose Sedin, 31, on surveillance footage taking Clark to the ground in the park, getting up, then walking away from the area with blood on her right hand and arm, according to court documents. Sedin was arrested and charged with second-degree murder not long after. She is awaiting trial.
Michael Materne, 36, was "always the loudest and happiest person in the room," according to one family member. Materne was shot after an argument with his ex-girlfriend July 3 in northwest Spokane. Alesha Ford, 31, pleaded guilty to first-degree manslaughter and was sentenced to 10 years in prison. Stacy Gerber, Materne's 32-year-old ex-girlfriend, pleaded guilty to second-degree assault and was sentenced to nine months in jail.
"A part of me died that day," said Rodney Materne, Michael's brother.
David N. Knoepfle, 34, was following his girlfriend home on Interstate 90 on July 15 after the two finished dinner at a restaurant. A traffic mishap led to another driver antagonizing Knoepfle's girlfriend and pointing a handgun at her, according to witness statements. Knoepfle was shot in the back while driving between his girlfriend's vehicle and the other vehicle. He then crashed into a fence as the other vehicle sped away. Treven F. Lewis, 28, was charged with second-degree murder, among other charges, and is awaiting trial.
Terry McCullah, 62, always wore a cowboy hat and a black leather jacket with an American flag on it, and usually jammed to rock 'n' roll. McCullah was shot and killed near House of Charity on July 17. McCullah got into an argument on the street with Wesley Goings, 35, according to court documents. McCullah tried to spray Mace at Goings, who shot him, a witness told police. Goings was arrested in Missoula days later and is awaiting trial for second-degree murder and other charges in Spokane.
Stephanie Stine, 30, was found strangled in July in Spokane's West Central neighborhood, and her boyfriend was charged in her death months later, according to the Spokane County Medical Examiner's Office and Spokane police. Corbin Hood, 30, was charged with second-degree murder. Police said Hood was arrested in the fall in Florida for unrelated charges and remains incarcerated there. Officers responded the morning of July 24 to the 1400 block of West Boone Avenue after Hood, who left Washington during the investigation, reported he found his girlfriend dead, police said.
August
Joseph Cortez, 40, was shot in the head in the Emerson-Garfield neighborhood. Duarte Cordero, who was convicted of first-degree murder in 1990 in Western Washington, was charged with second-degree murder. Cortez's girlfriend told police an intoxicated Cordero, 69, showed up to her West Shannon Avenue house the afternoon of Aug. 21. She said Cordero was trying to date her but she did not want to date him, according to court documents. The girlfriend told police Cordero slapped her in the face and as he left said, "You just watch, you will see." Later that night, Cortez's girlfriend said she heard three gunshots outside, and a female who was outside with Cortez came in saying Cordero shot Cortez, court records say. Cortez died at the hospital. Cordero remains in the Spokane County Jail awaiting trial.
Ablos Kios, 22, was with three other people who were shot at Franklin Park near the NorthTown Mall after 3 a.m. on Aug. 27. Police said the shooting stemmed from a dispute. Kios was a 2019 graduate of Mt. Spokane High School, according to Spokesman-Review records. He died as a result of a gunshot wound to the head, the Spokane County Medical Examiner's Office said. Kios' body was found at the end of a blood trail from a Ford Fusion. Three 18-year-olds have been charged with second-degree murder: Landen J. Galbreath, Malachi I. Cook and Nigel I. Neal. Tayona C. Allen, also 18, has been charged with criminal assistance. A juvenile was also arrested on suspicion of unlawful possession of a firearm. All are awaiting trial.
September
Faith Cook, 23, was stabbed in September at a downtown Spokane apartment building after an argument, according to court documents. A woman who witnessed the attack told police she was in Cook's room with Cook and Ashley Garrity. She said Cook and Garrity got into an argument and Cook told Garrity to leave, documents say. Cook and Garrity then started to fight, and the witness said she heard Cook say she got stabbed. A woman in a different apartment unit at the building told police Garrity and a male came to her apartment prior to the stabbing. Garrity left the unit and then returned, saying police were coming and she was going to jail. Garrity was charged with second-degree murder and is awaiting trial next month.
October
Manuel J. Trujillo, 39, was drinking with his younger cousin Aaron M. McAteer at McAteer's residence he shares with their grandmother in Spokane Valley, 114 N. Hutchinson Rd., before he was stabbed to death on Oct. 14. In a police interview, McAteer, now 21, said the two planned to walk to 7-Eleven from the residence, but the two split off near Dorn Court and Boone Avenue. Next, McAteer said Trujillo came at him with a pocket knife. McAteer said he used his own knife to defend himself from Trujillo. Police said the younger cousin's claim that Trujillo attacked him "is not supported by evidence at the scene." Trujillo was discovered by neighbors in the bushes near 8016 Boone Ave. at about 4:15 p.m. with multiple stab wounds. McAteer has been charged with second-degree murder and is awaiting trial.
Andy Hernandez, 51, was picked up at the Nom Nom gas station at Division Street and Cataldo Avenue on Oct. 23 by a car full of people who, according to court documents, bound and gagged him. Hernandez was taken to an area near People's Park where he was beaten with a rock and strangled, according to court documents. Randy Slone, Larren Parker and John Birgen have been charged with murder. According to court documents, Slone alleged Hernandez raped Birgen's friend, which was the motive for the killing. Hernandez was discovered the day of his death near a homeless encampment and bike trail on the south side of Latah Creek by a someone walking through the area. Slone, Parker and Birgen are awaiting trial.
December
Douglas Brant, 56, was a Providence registered nurse described by those who knew him as a "once-in-a-lifetime kind of guy" with the "greatest smile" and "biggest heart." Brant, a visiting nurse, was treating Mitchell Chandler's grandmother at their Spokane home on Dec. 1 when the 33-year-old Chandler shot and killed Brant about an hour into the visit, according to court documents. The grandmother, Jean Chandler, told police her grandson has mental health issues after receiving traumatic brain injuries from bull riding. Mitchell Chandler faces a first-degree murder charge and is scheduled to appear in court next month.
Tavius J. Fry Cooley, 21, was celebrating his upcoming birthday with friends at his apartment in north Spokane when he and his fiancée, Katelynn McConnell, decided to kick out their guests because of a heated argument, according to court records. The dispute continued outdoors, and Fry Cooley came outside to break up a fight when he was shot and killed. McConnell was shot in the arm. The case remains unsolved.
Colin T. Bastow, 42, was killed following a scuffle with his girlfriend, 24-year-old Cynthia Metsker, who is charged with his murder. Bastow was described by his family as a compassionate man who loved people and animals, and an outdoorsman and Army veteran. According to court documents, he and Metsker were involved in a physical confrontation on the morning of Dec. 23 at an apartment in Medical Lake. Metsker shot Bastow twice, alleging that he was trying to rape her, documents said. A 16-year-old girl who was with Metsker during the incident told authorities the two had been arguing the night before as well. Metsker is awaiting trial in Spokane.
Richard Purdy, 83, was killed at his Deer Park home after Gary Ault broke into the residence and ransacked it the day after Christmas, according to court documents. Purdy was stabbed multiple times and sustained blunt-force trauma, documents and the Spokane County Medical Examiner's Office said. Ault, 37, faces first-degree murder and other charges, and is scheduled for an arraignment next month. Ault, a 14-time convicted felon, also faces charges stemming from alleged violent, random attacks in Spokane earlier that month.
Carlos Thomas, 42, was found dead in the early morning hours on Dec. 31 in Spokane's South Perry District. His body was discovered on the 1400 block of East Seventh Avenue. Police have not provided many details surrounding Thomas' death, but the Spokane Medical Examiner's Office said he died as a result of a gunshot wound to the chest. His identity was not revealed until about a month after his death. Police don't have a suspect in the case.
Local journalism is essential.
Give directly to The Spokesman-Review's Northwest Passages community forums series -- which helps to offset the costs of several reporter and editor positions at the newspaper -- by using the easy options below. Gifts processed in this system are not tax deductible, but are predominately used to help meet the local financial requirements needed to receive national matching-grant funds.
Subscribe now to get breaking news alerts in your email inbox
Get breaking news delivered to your inbox as it happens.
---