Eastern Washington unable to rally in loss to Montana State 79-74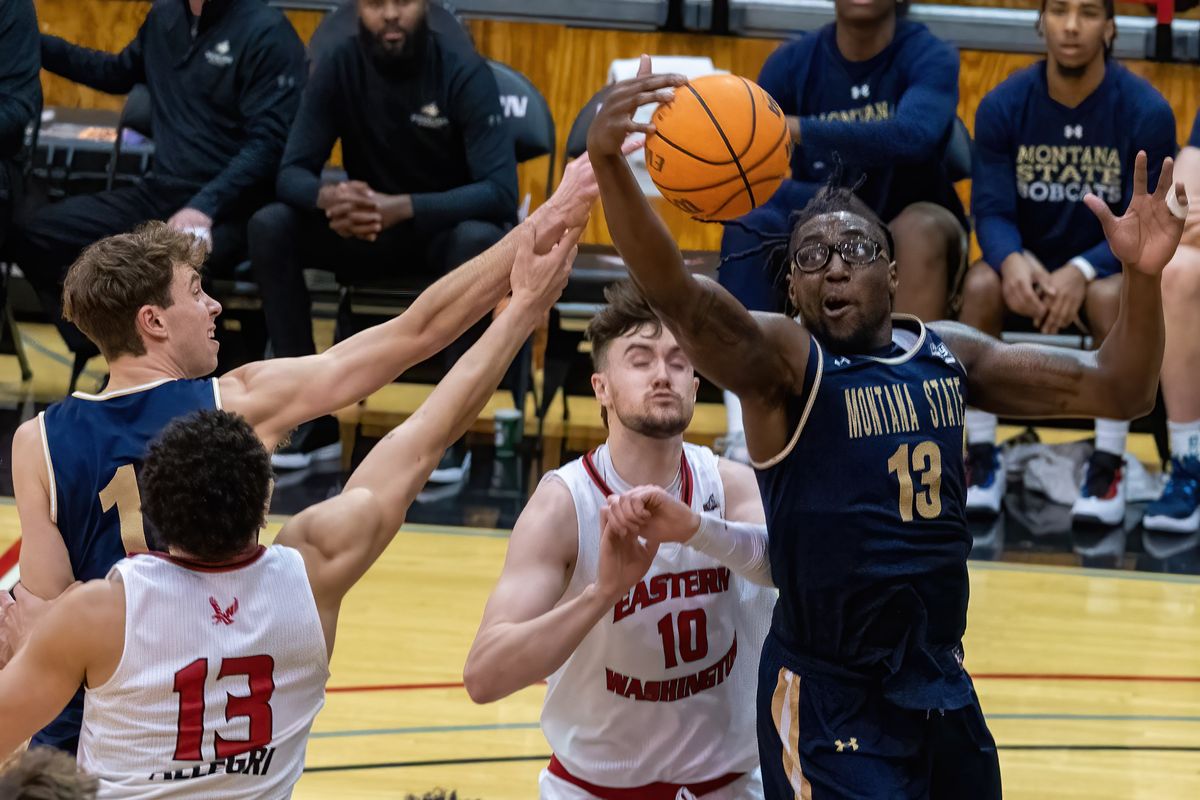 If the regular-season series between Eastern Washington and Montana State is to get a third act next week in Boise, it is going to be difficult to top the drama of the first two.
After the Eagles got what was a 17-point second-half deficit down to three points with 2 minutes to go in regulation, Montana State guard Darius Brown II hit a 3-pointer at the end of the shot clock to give the Bobcats a six-point lead.
That dagger of a shot was more than the Eagles' comeback could absorb, and the Bobcats won 79-74 to close out the Big Sky men's basketball regular season on Monday night at Reese Court in Cheney.
"We started off a little sluggish, but toward the second half I felt like it clicked," said Angelo Allegri, Eastern's lone player to be honored pregame for Senior Night. "We figured it out, and we did some really good things to make it a game.
"That's a good team, man, and they did what they could to keep the lead."
Montana State (22-9, 15-3 conference) shot 52.7% – the first Big Sky team and second team overall this season to make more than half its shots against Eastern (22-9, 16-2). And once the Bobcats got the lead early in the game, they never gave it back.
Their victory balanced out the Eagles' 70-67 victory in Bozeman on Dec. 31. That game also featured a key late 3-pointer, made by Steele Venters.
In front of a crowd of 3,353, Reese Court's largest of the season, the redshirt sophomore Venters led all scorers with 23 points and hit 2-of-3 3-pointers in the second half to key the Eagles' rally. He also made 7 of 7 free-throws and grabbed four rebounds.
"In the second half we realized that it would be better for us to switch, so we started switching ball screens and whatnot and it really messed them up and kind of threw them off," said Allegri, who finished with 19 points. "That's what gave us our punch and brought us back."
But one issue for Eastern was an absence of the offensive balance that came to characterize them during their 18-game winning streak, which ended Saturday at Idaho State.
During the first 32 minutes against the Bobcats, the only Eagles to score were Allegri, Venters, Dane Erikstrup (who finished with 13) and Cedric Coward (who had four).
"It was like we were trying to make the game plan perfect rather than doing what we do, which is play and move the ball and read each other," EWU coach David Riley said. "The ball didn't have much energy, we looked really stagnant offensively, and that's obviously on me because I had the guys in the mindset where they were thinking rather than playing."
Eventually three other cast members scored: Jones' first two points came on free throws with 7:36 remaining, cutting Montana State's lead to 13. Ethan Price hit a 3 (his only points) 30 seconds later to get the deficit back down to 12. Tyreese Davis' first basket was a layup with 4:09 that made the score 68-64.
Yet the Bobcats were balanced from the start, with eight scorers in the first half. Brown finished with a team-high 18 points on 7-of-9 shooting, including 3 of 5 from long range. They also got 12 points off the bench from Robert Ford III, who grabbed a key offensive rebound and made two free throws in the final minute.
That was in addition to the production of their top scorers, senior Jubrile Belo (16 points on 7-of-8 shooting) and junior RaeQuan Battle (16 on 6-for-15). Belo also had a block and five rebounds.
"A lot of times (Belo) got Ethan (Price) in bad positions and was able to get those (three) offensive boards," Allegri said, "but in the past Ethan has done well on him, and I believe if we do see them in the future, he will do better, and we all will and help him out in that."
The Bobcats had four more rebounds than the Eagles (29 to 25) and had eight steals in an otherwise balanced game. Eastern shot 51.9% overall and made 8 of 19 3-pointers. Both teams shot well at the free throw line, where MSU made 14 of 16 and EWU made 12 of 15.
Now both teams will turn their full focus to preparing for the Big Sky Tournament, which begins with a pair of games Saturday that will determine the second-round opponents for No. 1 seed Eastern Washington and No. 2 seed Montana State.
Eastern will play either No. 10 seed Idaho or No. 9 seed Northern Arizona, whichever wins Saturday.
---