News > Features
Book review: Brutal honesty haunts in John Roskelley's 'Fancy Dancer and the Seven Drums'
Feb. 28, 2023 Updated Tue., Feb. 28, 2023 at 9:06 p.m.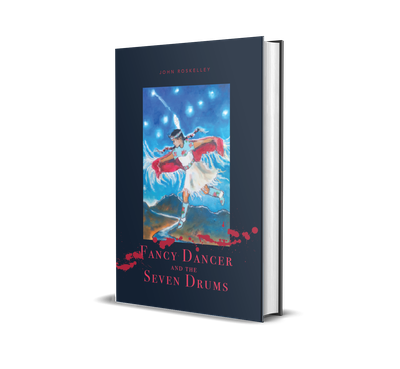 There's an image of waves crashing on the rocks often used to symbolize sex in American movies made before the 1960s.
In those days of the Hollywood censorship code, filmmakers could not show graphic sex scenes, so when the actors got hot and heavy, the shot would cut to show the ocean and waves crashing on the rocks.
Present-day directors don't need to bother. They show what they need to show, from sex to violence and beyond, and art pretty much imitates life, from "Once Upon a Time in Hollywood" to television's "Yellowstone."
Yet those techniques can still carry power in what they leave out.
Author John Roskelley writes in vivid detail of the sins against humanity in his novel "Fancy Dancer and the Seven Drums," which, if it were a movie, would get a rating for graphic sex and violence.
The question is, does this work as an effective storytelling device in this first novel?
Roskelley will point out that some of the most graphic instances of child sexual abuse and violence are true. Scenes were taken from court documents. Those came to light in a lawsuit filed by former students of the St. Mary's Residential school on the Colville Indian Reservation against the Catholic organization that ran the school, the Society of Jesus, Oregon province.
It's also not as graphic as the Paramount Network series "Yellowstone."
Taken on their own, those are fair enough assessments. But the story Roskelley tells may provide a rough ride for some readers. Anyone who has experienced domestic violence or sexual or other abuse will find plenty of triggers within these pages.
At its heart, the novel is a poignant story of the search for justice for Beth Louise, a 9-year-old Fancy Shawl Pow Wow dancer, described as having wings on her feet, killed walking with her brother home from the school bus stop one fall night on the Colville Reservation. Right before she's struck by a cattle truck, she pushes her brother out of the way and saves his life.
The drunken driver leaves the scene. We know the culprit is a prominent white cattle rancher. The real mystery is whether the white people who run the law enforcement, courts and who serve on juries in the 1950s will serve justice.
The story recalls novels such as "To Kill A Mockingbird" and movies such as the recent "Till" in weighing racism and justice at a time when both were so far out of balance in American life. It's a topic worthy of discussion, and Roskelley's approach is both thought-provoking and sincere.
In the book's preface, Roskelley writes about his own discovery of Native American culture in visits to pow wows and camps growing up.
"I realized as I watched and listened to those in the camp that my knowledge of the local tribes could be put in a sentence, but my misconceptions could fill a book," he writes.
But it's as if he wanted to right every misconception in one book.
The author proves adept at character study, going deep into detailed backgrounds of many of the characters and using historical flashbacks to tell the story. Perhaps he goes a bit too deep and is too adept. It's easy to lose track of the characters, and the reader almost needs a graphic timeline and spreadsheet.
Some of the historical anecdotes are vital to telling a story of generations of wrongs against the Nez Perce and the other Confederated Tribes of the Colville Reservation. But the fictional story of the search for justice in a highly racially charged environment and the true story of abuse at the hands of Catholic clergy at the boarding school seem like two separate books vying for the reader's attention. Both are intriguing stories. Both need to be told. I'm not certain they need to be told at once.
Where the book succeeds, however, is chronicling the generational trauma that has been explored so well the past year in the books presented in Northwest Passages, works such as "Red Paint" and "The Many Daughters of Afong Moy."
There are references to the past that elicit the present, such as when a young nun in the boarding school is banished for teaching of a true uprising from the native nations, like with controversies centering on critical race theory today. "Treachery was written between every line of official dogma, and history had been rewritten."
Roskelley appears to want to set every treachery in history right in this one book, and sometimes it's a little overwhelming.
While some of the graphic violence and abuse is needed to tell the story, some scenes might have carried more power had there been a few more cuts to waves crashing on the rocks.
Local journalism is essential.
Give directly to The Spokesman-Review's Northwest Passages community forums series -- which helps to offset the costs of several reporter and editor positions at the newspaper -- by using the easy options below. Gifts processed in this system are not tax deductible, but are predominately used to help meet the local financial requirements needed to receive national matching-grant funds.
Subscribe now to get breaking news alerts in your email inbox
Get breaking news delivered to your inbox as it happens.
---