'I couldn't wait to get in that wrestling room': Ken Pelo inducted into Rogers High School 'Walk of Fame'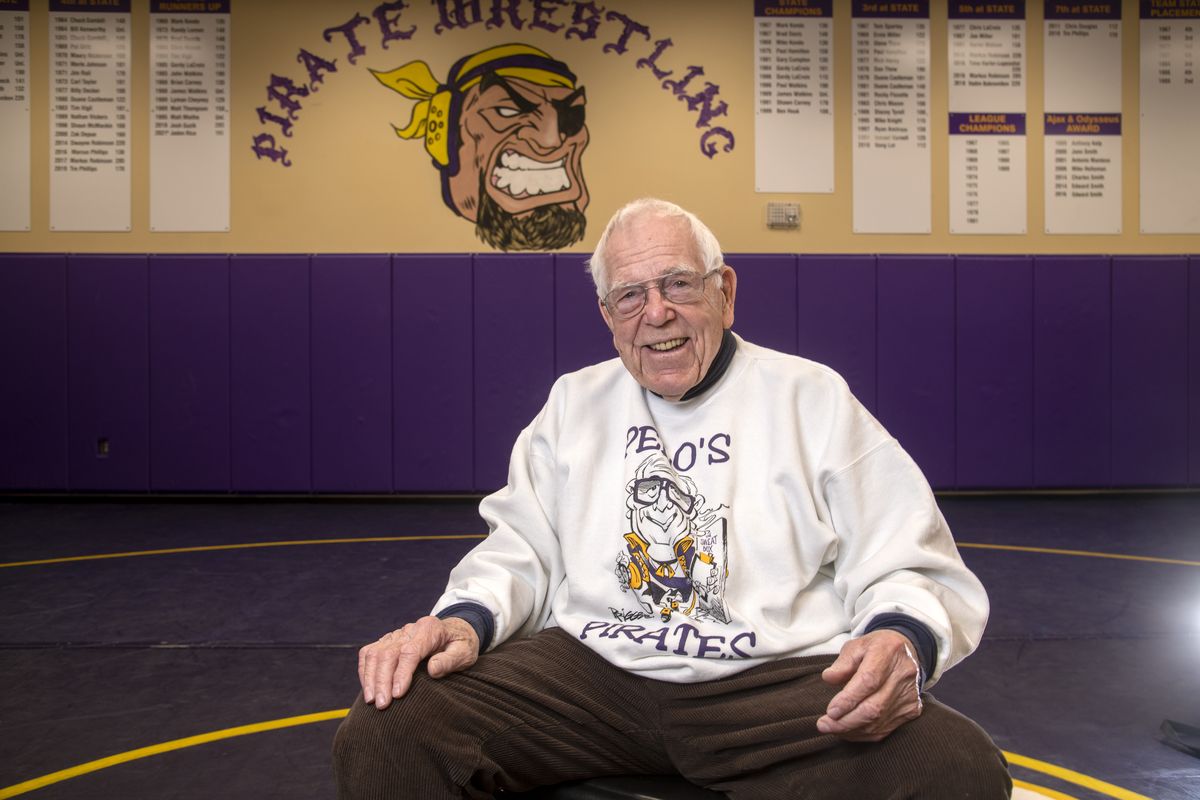 When you enter Rogers High School, you can't help but notice the photos. Nearly 200 at this point, adorning the tops of the walls.
The photos are part of the school's "Walk of Fame," started in 1993, to provide examples for the current students of what a person can do with their lives with instruction, motivation and dedication.
It's an honor bestowed almost exclusively to Rogers graduates "whose personal and professional activities and achievements serve to inspire today's students," according to the school's website.
On Wednesday, Rogers' Walk of Fame bestowed the honor to a legendary figure at the school who provided the instruction and motivation to so many previously inducted members.
Ken Pelo, Rogers' hall of fame wrestling coach, was inducted by the school he called home for 37 years just before the Pirates' match against Pullman – and in front of dozens of his former wrestlers who came from across the state to celebrate all that Pelo gave to the school.
"Anytime we have an opportuny to honor old Rogers Pirates, people that have impacted so many people here in Hillyard, it's always a good opportunity," Rogers athletic director Aaron Brecek said. "It's awesome to see all these old Rogers wrestlers here honoring him as well."
Pelo, who taught history at the school, is just the second person who did not graduate from Rogers to be so honored, joining Sharon Travis, who established the tradition and managed it for 20 years.
"I don't know that I was deserving of anything like that," he said of the exception to include him.
"From that standpoint, I don't know that I should be inducted into something as important as this. But it's nice of them to think of me and to honor me like that. Yeah, it means a lot to me."
"The tradition you see here, the generations of people that have been impacted by Coach Pelo, and continue to be impacted, is something that really speaks to the family of Rogers," principal John Hamill said. " 'Familia Sumus' is our motto. And that's what we live by. Because you see people from all different generations that are here and taking the time to come and honor him."
Familia Sumus is Latin for "we are family."
Rogers' current wrestling coach, Rod Tamura, was one of Pelo's athletes, and he was proud to be part of the evening's festivities.
"It means everything," he said. "There's nobody more deserving of it than him.
"He made men out of boys, basically, and I was one of them. I thought I was tough, but I didn't realize what tough was until I got into his program."
Pelo was taken aback by how many former wrestlers and others came for what many called his overdue induction – including former professional boxer turned gym owner and trainer Rick Welliver.
"How do you have a Walk of Fame, Hall of Fame without him being the first guy in it? There was no way I was gonna miss this.
"I'm a coach now and a lot of the things that come out of my mouth are things I heard from him."
Pelo expressed his pride at the many former athletes of the school who have returned over the years to coach, mentor or just provide another example of "if they can do it, so can I."
"It's very important to me to walk in here and see that," Pelo said. "Very moving for me, to say the least."
Pelo, 91 in February, still lives in Hillyard and is still part of the community which he served for so long. He started a need-based scholarship just last year, the "Ken Pelo Family Foundation" to help kids with whatever they might need to be able to stay in school.
"They don't have to be involved in sports," he said. "It's to give them something to sustain them. They have to continue to be good students, go to school, go to class, work hard and then we can help them keep going. That's the important thing.
"I want to get them from sleeping in their cars and sofa surfing, wherever they can find a place. That's what we're faced with today."
There aren't many hall of fame wrestling coaches with their own IMDB page. But it's a testament to Pelo that when they were casting a high school wrestling coach for the movie Vision Quest in 1984, filmed partly at Rogers and across Spokane, he was hired without any acting experience.
Not that he would have needed instruction on how to act like a wrestling coach.
National Wrestling Hall of Fame member, Mead's Cash Stone, had been hired as the technical adviser, and he suggested Pelo for the role.
"I think it worked something like that," Pelo said. "Because the next thing I knew, they had a regular actor from Hollywood that was the coach of the big team with (Matthew) Modine, and then I was the other coach."
Pelo was the first and only head wrestling coach at Rogers until his retirement at 64 in 1996. He was helping with the football team at the start and he was "looking forward to the 3:30 express going home," once the season was over.
One day after practice late in the season, Carl "Tuffy" Ellingsen – the Washington State legend who was a coach and athletic director at Rogers for 33 years – pulled Pelo aside and told him he would be the wrestling coach despite Pelo's complete lack of experience or knowledge of the sport.
"Tuffy came up and said 'Oh, Ken, by the way, I forgot to tell you. You're going to be the wrestling coach.' I said 'No, I'm not.' And he said, 'Oh, yeah, you are.' "
It was the beginning of a career that saw Pelo win 13 Greater Spokane League championships with five second-place finishes and one regional title with three second-place finishes. He coached 10 individual state champions with 58 state placers and 125 state participants.
Pelo received the Washington State coach of the year award in 1991 and was inducted into the Washington State Wrestling Coaches Hall of Fame in 1998.
In 2002, Pelo received a "Lifetime Service to Wrestling" award from the National Wrestling Hall of Fame.
The only thing that eluded Pelo over 37 years was a state team title.
"Those are things I wrestle with over and over, because we lost a couple really close ones," he said. "I think that happens to every coach. 'Well, that's the way things go.' Well, I always thought that there sure as hell was something I could have done about it."
Along with Stone, Pelo helped put Spokane wrestling on the map. Pelo remembers folks "literally hanging from the rafters" to pack the gym for wrestling matches between Rogers and Mead at the school.
"We loaded the parking lot. You couldn't – people complained about it," he said. "If somebody got hurt, there was no way they could get an ambulance in or a fire truck.
"You couldn't get another person in the stands."
Asked about his biggest accomplishment in life, Pelo said it was all about the students and athletes he was surrounded by when he was at Rogers.
"We just had so many great, outstanding kids," he said. "It was just an honor for me to walk these halls. I looked forward to coming to school here to work, to teach every day because they were great, great, great kids.
"And at 3 o'clock, I got to walk into the wrestling room. And I looked forward to that – once I started to learn something about the sport, and about the kids. I couldn't wait to get in that wrestling room."
---