A&E > Entertainment
It's better late than never for comic Leanne Morgan
Thu., Jan. 5, 2023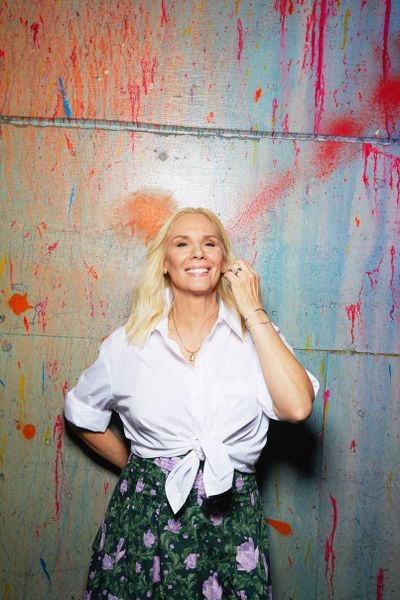 Timing is essential in the world of comedy. The time, however, might not be right for some stand-ups until midlife or later. Rodney Dangerfield didn't become a star until he was 59 when the film "Caddyshack" gained a cult following after its release in 1980.
Leanne Morgan is emerging as a comic a few years after qualifying for AARP status.
The folksy humorist focused on family first after graduating from the University of Tennessee a generation ago.
Morgan, 56, is a married mother of three , who sold jewelry at regional events in Texas.
"I would go on about all the things that happen with mothers," Morgan said while calling from her Knoxville, Tennessee, home. "It was all the things mothers can relate to. People would laugh. It was only a matter of time until I started performing."
Her clean and clever material has catapulted Morgan from clubs to theaters.
"It's been exciting, Morgan said. "It just keeps building for me. The great thing is that it's on my terms and I'm connecting with an audience that is often underserved."
Unlike some comics who like to make vulgar jokes, Morgan avoids the gutter.
"I don't have to go there," Morgan said. "I don't need to shock people. Other comics can go that route. I won't go there, but I have so much to draw from that is right in front of me."
Morgan, who will perform Wednesday at Northern Quest Resort & Casino, is a wise-cracking grandmother.
"I just sit and stare at my grandbaby," Morgan said. "He's just the most wonderful human being. I just play with him like he's a little toy."
While coming of age in the Nashville area during the '70s, Morgan had constant brushes with country stars.
"I remember going to the mall and shopping for panties and bras and who was next to me but the Mandrell sisters, who were huge country stars then," Morgan said "I remember seeing Porter Wagoner eating a chocolate-covered banana when I was 15. He saw me looking at him and he asked if I wanted a bite. I wanted to be in their world and in the back of my mind, that dream was always there."
Morgan believed she was well on her way 20 years ago when she received her first development deal.
"I was going to do a sitcom with Paula Deen as my mother," Morgan said. "But that didn't happen. I've had four TV deals."
That's quite an accomplishment since the folksy Morgan, who is an inveterate storyteller, is different from many of her younger peers, who deliver terse jokes.
"I never felt like the cool kid at school in this business," Morgan said. "I'm not like Sarah Silverman or Chelsea Handler. I've always felt like the outsider looking in."
But there's room for the quirky and funny.
"No one has lived my life," Morgan said. "My stories are personal but again, they're what so many can connect with."
Morgan is a long way from her days changing diapers and making folks laugh while selling jewelry. Morgan is cracking up audiences in theaters throughout the country.
"This is a dream come true," Morgan said. "I get to perform in beautiful theaters. Women are throwing their panties at me like I'm Tom Jones. … I've proven that it's better late than never."
Local journalism is essential.
Give directly to The Spokesman-Review's Northwest Passages community forums series -- which helps to offset the costs of several reporter and editor positions at the newspaper -- by using the easy options below. Gifts processed in this system are not tax deductible, but are predominately used to help meet the local financial requirements needed to receive national matching-grant funds.
Subscribe to the Spokane7 email newsletter
Get the day's top entertainment headlines delivered to your inbox every morning.
---