Sports > Gonzaga basketball
Gonzaga rewind: Bulldogs grind out win at San Francisco on rare off-night for Drew Timme
Jan. 6, 2023 Updated Fri., Jan. 6, 2023 at 7:10 p.m.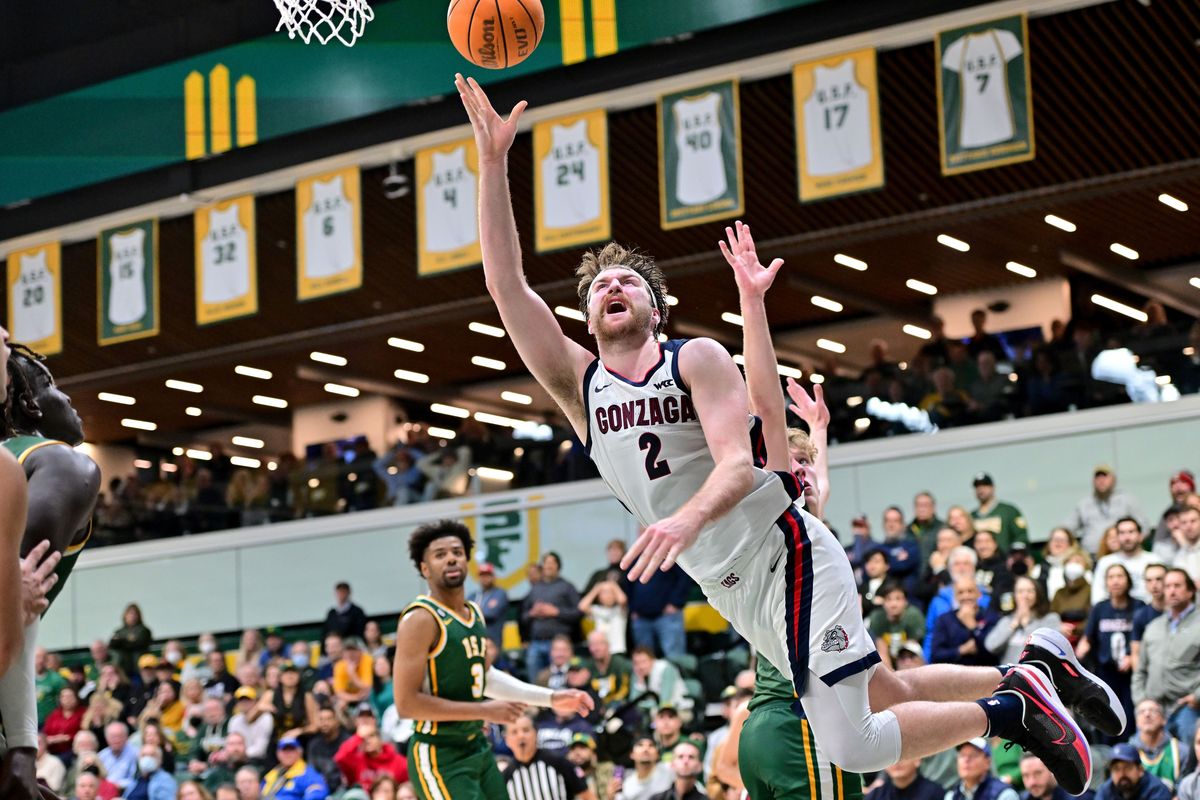 Gonzaga Bulldogs forward Drew Timme (2) flies into the paint against the San Francisco Dons during the second half of a college basketball game on Thursday, Jan. 5, 2023, at War Memorial Gym in San Francisco, Calif. Gonzaga won the game 77-75. (Tyler Tjomsland / The Spokesman-Review)
SAN FRANCISCO – Moments after rebounding Drew Timme's miss and guiding a follow shot into the hoop to give Gonzaga the go-ahead basket at War Memorial Gym, Rasir Bolton was greeted by an enraged San Francisco fan.
The fan, wearing a plain green T-shirt, came out of his courtside seat and approached Bolton on the baseline before shouting into the GU guard's face at point-blank range.
Bolton, demonstrating the same composure that allowed him to sink three late 3-pointers and rescue the ninth-ranked Bulldogs down the stretch of a West Coast Conference road opener, turned the other way and grinned as he walked to the free-throw line.
Not too long after the Zags pulled out a 77-75 win at San Francisco, a clip of Bolton's winning sequence – and the reaction that followed – went viral on social media.
Gonzaga's SB Nation blog site Slipper Still Fits published a frame-by-frame analysis piece on "the man in the green shirt" and CBS Sports college hoops writer Seth Davis reacted to the scene on Twitter.
"By the way I would love to know who that San Fran fan was who screamed a profanity in Bolton's face on that offensive putback," Davis tweeted. "Pretty low class."
The Zags, and Bolton particularly, got the last laugh with the victory , moving them to 13-3 on the season and 2-0 in conference play.
"It's fun, it's always fun to be in a zone," Bolton said. "I just go out there and try to win. I had to go out there and do my part tonight. Step up big for us, and I did that and we got the win."
In our first road WCC rewind, we dig into a rare off night for Gonzaga scoring machine Timme, how the Bulldogs overcame a sluggish performance on the glass and GU's improved defense in the second half.
Defending Drew
Timme made more Gonzaga history, taking Adam Morrison's spot as the program's third all-time leading scorer, but by the time the game ended – just after 10 p.m. – the forward's latest career achievement almost felt like an afterthought.
Bolton's late scoring flurry was one reason why, but Timme wasn't a high-impact player for the Zags for the first time in almost a month, scoring just 11 points on far and away his lowest shooting percentage of the season.
The senior made just 3 of 16 shots from the field, missed his only 3-point attempt and went 5 of 6 from the free-throw line. At 18%, Timme's field-goal percentage was his lowest since becoming a starter for Mark Few's team in 2020-21.
"A lot of nights Drew's not off. He's going to make 11 out of 14 shots, 14 out of 17 shots, but tonight was one of those nights where his shot wasn't falling, and they made it really difficult for him, so kudos to them for playing great defense," Gonzaga junior Julian Strawther said. "But we're all confident in our abilities and we work every day. We're all super confident."
Timme hadn't shot lower than 46% from the field in a game this season.
The only other time the Texas native made fewer than 35% of his shots came in Gonzaga's last WCC game in the Bay Area: a 67-57 loss to Saint Mary's on Feb. 26.
Timme opened 1 of 6 from the field, but he was able to recover late in the half by scoring eight points in the final 6:47. The All-American was bottled up in the second half, missing all seven shot attempts and scoring just one point from the free-throw line.
USF had success with 7-foot-2, 270-pound Volodymyr Markovetskyy, a former Washington State center, guarding Timme for stretches in the first half and most of the second.
"I think that kid was so big and so physical," Few said. "I think his size was probably the biggest thing. He played him physical and some of them rolled out, but it took awhile for (Timme) to get going. He wasn't quite himself at the start of the game. Then when he tried to get going, he ran into the big fella and things were hard, so he had to dig really deep. His ball screen coverage in the second half, he was showing and that's what we changed."
Gonzaga still had three other double-digit scorers and it may have been a refreshing revelation that the Bulldogs beat a quality opponent with Timme nowhere near his best.
Timme had averaged 27.7 points in GU's previous seven games. The Bulldogs especially needed the best version of the high-scoring senior to pull out wins against Montana, Alabama and Kent State.
"I think it was good," Bolton said. "(Timme's) going to have rough nights. He's human and sometimes the ball is not going to bounce his way. We are a team and we all work hard, and we're there whenever he needs us to pick him up, so tonight we came through."
Buried on boards
Two opponents have collected 13 offensive rebounds against the Bulldogs this season.
One of those teams (Purdue) is ranked No. 1 in the country, boasting a 7-4 center who may be the front-runner to win national player of the year honors.
The other is San Francisco.
The Dons don't have a behemoth under the hoop with the rebounding chops of Purdue's Zach Edey. The biggest players on their roster – Markovetskyy (7-4) and Saba Gigiberia (7-1) – only combined for one offensive board in Thursday's game.
Instead, USF's guards and smaller frontcourt players were the ones tracking down offensive boards and creating the second-chance opportunities that allowed the Dons to compile a 12-point lead in the first half.
Khalil Shabazz (6-0) and Tyrell Roberts (5-11) each had two offensive rebounds while Zane Meeks, Isaiah Hawthorne and Josh Kunen accounted for six more.
"I think we kind of came out sluggish and we looked like a team that was sitting in a hotel all day. That's really what it was," Strawther said.
"Long rebounds, loose balls just not ending up in our hands, and we can't have that. … So that's just something we've got to correct."
USF had nine offensive rebounds in the first half and had a 16-0 advantage in second-chance points entering halftime. The Zags were more diligent when it came to limiting those opportunities in the second half. The Dons were held to four offensive boards and six second-chance points through the final 20 minutes.
Shabazz chalked up USF's rebounding advantage to effort and energy.
"I would just say will and just wanting to really win that game," the guard said.
The Zags flipped the script on the Dons when it mattered most, though. With 8 seconds remaining, Bolton slipped into the paint to follow Timme's miss, converting GU's sixth offensive rebounding into the winning shot.
"I thought we did a really good job on the glass for the majority of the game. They get one just key offensive rebound at crunch time," USF coach Chris Gerlufsen. "Again, those are separating plays when you're trying to win a game."
3 or bust
Few called the Dons "3-dependent" while previewing GU's matchup with USF. The Bulldogs coach wasn't too far off.
USF's offensive rebounding created many of the Dons' early looks from the perimeter. The Dons took a double-digit lead into halftime after hitting 8 of 14 attempts.
Shabazz connected on 4 of 6 from 3-point range in the first half to enter halftime with a game-high 15 points.
USF's 3-point efficiency wasn't sustainable, though, and the Bulldogs tightened up their perimeter defense to hold the Dons to 10-of-25 shooting from the field and 2 of 9 from long range.
"Just choking off their 3s," Strawther said. "I think they hit eight in the first half on a crazy percentage, so just make sure we choke off their 3s, make every shot tough.
"I think that really dropped our DER (defensive rating) down a lot."
Shabazz missed both of his 3-point looks in the second half, including a long attempt from the elbow with 42 seconds left that would've put the Dons in front 78-75.
"If you play great defense and they make it, you've got to live with it, but we have to make sure every shot is difficult," Strawther said.
Local journalism is essential.
Give directly to The Spokesman-Review's Northwest Passages community forums series -- which helps to offset the costs of several reporter and editor positions at the newspaper -- by using the easy options below. Gifts processed in this system are not tax deductible, but are predominately used to help meet the local financial requirements needed to receive national matching-grant funds.
Follow along with the Zags
Subscribe to our Gonzaga Basketball newsletter to stay up with the latest news.
---