News > Crime/Public Safety
Next court appearance of grad student accused of Idaho killings set for June, more details unlikely to be released in coming months
Jan. 11, 2023 Updated Thu., Jan. 12, 2023 at 9:36 p.m.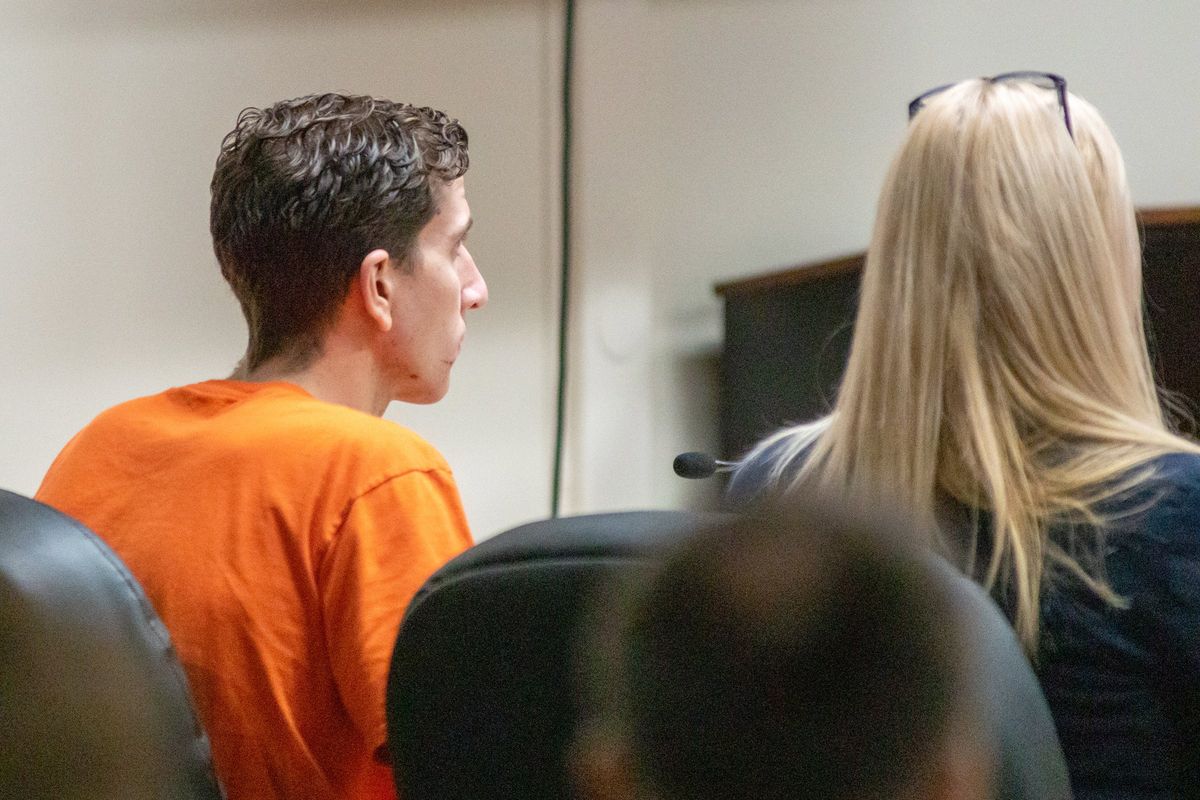 Bryan Kohberger listens Thursday during a status hearing in Moscow, Idaho. The accused murderer waived his right to a quick preliminary hearing and will appear in court again in late June. (Kai Eiselein/New York Post/Pool)
It could be more than five months before the public learns any new details surrounding the stabbing deaths of four University of Idaho students.
Bryan Kohberger, the 28-year-old accused of murdering the students, sat stoically next to his attorney Thursday as Magistrate Megan Marshall set his next court appearance for late June.
Information has trickled out about the Nov. 13 killings of UI students Maddie Mogen, Kaylee Goncalves, Xana Kernodle and Ethan Chapin. The ensuing investigation captured the attention of the nation. Shortly after Kohberger's arrest, Marshall issued a gag order barring anyone involved in the case – from attorneys to investigators – from speaking about it.
A probable cause affidavit was released the next day with a slew of new details, including the fact that investigators found DNA on a knife sheath left at the crime scene and that a surviving roommate saw a masked man exit the house after the attack. However, the court document left out information typically found in such affidavits, including motive and autopsy results.
On Thursday, Kohberger was brought into a courtroom just after 8 a.m., wearing an orange pant and shirt set, for his preliminary hearing status conference in Latah County Magistrate Court.
His public defender, Anne Taylor, asked that the preliminary hearing, where prosecutors present their probable cause to move Kohberger's case to district court where felonies are typically handled, be moved to June 26-30. In that hearing, prosecutors must prove that it's more likely than not that Kohberger killed the students.
Latah County Prosecutor Bill Thompson did not object.
A preliminary hearing is required to occur within 14 days of jail booking, but Kohberger waived his right to a speedy hearing Thursday, allowing it to be set later.
Kohberger spoke in court only to answer questions Marshall posed.
His answers were a staccato series of yeses and noes.
The hearing concluded in less than 10 minutes with both parties saying they had nothing further to address.
Victims' families were not in the courtroom Thursday, but the Goncalves family attorney was seated in the front row.
Earlier this week, Taylor filed a request for discovery, asking for a slew of information, including results of forensic tests, cell phone tracking and video surveillance, and physical evidence. After reviewing what is likely a large amount of discovery, it's possible the preliminary hearing could be waived or rescheduled.
It's unlikely the public will learn any new details about the case until then. In addition to the gag order, the judge has ordered all search warrants and other filing sealed from public view. Motive, or details such as whether the victims knew Kohberger, may not be disclosed until all the evidence becomes public at trial.
Investigators provided few details surrounding the stabbings in the weeks following the killings until they arrested Kohberger at his parents' Pennsylvania home on Dec. 30.
Kohberger faces four counts of first-degree murder and one count of felony burglary.
The probable cause affidavit filed in the case revealed that investigators believe Kohberger's DNA was found on a Ka-Bar knife sheath left at the house.
Investigators allege that following the attack, Kohberger maintained his routine as a Washington State University doctoral student studying criminal justice.
Kohberger will be held in Latah County Jail with no bond until the preliminary hearing, at which point his case likely will move to Latah County District Court.
The court proceedings in Kohberger's case could take years.
Local journalism is essential.
Give directly to The Spokesman-Review's Northwest Passages community forums series -- which helps to offset the costs of several reporter and editor positions at the newspaper -- by using the easy options below. Gifts processed in this system are not tax deductible, but are predominately used to help meet the local financial requirements needed to receive national matching-grant funds.
Subscribe now to get breaking news alerts in your email inbox
Get breaking news delivered to your inbox as it happens.
---