A&E > Entertainment
The 9 biggest superhero movies for 2023, from Ant-Man to Aquaman
Jan. 11, 2023 Updated Thu., Jan. 12, 2023 at 2:38 p.m.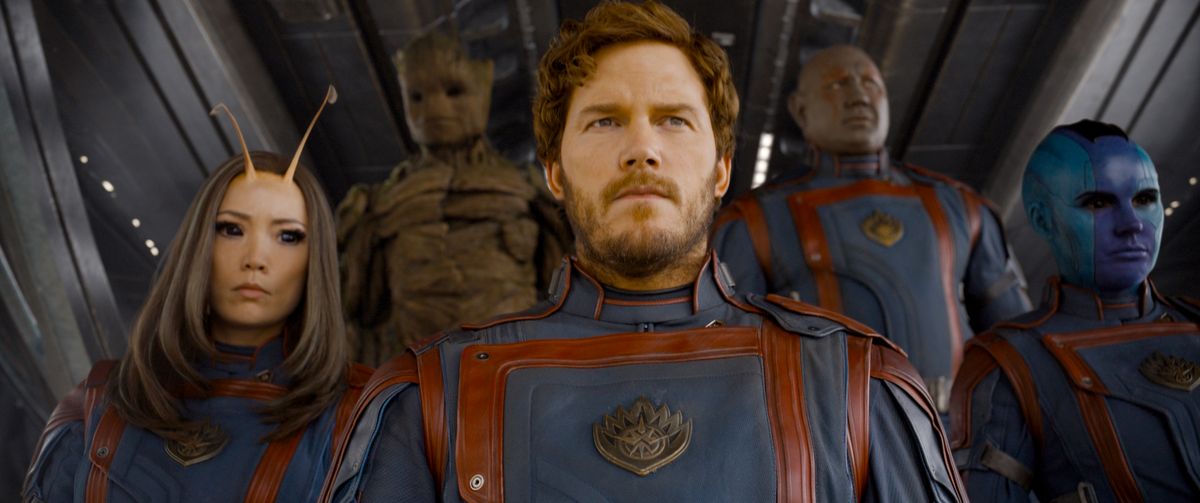 From left, Pom Klementieff as Mantis, Vin Diesel (voicing Groot), Chris Pratt as Star-Lord, Dave Bautista as Drax and Karen Gillan as Nebula star in "Guardians of the Galaxy Vol. 3." (Marvel Studios)
New year. New superhero movies. And the newly relevant question of who will be the champion of comic-book cinema in the near future.
As Marvel Studios enters its fifth phase of connected-universe dominance, the renamed DC Studios and its new co-head James Gunn will be trying to get back in the game. And then there's Sony, which continues to make Spider-Man villain movies that don't feature Spider-Man in hopes of creating its own winning franchise.
Will 2023 mark the last year of Marvel Studios not having a worthy challenger? Will any of the DC heroes on the big screen matter enough this year to survive the red pen of Gunn as he plans his future slate? Is a Kraven the Hunter movie really happening?
We'll be here covering it all for you. In the meantime, here's a look at the 2023 superhero movie slate.
1. "Ant-Man and the Wasp: Quantumania" (Feb. 17). Ant-Man is Marvel's funniest franchise (although the Thors seem to be taking aim at that title of late). That's saying something in a Marvel Cinematic Universe where humor is a key ingredient in every offering. Ant-Man making it to trilogy status off the comedic chops of lead actor Paul Rudd would be a big deal itself but that takes a back seat to the movie debut of the MCU's next Thanos: the time-traveling Kang the Conqueror, played by Jonathan Majors. He first appeared as a variant of the supervillain in an episode of "Loki" on Disney Plus but is now the big bad guy that all MCU offerings are marching toward from here on out, as we're now at the beginning of the studio's Phase 5. He's the central cause of a new team of Avengers assembling in two future films, "Kang Dynasty" and "Secret Wars," in 2025 and 2026, respectively.
2. "Shazam: Fury of the Gods" (March 17). Asher Angel returns as Billy Batson, who when he says the word "shazam" is struck by lightning and transforms from a kid to an adult superhero (played by Zachary Levi). Helen Mirren and Lucy Liu star as furious goddesses Hespera and Kalypso, who are none too pleased that Billy and his sibling superheroes have access to the power of the gods.
3. "Guardians of the Galaxy Vol. 3" (May 5). Gunn may be the Kevin Feige of DC Studios now but there's still the matter of finishing up his pop music-infused "Guardians of the Galaxy" trilogy, which is likely the job that got him the big chair at DC in the first place (that and his mini Suicide Squad/Peacemaker universe). Future event-level Avengers movies aside, this could be the last we see of characters such as Peter Quill (Chris Pratt), Rocket Raccoon (Bradley Cooper) and Groot (Vin Diesel) in the MCU. No director DNA flows through the blood of an MCU franchise quite like Gunn's in the Guardians movies, making it unlikely Marvel Studios would ask another filmmaker to make more. And given that Gunn has hinted that a major character will die in "Vol. 3," this is shaping up to be the movie where the music stops.
4. "Spider-Man: Across the Spider-Verse" (June 2). This is the highly anticipated sequel to 2018's Academy Award winning "Spider-Man: Into the Spider-Verse" with the African American/Puerto Rican Miles Morales (Shameik Moore) as the lead arachnid kid. Spider-Gwen (Hailee Steinfeld) is also back and helping Miles face off against the wall-crawler of the far future, Spider-Man 2099 (Oscar Isaac). The Spider-Verse is undeniably Sony's No. 1 solo spider franchise.
5. "The Flash" (June 16). "The Flash" was supposed to be a big deal, rumored to be a time-travel story that would serve as a reset for future DC movies. But it now just may be a goodbye flick, as Gunn has made clear most if not all of the Zack Synder Justice League era will not be a part of his new vision at DC Studios. That doesn't mean "The Flash" won't have its moment. It's (so far) outrun the many recent controversies of lead actor Ezra Miller and is still set to mark the return of Michael Keaton as Batman, which could go down as the geek culture moment of 2023.
6. "The Marvels" (July 28). This "Captain Marvel" sequel – in Marvel Studios' first franchise to feature a superheroine in the lead role – is also a mini-Avengers movie of sorts, connecting to two other MCU Disney Plus series. Monica Rambeau (Teyonah Parris) of "WandaVision" and Kamala Kahn (Iman Vellani) of "Ms. Marvel" also star alongside Brie Larson's Captain Marvel.
7. "Blue Beetle" (Aug. 18). DC's first Latino superhero movie stars "Cobra Kai's" Xolo Maridueña as Jamie Reyes, who discovers a blue scarab that turns him into an alien-like bug being. Any franchise potential depends on the box office response. If "Blue Beetle" has a strong cultural moment, Gunn might have to add it to his big board. Otherwise, this film could be a sequel-less solo outing.
8. "Kraven the Hunter" (Oct. 6). Sony continues to try to turn Spider-Man villains into viable movie franchises. The Venom franchise has been hit or miss. Vampire flick "Morbius" didn't have the bite the studio was hoping for. "Kraven the Hunter," starring Aaron Taylor-Johnson in the lead role, is the next attempt. Can it change the narrative? Or will the only spider-movies that matter be the animated ones and the MCU Spider-Man movies Sony makes jointly with Marvel Studios?
9. "Aquaman and the Lost Kingdom" (Dec. 25)
"Aquaman" was a billion-dollar breath of fresh air for DC. Its sequel is likely the end for Jason Momoa's undersea franchise given all the changes going on at DC Studios. If we do see Aquaman again under the watchful eye of Gunn, it will most likely be a new actor. Gunn has already said he's bringing a new Superman to the screen, meaning this movie is the official end of the Snyder Justice League universe. Gunn has mentioned he'd consider bringing former Superman Henry Cavill back in a new DC role, and the same could be said for Momoa, who has equal box office appeal. He'd sure make a great Lobo if DC ever wanted to bring its baddest bastich to the screen.
Local journalism is essential.
Give directly to The Spokesman-Review's Northwest Passages community forums series -- which helps to offset the costs of several reporter and editor positions at the newspaper -- by using the easy options below. Gifts processed in this system are not tax deductible, but are predominately used to help meet the local financial requirements needed to receive national matching-grant funds.
Subscribe to the Spokane7 email newsletter
Get the day's top entertainment headlines delivered to your inbox every morning.
---