A&E > Entertainment
CdA's Dan Cummins kicks off his national tour where his comedy career commenced
Jan. 12, 2023 Updated Fri., Jan. 13, 2023 at 10:09 a.m.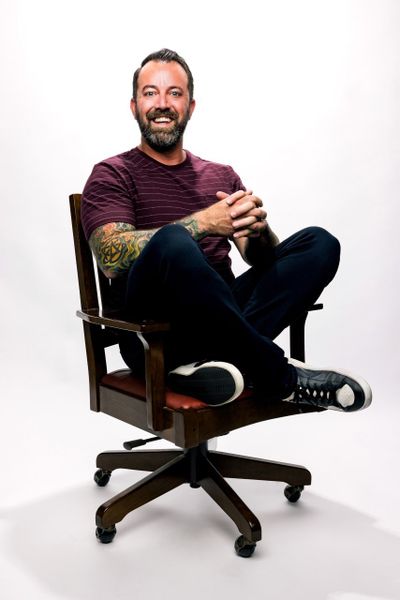 It's fitting that Dan Cummins is opening his national theater tour just a mile from where he first hit the stage as a fledgling stand-up.
Cummins, who will kick off his "Burn It All Down" jaunt with two shows Sunday at the Bing Crosby Theater, cut his humorist teeth nearly a quarter century ago at the defunct Season Ticket.
"It was a forgettable sports bar not far from where the Value Village is now," Cummins said. "Season Ticket had what they called a 'club' inside called Laughs. It was this little spot in the sports bar."
Cummins, 45, doesn't remember what he delivered but he can still see the area of the room reserved for comics. "It was this little spot with plywood painted black, Cummins said by phone from his Coeur d'Alene home. "Laughs wasn't much but it all started for me on Boone Street."
Next stop for Cummins is Sprague Avenue, where he will deliver topical humor in his fiery manner.
"I'm going to address the cultural polarization we've had over recent years on this tour," Cummins said. "We've become so divided and everyone sees that over the last few election cycles. Everyone has gotten so tribal. Most are either on the left or the right. There's a lot more choices. The spectrum is huge but people ignore that."
Cummins will riff about rules, conventions and beliefs. "I talk about the heavier subjects, like abortion. I'll talk about the lack of critical thinking. There is so much to go on about."
Unlike many of his peers Cummins was not a comedy kid while growing up during the '80s in rural Riggins, Idaho. "I grew up in a city no one heard of," Cummins said. "It was before satellite. We had no radio and three channels to watch on television. We spent a lot of time goofing off in the woods. It was hardly a traditional upbringing. But I loved it since that's what I knew."
Cummins consumed horror films like they were potato chips and read the National Geographic while coming of age four hours south of Spokane. Cummins preferred singer-songwriter/horror director Rob Zombie over the iconic Eddie Murphy.
"I wasn't a comedy nerd as a kid and I'm still not a comedy nerd," Cummins said. "I love George Carlin but I would rather read David Sedaris' (books). I wasn't that into stand-up growing up. I liked sketch comedy more but when I was in high school I never dreamed of comedy as a career."
After graduating from Gonzaga University with a psychology degree in 1999, Cummins was stunned by what positions he was qualified for and the pay scale. "I didn't look into what kind of job I would get after graduating," Cummins said. "I was also truly shocked by how little I would make in the world of psychology. I was making $1,500 a month and that barely covered rent and student loans. It was on me because I never looked ahead. When I went to Gonzaga, I just thought, 'Wow, this is a cool major. I would like to study this since it's interesting.' "
Fortunately, Cummins' ex-wife encouraged him to try the open mic night at Laughs. "I gave stand-up a shot and I was hooked instantly," Cummins said. "It was what I was meant to do."
But the father of a 17- and 15-year old, isn't an inveterate comic like many other stand-ups. "I know there are a lot of guys who just want to do bits in front of an audience but I look up to guys like (director-writer) Jordan Peele, who is hilarious but he also makes horror films," Cummins said. "There's no reason not to veer off in other directions since comedians are creative people and it makes sense that there are different outlets for their creativity."
Cummins and his wife, Lynze Cummins, host a pair of podcasts. There's "Timesuck," which is typically amusing, informative and surprising, and "Scared to Death." The latter is comprised of creepy horror and true crime stories. "We have so much fun with the podcasts," Cummins said.
After his tour ends, Cummins will host a camp event where he will be performing in September in the Poconos.
"It's our second year of doing this," Cummins said. "It's a unique situation for fans of my comedy and podcast. We have a camp on a 400-acre spread with a heated pool and some cool amenities. We're hoping 500 to 1,000 people come out. I'll be putting together my own production and we're just going to have fun. That's going to be great but right now I'm focusing on my tour."
"Burn it All Down" starts in the city that has left an indelible mark on Cummins.
"I love Spokane for so many reasons," Cummins said. "I'll never forget the first time I saw Spokane. I was like, 'This city is so massive!' But I came from Riggins, which is so tiny. Not only did my career start in Spokane. It's where Lynze and I go all of the time."
Cummins drives in often for concerts.
"We just saw Jane's Addiction and Smashing Pumpkins at the Spokane Arena (in November). They played right across from where my comedy career started. How cool is that?"
Local journalism is essential.
Give directly to The Spokesman-Review's Northwest Passages community forums series -- which helps to offset the costs of several reporter and editor positions at the newspaper -- by using the easy options below. Gifts processed in this system are not tax deductible, but are predominately used to help meet the local financial requirements needed to receive national matching-grant funds.
Subscribe to the Spokane7 email newsletter
Get the day's top entertainment headlines delivered to your inbox every morning.
---