Sports > Outdoors
'Honest, hardworking, humble': Yellowstone National Park's lead wolf biologist retires after 28 years
Jan. 12, 2023 Updated Thu., Jan. 12, 2023 at 11:56 a.m.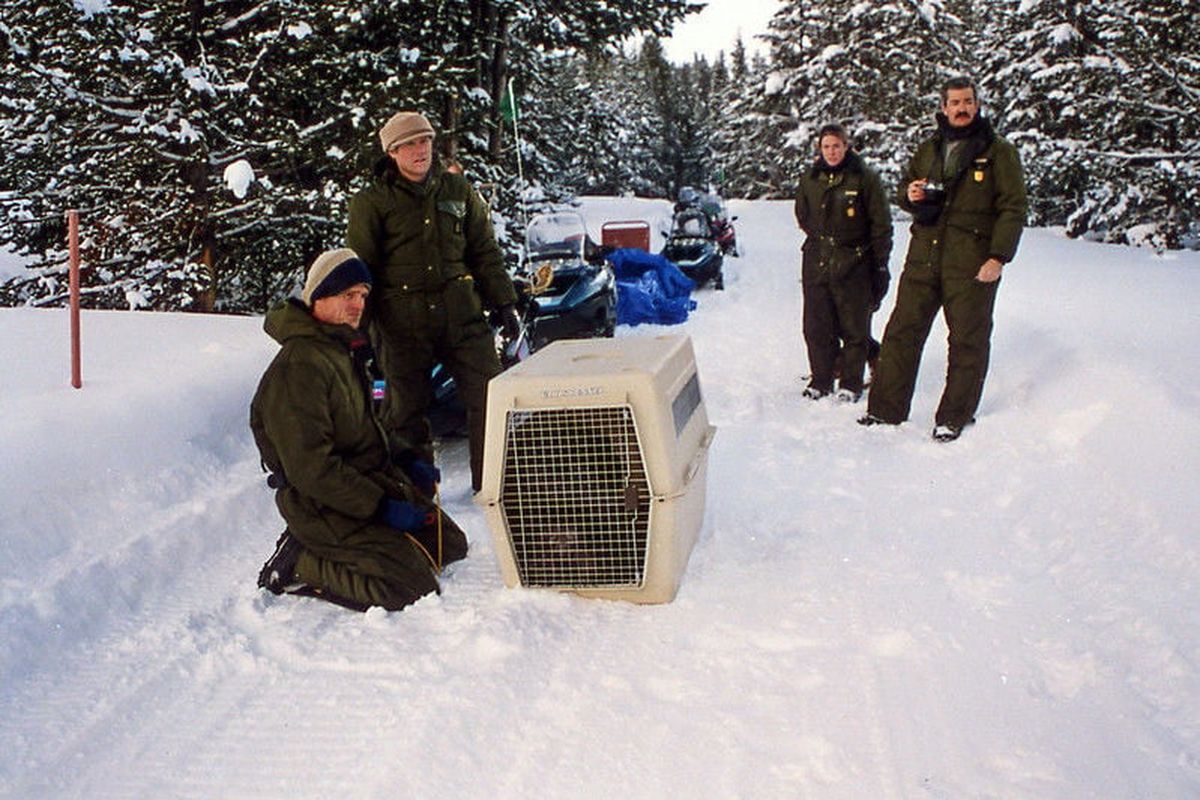 Doug Smith and Mike Phillips preparing to release wolf #3 on Fishing Bridge service road on January 25, 1996. (Courtesy of Jim Peaco/National Park Service)
BOZEMAN – Doug Smith was hired to reintroduce gray wolves to Yellowstone National Park in the early 1990s. In the years that followed, his team radio collared 41 wolves, acclimated them to the environment, then released them onto the vast landscape of the world's first national park.
At the time of the reintroduction, Smith and his colleagues weren't certain that wolves would become part of the fabric of the park, but the project turned out to be a resounding success. Wolves spread out, reproduced, formed packs and established territories.
It was a slow burn, but the animals fed on elk and other wildlife, which helped to restore balance in an ecosystem where predators had largely been extirpated. Within a decade, elk populations dropped and stabilized, and woody vegetation started to grow in more abundance.
After the reintroduction, Smith and his team monitored the wolves' movements in and outside of Yellowstone, and they occasionally intervened. But with the main task complete, Smith didn't know what to do with his job. So he approached it as the scientific opportunity of a lifetime.
"If there was anything I stayed awake at night thinking about, it was, 'Don't blow this, because you're going to know everything that happens in the first few years,' " he said during an interview at his home in Bozeman. "And then what I've both been praised for and criticized for ever since, is I stayed with it. I kept collaring them."
Leveraging the information collected from radio collars, aerial tracking, field observations and wolf counts and captures, Smith spearheaded the Yellowstone Wolf Project, which has since transformed into the most prominent wolf research program in the world, he said.
The Yellowstone Wolf Project team and its university partners have produced an extensive and internationally acclaimed body of research exploring diseases, genetics, behavior, ecosystem dynamics and population dynamics among wolves in the park. Smith's staff captured and collared more than 600 wolves, conducted more than 1,500 aerial flights, hiked or skied more than 20,000 miles and recorded more than 35,000 hours of wolf behavior, according to the National Park Service.
Smith led the wolf project for many years, and then in 2008, he assumed more responsibilities, taking on oversight of the park's elk program and significantly expanding its bird program.
"The bird program became pretty time consuming and big because I really wanted to make it more scientific and professional. And that took a lot of work," he said. "It went from a very small one-man show to a six- to eight-person, several hundred thousand dollar a year program."
As time passed, Smith noticed he was doing far less biology and ecology, and much more administrative work.
"The last few years, it feels like that's all I did," he said. "You cut me deep enough, and I'm a wildlife biologist who likes to be outdoors, and in the latter part of my career, I was in the office as much as an accountant."
On Nov. 23, Smith retired from his position in Yellowstone. Since then, he's gone from having a full calendar to having enough time to cross-country ski every day. It's been an adjustment, but he's already getting requests to give interviews and attend conferences.
"There have been moments where I'm like, 'Wow. I didn't realize days could be like this,' " Smith said. "From 40 years of not having enough time in the day to do what you need to do to having plenty of time – it's been a little hard, to be honest."
Yellowstone Superintendent Cam Sholly said in a November news release that the reintroduction of wolves to the park was one of the most extraordinary American wildlife conservation efforts of the 20th century.
"Doug's leadership and expertise in the decades following the reintroduction have helped ensure this keystone species continues to thrive across the Yellowstone landscape," he said. "Doug epitomizes the very best of public service and we thank him for his incredible contributions to wildlife conservation in Yellowstone and around the globe."
•••
Smith grew up in a rural area of Ohio, and he was intrigued by wolves and the wilderness at a young age. He started writing handwritten letters to wolf biologists at age 15. Sometimes they would write back. Some kept his letters.
For his high school senior project, Smith volunteered at a captive wolf center in Indiana. He later spent nine summers and two winters working with the animals as a research technician at Isle Royale National Park.
"Growing up in the '60s and '70s, the quintessential wild creature was a wolf. And that was at the tail end of a period of time in North America where wolves were at their lowest," Smith said. "I mean, there were eradication campaigns across North America from the 1600s all the way through the 1900s."
Government-backed predator control programs led to the demise of the gray wolf in Yellowstone National Park. Close to 150 of the animals were killed there between 1914 and 1926, and by the 1970s, there was no evidence of a population.
Attitudes around predators gradually began to change, and in the mid-1970s, the gray wolf was listed as threatened under the Endangered Species Act. That prompted the U.S. Fish and Wildlife Service to draft a recovery plan.
In the 1990s, the federal agency proposed a controversial idea. Officials wanted to introduce an experimental gray wolf population to Yellowstone. Mike Phillips, who in subsequent years formed the Turner Endangered Species Fund with Ted Turner, was tasked with leading that effort.
Phillips worked with Smith on a moose study at Isle Royale in 1980, and he'd already tried to recruit him for a project to restore red wolves to the southeastern United States.
When it came to the gray wolf project, "there was really only one guy in the country who I thought was best suited to be my principal teammate and the lead biologist on the project … And that was Doug," he said.
"He couldn't have done a better job. His work is exemplary," Phillips said. "Throughout his entire career in the park and all my time with him, he was on a daily basis honest, humble and hardworking. What more from a public servant could any taxpayer ask for?"
When Phillips left the reintroduction effort in 1997, Smith took over as the project leader. He assumed responsibility for the administrative and scientific aspects of the work, and he set out to study the impacts of the reintroduction in great detail.
Once wolves were restored and packs stabilized, there wasn't much for Smith's team to do, but there was a lot for them to learn, he said. They continued to radio-collar wolves.
"We didn't know what was going to happen, and what made Yellowstone unique was they were visible from the ground. We could see them in Lamar Valley. We could see them on the Blacktail Plateau. We could see them in Hayden Valley. So we augmented all the conventional work with this extra ground work," Smith said.
The goal was to keep collars on wolves from every pack in the park, and through a combination of conventional wolf studies, ground observations, and catching a lot of wolves, "we probably got more out of wolf research than any other place, ever," he said.
•••
Smith knew that wolves were a big deal when he first studied them in Yellowstone, but combine that with the national park's profile, and it's explosive, he said. Opposition to the wolf reintroduction was titanic, and the desire for information on wolves was insatiable, he said.
Smith estimates that he's given a couple of thousand talks about the species throughout his career, and over time, he's learned that people's opinions about the animals are based on their values, and "you're not going to get anything more than halfway."
"Your value system is what you grew up with since you were yay big, and if some government biologist like me walks into the room and tries to give you a bunch of data, that's not going to change your mind at all," he said. "I've changed my messaging a lot."
Last August, Smith attended a Montana Fish and Wildlife Commission meeting to speak on behalf of the national park about the state's wolf hunting and trapping policies just outside of its boundaries.
At the time, commissioners were mulling whether to restore limits on wolf kills in the area directly north of Yellowstone. In fall 2021, the commission had removed a two-wolf quota north of Yellowstone, and hunters and trappers killed 19 wolves just beyond the its border. That reduced the park's wolf population by about 20%.
A national outcry over the decision ensued, and many called for the re-listing of the park's wolves under the Endangered Species Act. Smith noted that while the animals were killed in Montana, data show they spend 96% of their time within the park's boundaries.
The commission ultimately agreed to limit the taking of wolves in that area to six per season.
"I went because we didn't want a repeat of what happened last winter," Smith said in an interview. "Last year, it was unlimited. We asked for a quota of six. The commission came back with 10, and we chipped them down to six."
Smith said that the losses had a significant impact on wolf research in the park. But he's retired now, and he's stepping away from all the bureaucracy and letting new leaders forge their own paths.
He's participating in talks, traveling for conferences and skiing a lot. He fell in love with Yellowstone and its wildlife, and if he did go back to the park, it wouldn't be under a government capacity, he said.
Phillips said there are lots of well-known, important biologists who have worked in the great theater that is Yellowstone National Park. Taking nothing away from the likes of the Craighead brothers, he believes Smith is the most consequential.
In his opinion, out of the three most intensely persecuted species of wildlife – the gray wolf, the passenger pigeon and the American bison – the gray wolf was the one that was purposely restored through federal law, Phillips said.
"You take all that and you combine it with Yellowstone, you simply have an elixir of uniqueness. And that's why the reintroduction of gray wolves to Yellowstone National Park is such a unique moment in time," he said.
"I take pride that I had enough sense to know who would be my best right hand person. And I think that the quality of my choice has been proven out over the course of his career," Phillips said. "Honest. Hardworking. Humble. For 28 years. I think that's something the American people should celebrate."
Local journalism is essential.
Give directly to The Spokesman-Review's Northwest Passages community forums series -- which helps to offset the costs of several reporter and editor positions at the newspaper -- by using the easy options below. Gifts processed in this system are not tax deductible, but are predominately used to help meet the local financial requirements needed to receive national matching-grant funds.
Subscribe to the sports newsletter
Get the day's top sports headlines and breaking news delivered to your inbox by subscribing here.
---