Sports > National sports
Spokane Arena to host top Bull Riders for PBR Velocity Tour on Saturday
Jan. 13, 2023 Updated Fri., Jan. 13, 2023 at 6:15 p.m.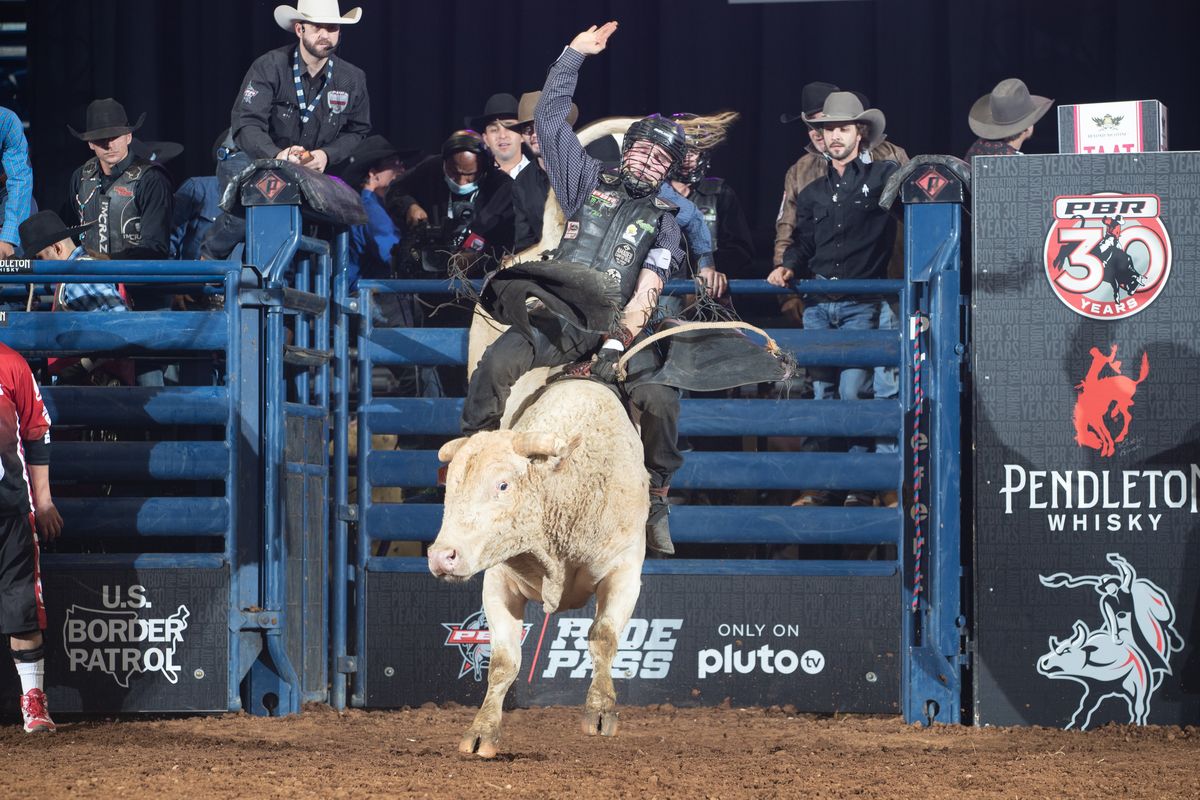 Thor Hoefer II rides Tannerite of Lightning Livestock, Inc. during a PBR event in Lexington, Kentucky. (Bull Stock Media)
For the third time in its history, the Professional Bull Riders Tour will ride into the Spokane Arena on Saturday with the premier bull riding event in the country.
Riders will convene at the Arena at 7 p.m. as 40 of the top athletes will step onto the dirt floor looking to take home the Spokane Classic title.
Two local riders, Thor Hoefer II and Cody Casper, will try to endure 8 seconds atop the fierce American-raised bulls.
Casper, of Newport, Washington, is coming off an injury, but Hoefer, of Priest River, Idaho, said he is looking solid after hopping on a few practice bulls before they traveled.
"Definitely look for him to show up and show out," Hoefer said.
The two are the only ones left from the area on the professional tour. They always orbited around each other because of the bulls that Hoefer's dad rose and groomed.
But there were other guys around Hoefer's and Casper's age – 27 and 29 respectively – who spent a lot of time on the backs of bulls in Priest River.
Many of them went on to win state tournaments and head to nationals. That success led to college-level riding and college degrees. Many decided to step away from the electrifying 8-second ride.
"Having that bucking pen up there in northern Idaho definitely shaped my life, obviously, and multiple others as well," Hoefer said.
While the Priest River and Newport areas still exude the cowboy way, much of the glamor has worn off over the generations.
But the cowboy has been elevated with the popularity of "Yellowstone" and its spinoff series on Paramount that have spotlighted cowboys and the heritage and history surrounding them.
Hoefer said the standard Hollywood spicing up is in play, yet it allows people to see some of the cowboy life behind the scenes.
"I think that it's beginning to be cool to want to be a cowboy again," he said.
But he said when the fad wears off, as it does every few years, the true cowboys will still be roping and riding across the country.
The PBR has existed since 1992 .
Hoefer has been a professional for a couple of years. A year ago, Hoefer competed in Spokane for the first time since an event at the Spokane County Interstate Fair in 2019.
Since then, Hoefer has learned to trust his body and instincts more .
He was ranked 51st in 2022 and has jumped to No. 30 this season on the tour.
In some cases, riders find themselves airborne or curled up on the ground, hoping the bullfighters can direct the bull back into the chute and away from them.
"I'm still staying aggressive, but it's just a more relaxed thing," Hoefer said. "It's letting my body react to whatever the bull is doing.
"It's a dance and they're leading it."
After returning to Spokane for the second season in a row, the PBR veteran is eager to get back on the bulls in his home region.
"I've been to this event a lot as a kid, and I was able to go to it every year," he said. "So as a rider, now being able to go to it, it kind of rejuvenates me and it kind of fuels the fire for me."
Of his return, Hoefer said he hopes to reset and to keep it simple, even when he knows friends and family are hooting and hollering from the stands.
He said the Spokane Classic environment is an entertaining stop for the PBR. With the right combination of riders, bulls and passionate fans, Hoefer said it is one event that Spokanites don't want to miss.
"This is this event so exciting that it brings a sense of American culture to Spokane," he said. "These are guys that do this for a living, and they take this seriously. This isn't something that they're just doing on the weekend to blow off some steam."
The riders – knowing the work bulls put into getting ready for these events – have a lot of respect for the animals.
"They're coming, they're bringing the heat like they do every time," Hoefer said. "If you're a fan of the riders, you're going to get your thrill there. If you're a fan of the bulls, you're going to get your thrill there as well."
Tickets range from $17 to the $202 elite seats.
Local journalism is essential.
Give directly to The Spokesman-Review's Northwest Passages community forums series -- which helps to offset the costs of several reporter and editor positions at the newspaper -- by using the easy options below. Gifts processed in this system are not tax deductible, but are predominately used to help meet the local financial requirements needed to receive national matching-grant funds.
Subscribe to the sports newsletter
Get the day's top sports headlines and breaking news delivered to your inbox by subscribing here.
---