News > Nation/World
Santos' lies were known to some well-connected Republicans
Jan. 14, 2023 Updated Sat., Jan. 14, 2023 at 6:24 p.m.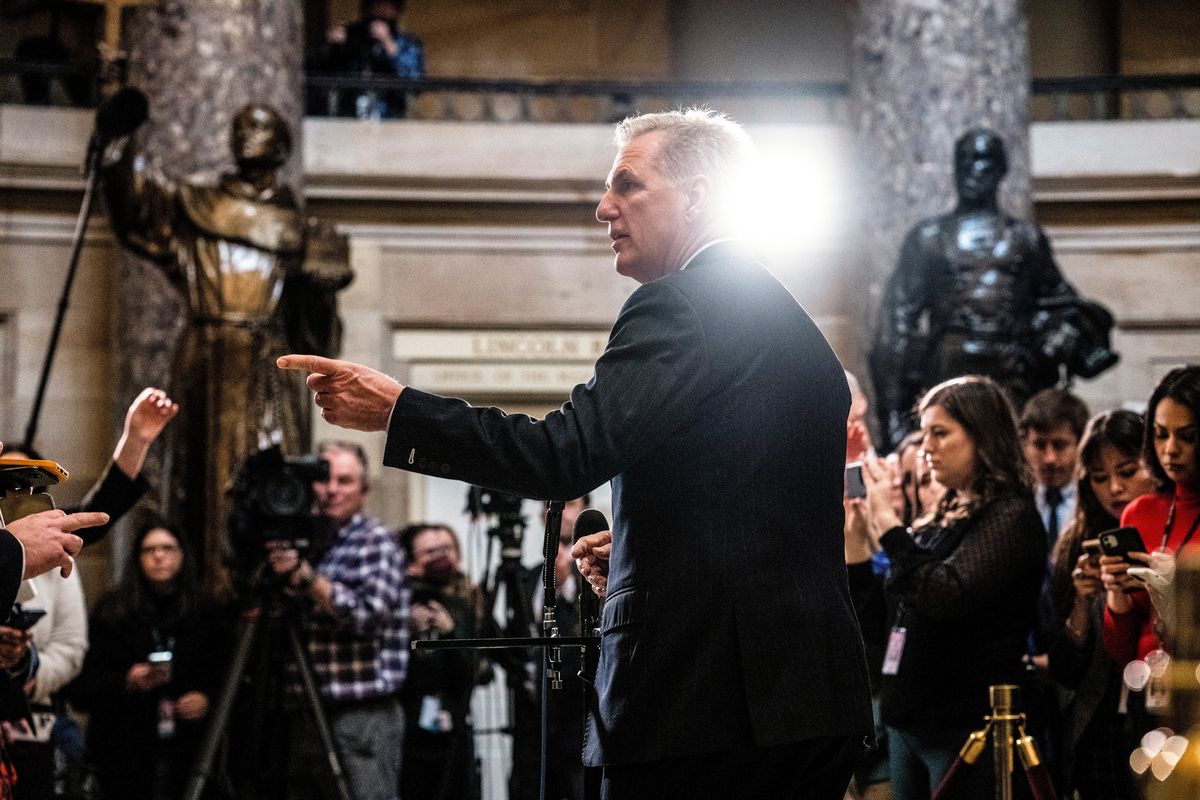 House Speaker Kevin McCarthy (R-Calif.) speaks to reporters on Capitol Hill, in Washington on Thursday, Jan. 12, 2023. How, in this day and age, did the congressman's web of lies manage to avoid detection from his Democratic opponents and the media? (Haiyun Jiang/The New York Times) (HAIYUN JIANG)
In late 2021, as he prepared to make a second run for a suburban New York City House seat, George Santos gave permission for his campaign to commission a routine background study on him.
Campaigns frequently rely on this kind of research, known as vulnerability studies, to identify anything problematic that an opponent might seize on. But when the report came back on Santos, the findings by a Washington research firm were far more startling, suggesting a pattern of deception that cut to the heart of the image he had cultivated as a wealthy financier.
Some of Santos' own vendors were so alarmed after seeing the study in late November 2021 that they urged him to drop out of the race and warned that he could risk public humiliation by continuing. When Santos disputed key findings and vowed to continue running, members of the campaign team quit, according to three of the four people The New York Times spoke to with knowledge of the study.
The episode, which has not been previously reported, is the most explicit evidence to date that a small circle of well-connected Republican campaign professionals had indications far earlier than the public that Santos was spinning an elaborate web of deceits and that the candidate himself had been warned about just how vulnerable those lies were to unraveling.
Fraudulent academic degrees. Involvement in a firm accused of a Ponzi scheme. Multiple evictions and a suspended driver's license. All of it was in the report, which also said that Santos, who is openly gay, had been married to a woman. The report did not offer conclusive details, but some people briefed on the findings wondered whether the marriage was done for immigration purposes.
It remains unclear who else, if anyone, learned about the background study's contents at the time or if the information made its way to party leaders in New York or Washington. Santos, 34, managed to keep almost all of it from the public until after he was elected, when an investigation by the Times independently unearthed the problematic claims documented by researchers and others that they missed.
After the Times sent a detailed list of questions for this story, a lawyer for Santos, Joe Murray, said, "It would be inappropriate to respond due to ongoing investigations." A spokesperson for Santos' congressional office did not respond to a similar request for comment.
Santos has admitted to some fabrications but insists he was merely embellishing his qualifications. He has vowed to serve out a two-year term in Congress. State, local and federal prosecutors are investigating his activity.
The existence of the vulnerability study underscores one of the most vexing questions still surrounding the strange saga of Santos: How did the gatekeeping system of American politics – Republican leaders, adversarial Democrats and the prying media – allow a fabulist who boasted about phantom mansions and a fake resume get away with his con for so long?
Interviews with more than two dozen associates, adversaries and donors, as well as contemporaneous communications and other documents reviewed by the Times, show that Santos inspired no shortage of suspicion during his 2022 campaign.
Well-connected supporters suspected him of lying and demanded to see his resume. Another former campaign vendor warned a state party official about what he believed were questionable business practices. And the head of the main House Republican super political action committee told some lawmakers and donors that he believed Santos' story did not add up.
But in each case, rather than denounce Santos publicly, the Republicans looked the other way. They neglected to get the attention of more powerful leaders and allowed him to run unopposed in the 2022 primary. Some assumed Santos' falsehoods were garden-variety political embellishments; others thought Democrats would do their dirty work for them, and Santos would be exposed in the heat of a general election campaign.
But Democrats struggled to do so. In 2020, the party incumbent, Tom Suozzi, dismissed Santos as a nonviable threat and conducted no opposition research at all while cruising to victory. When Democrats did vet him two years later, they failed to find some of the most egregious fabrications.
Democrats then labored unsuccessfully to convince the news media, which had been weakened by years of staff cuts and consumed by higher-profile races, to dig into the troubling leads they did unearth. Aside from The North Shore Leader – a small weekly newspaper on Long Island, which labeled Santos "a fake" – and a few opinion pieces in Newsday, New York's media machine paid Santos scant attention.
Santos was a political neophyte when he first showed interest in running for a House seat made up of parts of Queens and Nassau County in 2020. His only real electoral experience ended quickly: A year earlier, he was forced to drop his insurgent campaign for a low-level party position in Queens because he lacked enough valid signatures to make the ballot. Among the tight-knit Republican circles on Long Island, he was nearly unknown.
In normal circumstances, Santos would have been shooed away.
Republicans in Nassau County, which comprises the bulk of New York's 3rd Congressional District, have long been famous for exercising tight control over who runs.
But with the country in lockdown in the early days of the coronavirus pandemic and the district expected to remain under Democratic control, no one else put their hand up to run. Santos submitted a resume and answered a vetting questionnaire riddled with lies, including that he had a 3.9 grade-point average from a college he never graduated from and job credentials he did not possess. A vetting team for the county Republican Party accepted his answers without question.
When Santos chose to run again two years later, local Republicans again gave him their support. They expected that flipping the district would once again be a stretch.
There were already questions swirling by that time among donors and political figures about where exactly Santos lived and the source of the money that supported the lavish lifestyle he boasted about.
In summer 2021, one of the former advisers to Santos, who insisted on anonymity, discovered his connections to Harbor City Capital, the Florida-based firm accused of a Ponzi scheme, and to other suspicious business practices that Santos had obscured. The adviser said he took the findings to a state party official later that fall and tried to pitch the story to a newspaper, which he said did not pursue it.
Around that time, Santos began attracting the suspicion of a pair of friends and potential donors active in New York Republican circles. Santos claimed to one of them, Kristin Bianco, to have secured the endorsement of former President Donald Trump when he had not. That prompted her to express concerns about Santos to plugged-in Republicans, including associates of Rep. Elise Stefanik of New York, one of Santos' biggest early backers, whose top political aide was assisting his campaign.
In spring 2022, Santos' race suddenly became competitive after a state court undid a Democratic gerrymander and adopted new congressional boundaries friendlier to Republicans.
And the assumption that any damaging information about Santos would have been found in the 2020 campaign turned out to be misguided. Suozzi, the popular Democratic incumbent, got a quote for the cost of an outside firm to do opposition research on Santos. But he decided not to spend the money – sparing Santos meaningful scrutiny in his first race.
With a more competitive race expected in 2022, researchers at the Democratic Congressional Campaign Committee did the first meaningful opposition research on Santos that summer, assembling an 87-page opposition research book. It extensively documents Santos' past statements – including his extreme views on abortion rights and the Jan. 6 Capitol riot.
Using public records, the committee's researchers also turned up some red flags in Santos's biography: multiple evictions; no IRS registration for an animal charity he had claimed to have created; details about his involvement with Harbor City (Santos himself was not named in the Ponzi scheme allegations) and more recent suspicious business dealings; as well as apparent discrepancies in his financial disclosure forms that raised questions about the source of hundreds of thousands of dollars he had lent his campaign.
But with orders to produce similar research books on dozens of other candidates across the country, the committee's strained research team left stones unturned. At several points, researchers explicitly flagged the need for follow-up inquiries, such as to "determine whether Santos has a criminal record." And their study failed to turn up key problems that prompted Santos' own vendors to quit months earlier: his fabricated educational record, his marriage to a woman and questions about his residency.
A spokesperson for the DCCC declined to comment.
Santos' 2022 opponent, Robert Zimmerman, got hold of the research book in late August, right after he won a competitive and costly Democratic primary. Strapped for time and cash, Zimmerman concluded that his money would be better spent on advertising and canvassing operations. And he believed that the campaign committee's report as well as Santos' far-right views on abortion and Jan. 6 gave him powerful campaign fodder.
Zimmerman said his campaign tried to prod reporters at local and national news outlets with leads about Santos but had little luck. "The response we got back pretty universally was, they just didn't have the personnel, the time or the money to do it," Zimmerman said.
One outlet stood out: The North Shore Leader in Long Island, run by a Republican lawyer and former House candidate, Grant Lally. The paper published a pair of articles casting doubt on Santos' claims that he owned extravagant cars and homes and labeling him a "fabulist – a fake," though it did not have other specifics that would later come out about his falsified resume or his past.
What top Republicans were told of Santos' issues is difficult to chart. Santos required those working for his campaign to sign nondisclosure agreements, limiting the spread of the vulnerability report.
By spring 2022, Santos was in need of a new team of consultants. With help from Stefanik's top political aide, he chose a new consulting firm and shared the vulnerability study.
The new crop of vendors, led by Big Dog Strategies, never spoke to their predecessors, though, and did not know why they had left the campaign. After Santos again insisted he had graduated from college and addressed other red flags raised in the report, the new team accepted his explanations and began plotting a campaign. They would use issues – not the candidate's biography – to win the race.
This article originally appeared in The New York Times.
Local journalism is essential.
Give directly to The Spokesman-Review's Northwest Passages community forums series -- which helps to offset the costs of several reporter and editor positions at the newspaper -- by using the easy options below. Gifts processed in this system are not tax deductible, but are predominately used to help meet the local financial requirements needed to receive national matching-grant funds.
Subscribe now to get breaking news alerts in your email inbox
Get breaking news delivered to your inbox as it happens.
---