A&E > Entertainment
'America's greatest conductor' Leonard Slatkin will bring his skills to the Spokane Symphony next weekend
Sun., Jan. 15, 2023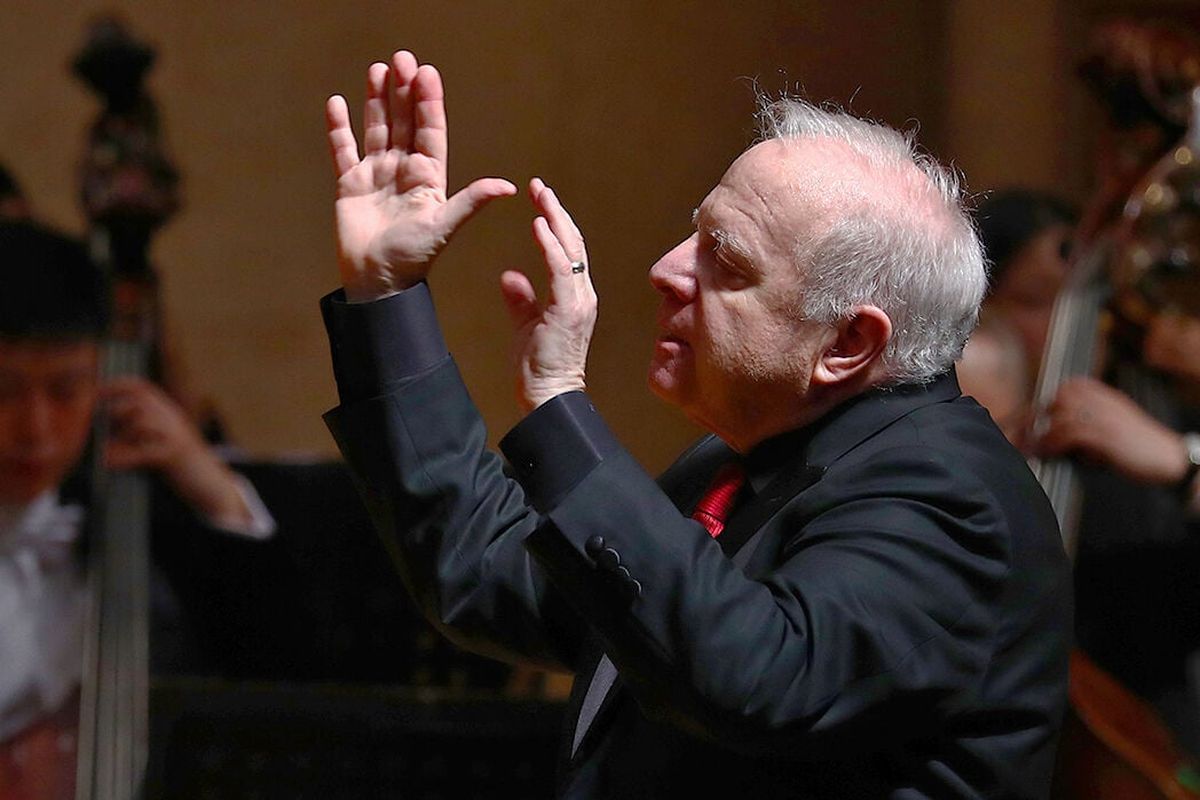 Renowned international conductor Leonard Slatkin will raise his baton next weekend to lead the Spokane Symphony Orchestra at the Martin Woldson Theater at the Fox. (Luo Wei)
When flashy, international superstars like Shania Twain or Paul McCartney come to Spokane, slinging guitars, it's a big deal. When global celebrity Leonard Slatkin arrives in the Lilac City next week, waving his conductor's baton, local classical music lovers will crank up their excitement level all the way to 11.
Renowned as "America's greatest conductor," the charming, silver-haired 78-year-old will guest conduct the Spokane Symphony Orchestra's next Masterworks concerts featuring music of Brahms at Martin Woldson Theater at the Fox on Saturday, Jan. 21 and Sunday, Jan. 22.
"I really can't overstate what a coup this is for Spokane to have an artist of this caliber come spend a week working in the community with us," said Spokane Symphony Music Director James Lowe. "It's a once-in-a-lifetime event, and I encourage everyone in town to come out and see the concerts at the Fox."
One hour before Slatkin conducts the orchestra on Jan. 21 and 22, he will give pre-concert lectures for concert-goers, at 6:30 p.m. Saturday and 2 p.m. Sunday. Those interested in a deeper dive into the inner workings of the orchestra can also buy a $25 pre-concert ticket to observe an actual final rehearsal at 10 a.m. on Saturday morning at the Fox, as part of the regular "Masterworks and Mimosas" program.
"It's just a working rehearsal, but it's really cool to see how the sausage gets made," Lowe said. "It's really fascinating to witness the dynamics at play."
Earlier in the week, at 5 p.m. Thursday at the Fox, Slatkin will give a free talk open to all local students as part of a sound check and educational outreach opportunity. On Friday, the maestro will appear at the Northwest Museum of Arts and Culture at noon to hold a free public reading of his books, which include his insightful "Classical Crossroads: The Path Forward for Music in the 21st Century."
Slatkin is a six-time Grammy award winner (with 35 nominations), a National Medal of Arts recipient, a composer, an author, and a former music director of the Detroit Symphony Orchestra, the National Symphony in Washington, D.C., and the St. Louis Orchestra. He served as principal conductor of the BBC Symphony Orchestra, and held principal guest conductor roles with the Royal Philharmonic in London, the Los Angeles Philharmonic, as well as currently with the Orquesta Filarmónica de Gran Canaria in Spain
The music world credits his accessible manner and wry humor for hooking new audiences during a time when classical music fans worry that interest in 200-year-old pieces, regardless of their magnificence, may be waning.
A prolific YouTuber, Slatkin de-mystifies the conducting experience with virtual, light-hearted lessons geared toward the general public. His popular monthly blog discusses all kinds of matters, from the musical to the personal. When he is not pulling back the curtain on the life of a traveling conductor, he is sharing insights into how to make orchestras better, more accessible, and more racially and culturally diverse.
Slatkin grew up in Hollywood, in a family steeped in classical music and performance. His father, violinist Felix Slatkin, founded the Hollywood String Quartet, of which his mother, cellist Eleanor Aller, was also a member. The quartet played on many well-known movie soundtracks. His mother, also principal cellist for the Warner Brothers orchestra, was prominently featured on soundtracks ranging from the Bette Davis film "Deception" to "Close Encounters of the Third Kind." (Her friend John Williams is said to have written the cello solo in his score specifically for her to play.)
Recently, Slatkin retired from day-to-day music directing in favor of guest conducting orchestras all over the world. The 2022-23 season includes engagements with the International Violin Competition of Indianapolis, NDR Radiophilharmonie in Hanover, the NHK Symphony Orchestra in Tokyo, Yale Symphony Orchestra, National Symphony Orchestra in Dublin, and the Beethoven Festival in Warsaw, to name a few.
The Spokesman-Review got the chance to hit the maestro up with 10 written questions during his recent vacation to the Galapagos Islands before his arrival in Spokane next week.
What do you believe is the future of the American symphony orchestra? What is its biggest challenges?
The second question is indeed the big one. Although some orchestras are doing well enough financially, audiences are still down, and we are being pulled in so many directions artistically. Trying to find a balance between the wants and needs of boards, orchestra, and public is the defining issue or our times. When it comes down to it, however, our job is primarily to be the caretakers of the repertoire, presenting works in the best possible manner, whether old or new. Along with this, we need to be smarter as to how we use technology, not having it supplant the live experience.
How do you share great art with a broad range of people without "dumbing it down" or losing its essence?
This is a matter of education. For close to three generations, the teaching of the arts in our public schools has been steadily diminishing. This means that families do not necessarily share the musical experience together either. Orchestras are using visuals to try and win over new audiences. But this comes with the danger of making music an art for the eyes rather than the ears. Ours is a world of imagination, and we must encourage everyone to listen. Let your mind take you to the worlds that are created by the musicians.
Do you miss the cut and thrust necessary to deal with the everyday problems of acting as music director at a daily orchestra? Or does guest conducting suit you better, and why?
About four years ago, I stopped being a music director, after having done that for more than 40 years. There was an immediate sense of a burden lifted. I had not realized how much stress was really involved. Now, I visit orchestras, conduct the music I love, and have no responsibilities other than doing the best I can. As far as the reasons for leaving the administrative world, Riccardo Muti put it best last year when he said, "I no longer recognize my own profession." He was speaking about how much has changed for the music director, and those of us who have been around for a while understand what he means.
The program you have chosen for Spokane – Cindy Tee's "Double Play" (Tee is Slatkins' wife), Tchaikovsky and Brahms No. 1 – can you share particular reasons you chose each piece? What journey are you taking audiences on?
All the music is outstanding. This is always the first criteria. The pieces are all complex in their different ways, but also very playable by most orchestras.
Inspiring the musicians is crucial, and if they enjoy the music, you will get good results. The audience will hear something new with Cindy's more-than-engaging work, something not played so often anymore with the Tchaikovsky, and the glories of Brahms's first symphonic effort. Even though two of the works are from the Romantic era, they are so different it seems as if they are a century apart.
How do you program differently when you come to conduct an orchestra for the first time as opposed to a place where you've been music director?
With only one program, I first need to get to know the orchestra and vice versa. Although I might do the same program anywhere, more than likely there would be one bigger work that is less familiar, perhaps something from the American canon or a lesser played composer. It is not only the orchestra that does not know me, it is also the audience. Trust has to be built up.
What's it like meeting an orchestra for the first time? It sounds a bit terrifying, like a blind first date. Any strategies?
The first rehearsal is spent just playing, with only a little actual rehearsing. I use the information from that session to shape what I want to accomplish during the remaining days. Conducting is best done as a silent profession. And musicians are more or less the same around the world. We speak a universal language, so I have never had any difficulty when seeing an ensemble for the first time.
Is this your first visit to Spokane? Why did you choose to come to Spokane and what are you looking forward to?
About five years ago, I was in Toronto, where Thomas Hampson, who is from Spokane, was singing in a new opera. At dinner afterwards, he asked me if I would consider coming to your orchestra. He is a dear friend and colleague, so I said yes. At this point in my life, I enjoy going to cities and orchestras where I have never been.
Which book will you be reading at the MAC, what is it about broadly, and can people purchase on site?
I am not sure which book I will read from, and it might even be part of one that is a work in progress. So far, three have been published, and two more are in the works. More than likely, it will be something that is informative about the world of classical music today.
Students are invited to a sound check on Thursday night and the greater public will have the chance to observe some of a final rehearsal on Saturday morning. Do you welcome that kind of scrutiny during a rehearsal? Why?
These rehearsals have all three pieces on the program scheduled. I will probably say a few words about each of them to the people who attend. In their different ways, each work paints pictures, and I encourage each person to create their own images as they listen. I think bringing people into the process in which they see how we put things together is always interesting. By the Saturday morning rehearsal, we will likely just be playing through the program, but I hope this does not discourage people from coming to the concert itself. There are always differences between rehearsals and performances.
What else would you like symphony-goers to know about you or your visit?
My wife, who also wrote the first piece on the program, comes from Washington state, but on the other side. She was born in Eatonville, in the Sea-Tac area, and went to school at Pacific Lutheran. I have always enjoyed my time with Washingtonians and hope to have a little time to explore the city. But they are keeping me busy with various events, all of which I am certainly looking forward to. I plan to have a great time.
Local journalism is essential.
Give directly to The Spokesman-Review's Northwest Passages community forums series -- which helps to offset the costs of several reporter and editor positions at the newspaper -- by using the easy options below. Gifts processed in this system are not tax deductible, but are predominately used to help meet the local financial requirements needed to receive national matching-grant funds.
Subscribe to the Spokane7 email newsletter
Get the day's top entertainment headlines delivered to your inbox every morning.
---