A&E > Entertainment
Cami Bradley, aka Carmen Jane, is leaving Spokane for L.A. to further her career
Sun., Jan. 15, 2023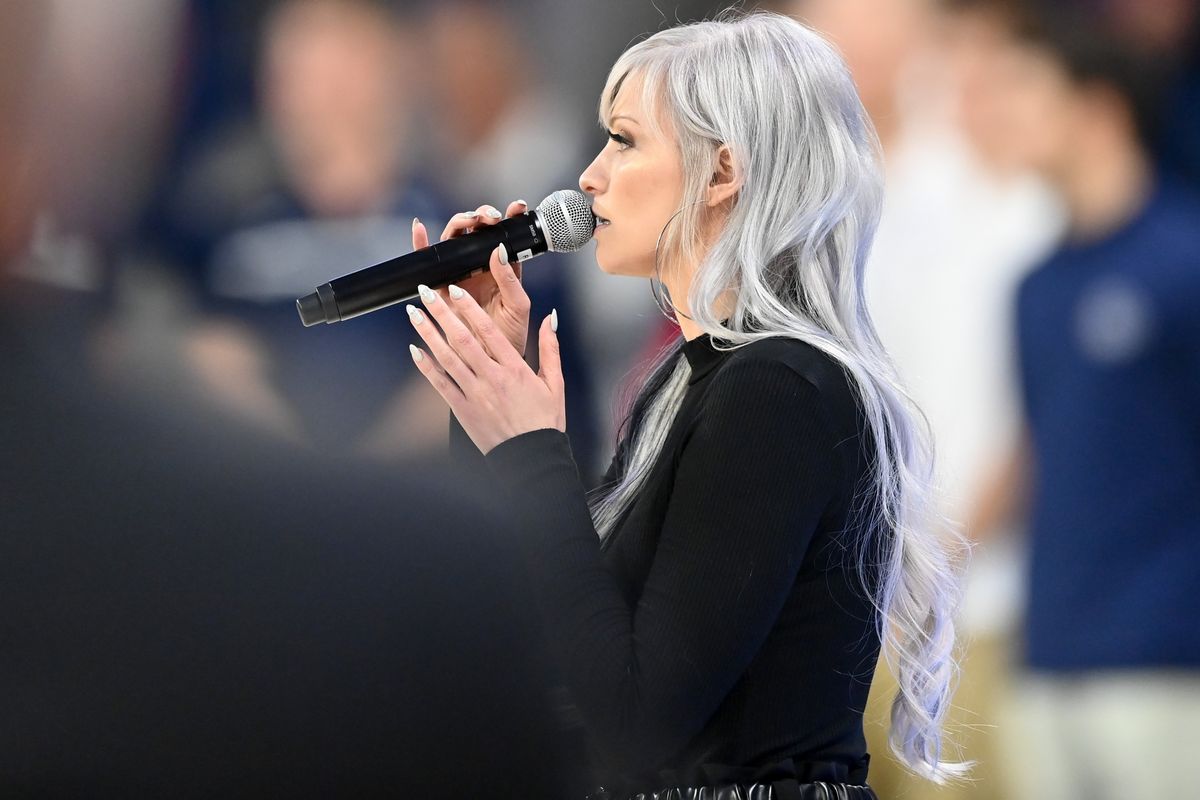 Singer-songwriter Cami Bradley performs the National Anthem at McCarthey Athletic Center on Dec. 9. Bradley, who performs as Carmen Jane with Benn Suede, will be relocating to Los Angeles to pursue their musical careers. (Tyler Tjomsland/The Spokesman-Review)
Gene Simmons and Cami Bradley don't seem to have much in common. The former is an aging, business-minded metal icon, who leads Kiss onstage and in their corporate headquarters.
The latter is a young, emerging singer-songwriter, who crafts compelling and moody pop-rock. Simmons has a simple philosophy on success in the music industry.
"You go to where the opportunities are," Simmons said during a 2021 interview. "If you want to be a country artist, you go to Nashville. If you want to be in rock or pop, you go to Los Angeles."
Bradley, 34, who has noted during recent years that she is content living in her native Spokane, is down with Simmons' advice. Within the next month, Bradley who performs under her given first and middle name, Carmen Jane, will leave her South Hill hometowntown for the palm trees and opportunity of Los Angeles with her collaborator, guitarist Benn Suede, 28, who was part of the rock band Crown the Empire
"We have to pursue our dreams," Bradley said. "We have a new album coming out this year and we owe it to the music to give it the best chance to be heard. We want to pitch it and play the songs."
The album, which has yet to be titled and has no release date, will be previewed Saturday night at a "farewell for now, Spokane" concert at the Washington Cracker Co.
"The new material is a clash between the modern and the classical genres," Suede said. "A lot of our music is inspired by classical. So there are a lot of strings, horns and brass on it. The material sounds eerie and at times quirky. We're just excited about playing the new songs."
Bradley also notes that some familiar tunes will be delivered as well.
"The people who come out will hear some fan favorites as well," Bradley said.
Expect Bradley's evocative and baroque "Fun" and the catchy and atmospheric "Numb." The video for "Numb" was shot in The Spokesman-Review clock tower in 2020.
"It was amazing," Bradley said. "I never imagined being inside of the clock tower. It's so cool. It's so historic and so Spokane."
It's obvious what Bradley's hometown means to her. "It's a special place here," Bradley said. "I love it, but sometimes you have to make sacrifices in order to achieve your goals."
Bradley has spent considerable time in Los Angeles. The java loving performer, who can be spotted almost daily at Ladder Coffee Roasters in Browne's Addition, made quite an impression when competing on "America's Got Talent" in 2013.
Bradley impressed "AGT" judges Howie Mandel, Mel B and Howard Stern with her inventive rearrangements of such hits as Cher's "Believe" and Bon Jovi's "Livin' on a Prayer."
"I was really nervous when I was on 'America's Got Talent,' but you have to step out of your comfort zone and I'm glad I did," Bradley said. "You have to take chances in life to get anywhere. 'AGT' prepped me for music in general and the real world. I heard a lot of horror stories about talent shows. It can be stressful, and you don't have a say in what you're doing. It was the beginning stages of who I was an artist and how I wanted to go forward with this career."
Now Bradley, who finished sixth on "AGT," is taking the next step as she attempts to take it to another level.
"It's time to go to Los Angeles," Bradley said. "Ben and I have been going down once a month to L.A. since the summer. We've been building some relationships. It's just going to be a lot easier to enhance those relationships if we are physically present. We know it's a big move and it's a little risky, but we're cultivating some things that are necessary to develop."
Bradley is looking ahead, but it'll be all about her hometown when she performs at the Cracker Co.
"I'm excited about playing this last show since we found a venue that's really cool and it's all-ages," Bradley said. "This is our big thank you to Spokane for being so supportive during my career. I have so many memories of performing in Spokane and seeing shows here."
The Freeman High School alum, class of 2006, vividly recalls the initial concert she experienced.
"My very first show was when I was 8 years old," Bradley said. "My dad took me to see Amy Grant at the Opera House. Back then you could stand in line after the show and meet recording artists without a VIP pass. I have such memories of that show. I remember standing up at the end of the show and my dad grabbed my shoulders and said that Amy wasn't done. I was so confused and then she came back for the encore. I then stood in line to get Amy's autograph after the show. I still have the CD (1997's 'Behind the Eyes'). That show inspired me … My memory of that concert was so special since it was with my dad."
Bradley was rocked when her father, Paul Miller, who was the worship pastor at the Bradley's church, Life Center, died in 2020. Miller discovered his daughter's musical gift when she was a toddler and did all that he could to cultivate her talent.
"My dad was a musician, so he understood me and encouraged me," Bradley said. "I remember being 8 years old and playing the piano and writing music at home on the piano he bought for me. As I was working on music, my dad would be hearing what I was doing on the stairs."
Bradley and her mother, Amy Miller, made a special trip to the Coeur d'Alene Resort months after Paul Miller died. Daughter and mother celebrated what would have been her parents 33rd wedding anniversary. They stayed in the room that had been the Millers' honeymoon suite.
"We did nothing but watch movies and eat good food," Bradley said. "We ordered in from Dockside Restaurant. It was so cool that my mom made the request to return to that exact room where they had their honeymoon. The Coeur d'Alene Resort is a family place. I have so many memories from there."
Bradley is packing up all of those memories up and saying goodbye to family as she and her husband, Eric Bradley, and Suede, who resides in Spokane Valley, depart for Hollywood. Both believe in Bradley's ability.
"I've been working with Cami for two years and I'm fully committed to what we're working on," Suede said. "She's the best singer-songwriter I've worked with and I'm totally invested. Otherwise I wouldn't be going to Los Angeles with her. I understand how Cami feels about Spokane, but it's time to go to pursue our dreams."
Local journalism is essential.
Give directly to The Spokesman-Review's Northwest Passages community forums series -- which helps to offset the costs of several reporter and editor positions at the newspaper -- by using the easy options below. Gifts processed in this system are not tax deductible, but are predominately used to help meet the local financial requirements needed to receive national matching-grant funds.
Subscribe to the Spokane7 email newsletter
Get the day's top entertainment headlines delivered to your inbox every morning.
---