News > Crime/Public Safety
With a critical nation's eyes on Moscow, Police Chief James Fry persevered to help deliver justice for slain students
Sun., Jan. 15, 2023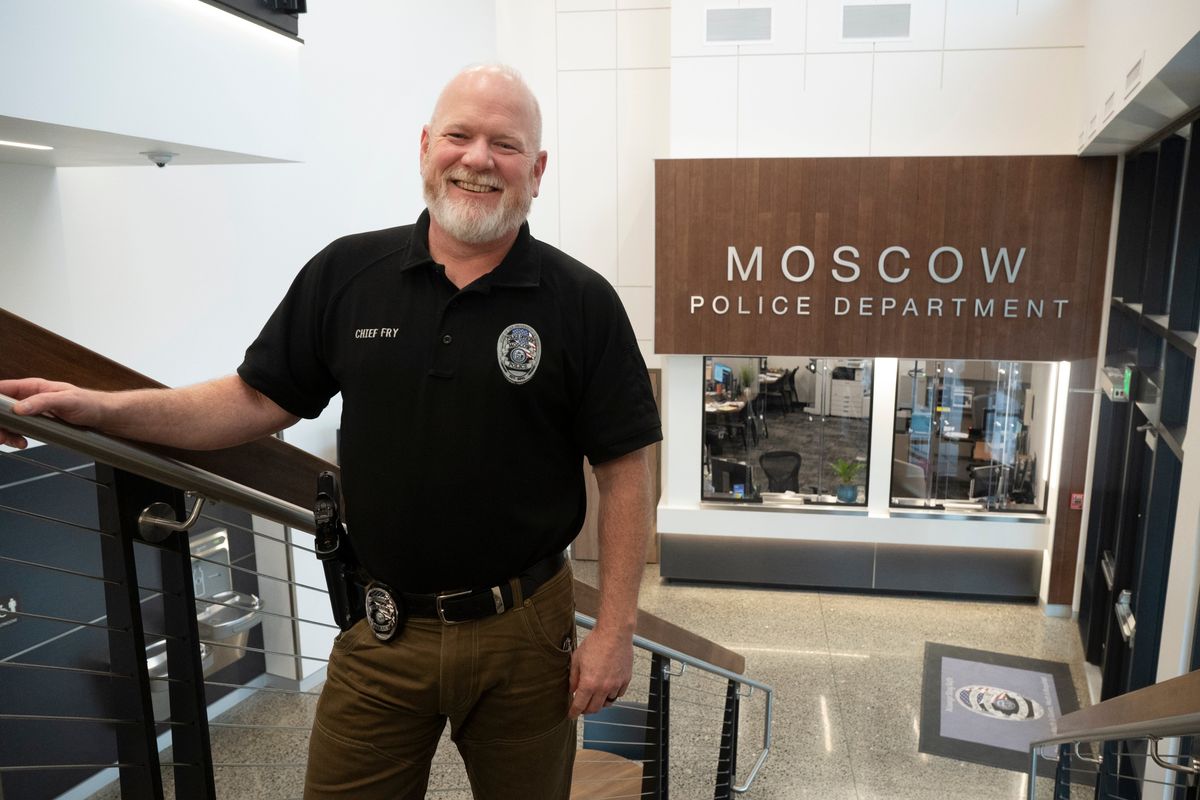 Chief James Fry of the Moscow Police Department stands in the entry way of the department's year-old headquarters building on Thursday in Moscow, Idaho. (Jesse Tinsley/THE SPOKESMAN-REVI)
Moscow police Chief James Fry is considered a quiet, modest man. Typically, he only has a microphone in his face at City Council meetings.
But the slaying of four University of Idaho students on Nov. 13 thrust the 53-year-old face of the Moscow Police Department into the national spotlight.
"He does not want to be the guy who's front and center," Moscow Mayor Art Bettge said. "He doesn't want the limelight. What he wants is just the results, and he works to provide other people with the resources that they need to achieve those ends."
Fry provided updates on the case at news conferences packed with national and local media and watched across the country. He and his department of 30 sworn officers faced criticism by some who said Fry did not provide enough information, and that his department was not equipped to handle a quadruple homicide investigation.
Bettge said he could tell Fry did not like speaking at the first press conference or two.
"It wasn't his natural niche," he said. "He grew into the position and did much better with each passing press conference."
Latah County Prosecuting Attorney Bill Thompson said Fry presents himself as he is: "very straightforward and candid."
Fry said in an interview last week he was unable to answer questions related to the investigation because of a gag order issued by Latah County Magistrate Judge Megan Marshall. The order prohibits police and attorneys from providing information on the case.
He was, however, able to dive into his service background.
Fry, who has a wife of 32 years and four grown children, started at the department as a reserve officer in 1994. He rose through the ranks and became chief in 2016.
"He has deep roots in Moscow and our community and our university, and that definitely shows in his care and consideration when leading the Moscow police," UI spokeswoman Jodi Walker said.
Walker said the university has a long history of collaboration with Fry and the police department, and that provided a great foundation on which to work when the four students were killed Nov. 13.
"He cares deeply. He's very professional," Walker said.
In 30-plus years with Moscow police, Fry has worked a handful of homicide cases. He said those cases gave him experience and knowledge that helped with the UI student killings. That included knowing when to reach out to Idaho State Police and the FBI for assistance.
In the UI stabbings, the work of Moscow police, state police, FBI and other agencies led to the Dec. 30 arrest of Bryan Kohberger, a 28-year-old Washington State University graduate student. The arrest in Pennsylvania came seven weeks after Madison Mogen, Kaylee Goncalves, Xana Kernodle and Ethan Chapin were stabbed to death at the women's rental home just off the UI campus.
Fry got a rare taste of the FBI in 2019 when he graduated from a 10-week training course at the FBI National Academy in Quantico, Virginia. Fry told the Moscow-Pullman Daily News in 2019 the opportunity is presented to 1% of law enforcement personnel in the U.S.
He took 17 graduate -level credits at the course. The classes included leadership, contemporary issues in law enforcement and behavioral analysis, Fry told the Daily News.
Bettge said Fry brought those skills to the UI student homicides investigation. He said Fry's nearly three decades at the department also helped.
"Being here and starting as a patrol guy and working his way up, he's achieved foot-on-the-ground experience and then gradually garnered administrative experience as he's grown up through the ranks to be chief," Bettge said. "So he knows it all from top to bottom."
Fry described himself as a "servant leader."
"I believe that we need to take care of the people that we have working for us to go out and perform the duties," Fry said.
He said he tries to lead his officers by example.
"There's nothing that I would ask our officers to do that I wouldn't go do," he said.
As an example, less than a month after he graduated from the FBI course, Fry directed traffic in knee-deep water during a Moscow flood.
"We don't expect just the officers to be out performing some of those duties," Fry said. "We go help when help is needed."
Thompson, who is the lead prosecutor on the Kohberger case, said he is extremely impressed with Fry, who he described as personable with a sense of humor. He said Fry is great to work with and he considers him to be "one of my favorites."
"He's very human, and that very much fits the environment here in the city of Moscow," Thompson said.
Thompson said Fry has a vision and is able to communicate that vision with others. He referenced the new Moscow police station on the south end of town as one of his accomplishments.
"People know what his expectations are, and I think he models the behaviors that he wants as far as integrity and honesty and the things that we want to see with our law enforcement people," Thompson said.
Bettge said it was extremely frustrating to hear the negativity against the police department, and that the critics' tone rapidly changed when Kohberger was arrested.
"I think the day he was arrested, you could almost feel the wind blowing through town in the form of a sigh of relief by the populous," Bettge said. "Thank goodness they got this guy."
While Bettge said he, Fry and other city officials took heat, they received many letters and emails from people after Kohberger's arrest, apologizing for their rush to judgment on how the case was investigated.
One of the criticisms the department received was for calling the homicides a "targeted, isolated" attack, and saying there was not a threat to the community before walking back that statement and saying the department could not guarantee there was no threat to residents.
Bettge said the police department did "a very excellent, textbook job" of managing the investigation.
"The police department did a really good job of managing the entire case and sucking it up, weathering a lot of criticism," Bettge said. "And in the end, they were justified and proved that they had done this thing exactly right. It will probably be in training books in the future about how to manage something like this."
Bettge said much of the criticism came from non-Moscow residents.
"Locally, I think the community as a whole was in solid support of the department and solid in their support for the officers and the way the investigation was proceeding," Bettge said. "There was frustration, yes, but people supported what was going on and didn't offer criticism of the department."
Indeed, social media users from across the country criticized Fry but also supported him, with one Reddit post calling him "a national HERO." The post generated some 1,500 comments.
"Never to be forgotten for his tireless efforts to catch the killer despite ruthless public criticism," the post reads. "It's an outstanding display of faith restored in law enforcement."
Fry said he regularly turned to a quote from President Theodore Roosevelt to encourage him.
"It is not the critic who counts," it reads in part. "The credit belongs to the man who is actually in the arena, whose face is marred by dust and sweat and blood … who at the best in the end knows the triumph of high achievement, and who at the worst, if he fails, at least fails while daring greatly."
Local journalism is essential.
Give directly to The Spokesman-Review's Northwest Passages community forums series -- which helps to offset the costs of several reporter and editor positions at the newspaper -- by using the easy options below. Gifts processed in this system are not tax deductible, but are predominately used to help meet the local financial requirements needed to receive national matching-grant funds.
Subscribe now to get breaking news alerts in your email inbox
Get breaking news delivered to your inbox as it happens.
---