News > Pacific NW
'It was a decision I had to make for my family': Blake Jensen steps away from weather forecasting at KHQ after a decade
Mon., Jan. 16, 2023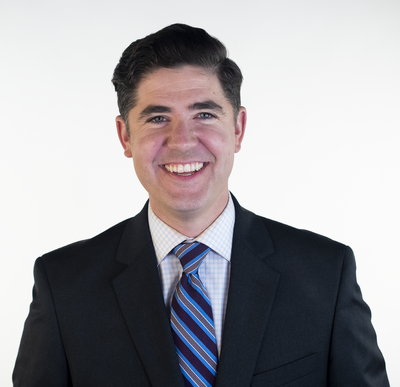 It's uncommon for television weather anchors to quit such a job and leave the industry, but that's just what Blake Jensen did when he bid adieu to KHQ.
The popular talking head left the station after a dozen years. "It was a tough decision," Jensen said. "But it was a decision I had to make for my family."
Jensen, 35, departed for two familial reasons. The Washington State alum wants to spend more time with his wife and sons, who are 3 and 1.
"My wife and I have had very different shifts," Jensen said. "We didn't have as much quality time as we needed. I needed to make a change to be the best husband and father possible."
The Spokane resident also decided to work with his father, Chris Jensen, who runs a private wealth management company in central Washington.
"I don't want to miss out on my children growing up," Jensen said. "And then there's my father's business. It was now or never since my father is going to retire sooner than later. I had to move on but it was difficult to say goodbye to everyone at the station."
The feeling was mutual, according to KHQ executive news director Paul Bergen.
"We're going to miss Blake," Bergen said. "He brought an energy and a positive attitude to work every day. His connection with the community and the viewership is unparalleled."
KHQ General Manager Neal Boling, who hired Jensen in 2011, was surprised but not shocked by Jensen's decision.
"I know that his wife, who is a schoolteacher, and Blake passed like two ships in the night due to their schedules," Boling said. "After the pandemic started more people have thought about their lives and have changed careers. Blake was great here.
"I remember when he started, it was obvious that he has that 'it factor' that is difficult to quantify," Boling continued. "Blake has that and he connects with people in the community. He will be missed."
Roger LaMay, a former television news director in Los Angeles and former board chair at NPR, said Jensen's decision isn't typical in the industry.
"It's both unusual and difficult to walk away from a gig like this," LaMay said. "Both the connection with a community and the attention you get in every room you walk into are addictive. But there are the rare individuals who crave normalcy and are able to walk away. Sometimes that is a higher calling."
Jensen is saying goodbye to the news business, but he's remaining in Spokane.
"My wife and I love it here," Jensen said. "We're going to raise our kiddos here even though we don't have family in Spokane. Her family is in Colorado and mine is in central Washington, but we absolutely love Spokane.
"I remember what Glenn Johnson, who was my broadcast professor at WSU, once said," Jensen continued. "He said, 'In this career you're going to move and you have to be willing to move to cities. At one point in your life you will fall in love with a person or a place.' I was lucky enough to do both. I love the outdoors here and, most of all, I love the people."
Jensen is looking forward to chatting with folks while running into them around town. "I'm sure it will be just like it was before I left the station," Jensen said. "I would run into people and talk with them about all sorts of things, like the weather."
Will Jensen continue his obsession with weather since he is no longer forecasting?
"This might come as a surprise to people, but I will not be focusing on the weather while I'm at home," Jensen said. "For the first time in a very long time I'm going to just look outside and just see what's going on. I have so much to learn in my new line of work. I can't think about the weather like I did when I was at the station."
There's no word on who will replace Jensen at KHQ.
"We just posted the job today," Boling said. "We need to recruit someone who can come in and pronounce everything correctly and be as passionate and thorough about weather as Blake. This job isn't as easy as people think. It takes some finesse to nail the forecast and resonate with the audience. We'll do our best to replace Blake, but that person will have big shoes to fill."
Local journalism is essential.
Give directly to The Spokesman-Review's Northwest Passages community forums series -- which helps to offset the costs of several reporter and editor positions at the newspaper -- by using the easy options below. Gifts processed in this system are not tax deductible, but are predominately used to help meet the local financial requirements needed to receive national matching-grant funds.
Subscribe now to get breaking news alerts in your email inbox
Get breaking news delivered to your inbox as it happens.
---