Sports > Outdoors
Lewiston fishing guide sets Idaho catch-and-release record for smallmouth bass; now he's eyeballing the weight record
Mon., Jan. 16, 2023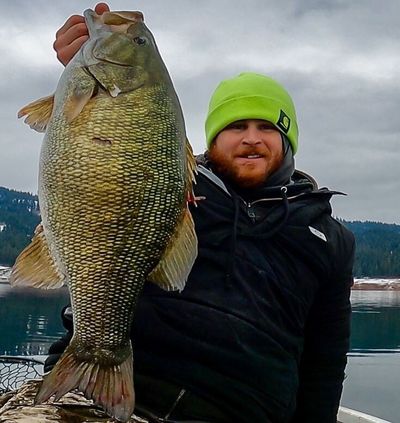 LEWISTON – Think bass fishing is a warm weather endeavor? Joey Walton can prove you wrong.
Walton, of Lewiston, hooked, landed and released a 23.75-inch smallmouth bass from Dworshak Reservoir last month and set an Idaho catch-and-release state record in the process. He said smallies reach their peak weight in late fall.
"They are basically just gorging themselves and getting their winter weight on," he said.
The bass weighed a whopping 9.1 pounds. Walton has been chasing a 9-pounder for three years and is fixated on breaking – make that smashing – the state-certified weight record for smallmouth – 9.72 pounds set by Dan Stiegers, of Juliaetta, in 2006.
"I want the state record. That is what I'm really going for," Walton said. "I'm really going for a 10-pounder. Everybody is pushing for me to catch a double-digit smallmouth. There are very, very few people in the world who have caught a 10-pound smallmouth."
The catch-and-release record is determined by length, and fish must be released alive. The certified weight record is determined by weighing harvested fish on a certified scale.
On Dec. 13, Walton, a fishing guide, started early, boated across the 55-mile-long reservoir near Orofino, a bass fishing hot spot, and started making casts. He hooked the fish on a 6th Sense Swim Jig.
The really big smallmouth don't fight as wildly as fish a few pounds lighter. They pull hard and use their weight to their advantage but don't always make frantic runs and big jumps. But that doesn't mean they give up easily.
"I could tell she was big – she just pulled," he said.
He netted her, tossed the fish in his live well and kept casting. His electronics told him there were three more huge bass in the same area.
"That is the fisherman's mind," he said. "When you get big ones fired up, you have to get back in there."
About 10 minutes later he took the fish from the live well and put her on a scale.
"Yes. Nine-one," he said on a short video posted on his Instagram and YouTube pages.
Dworshak has long been known for its big smallmouth bass. At times, when conditions are right, it produces tanks. That happened in 2022. The reservoir was stuffed with an estimated 10 million undersized kokanee. Bass of a certain size feasted on the bluebacks and packed on the weight.
Idaho Fish and Game officials saw those conditions coming together and predicted last year that records would fall. Walton said this year will be the same.
"There is going to be a lot of big fish being caught. It's kind of one of those things, the stars are just aligned."
He predicts the reservoir will continue to be a destination for smallmouth bass anglers and says businesses around Orofino will benefit as record-chasers flock to Dworshak. Walton has taken some heat for promoting his chase for a 10-pounder because some think it is drawing too much attention – and crowds – to the reservoir
.
"We better all enjoy it while it lasts," he said of the upswing in big fish. "Regardless of fishing pressure, the big ones die. All these big ones have left their genes multiple, multiple times. This reservoir will always be a trophy fishery."
Local journalism is essential.
Give directly to The Spokesman-Review's Northwest Passages community forums series -- which helps to offset the costs of several reporter and editor positions at the newspaper -- by using the easy options below. Gifts processed in this system are not tax deductible, but are predominately used to help meet the local financial requirements needed to receive national matching-grant funds.
Subscribe to the sports newsletter
Get the day's top sports headlines and breaking news delivered to your inbox by subscribing here.
---