A&E > Food
In the Kitchen with Ricky: Brighten up winter with a cheery lemon pie
Wed., Jan. 18, 2023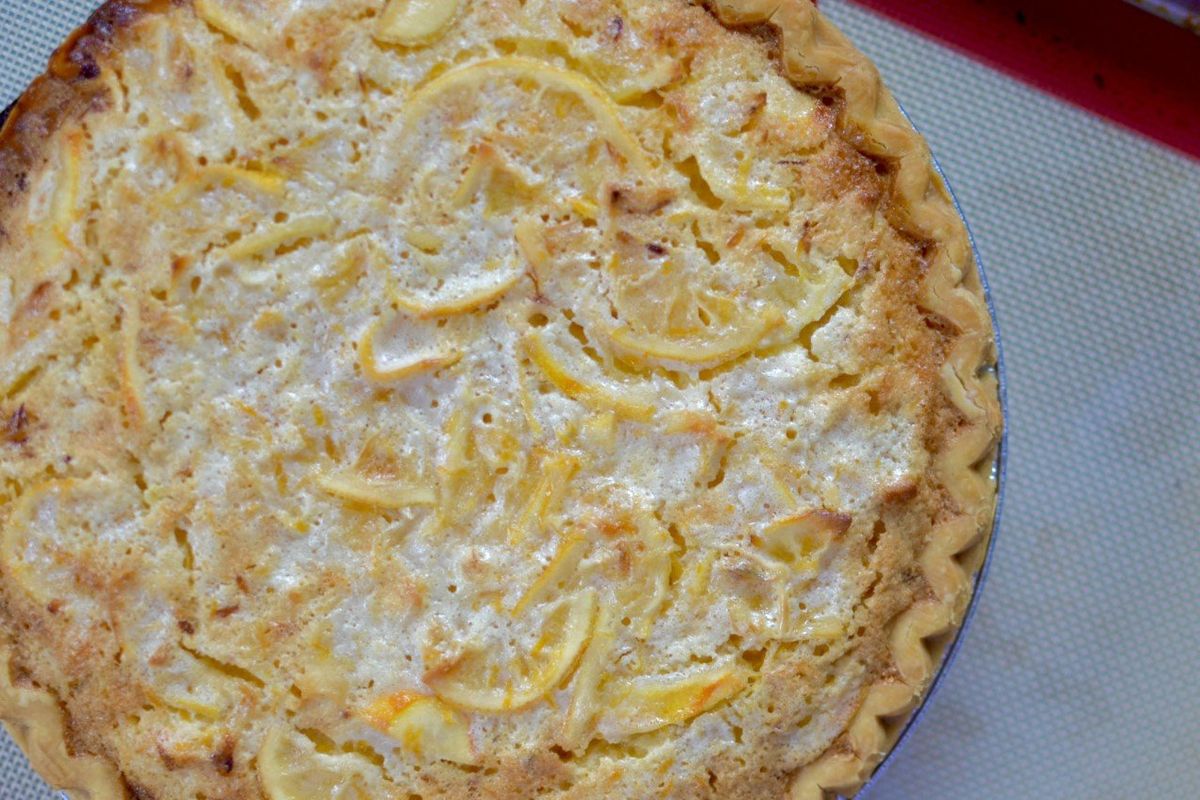 Bring a bit of brightness to winter with this Winter Lemon Pie. Meyer lemons bring a hint of herbal flavors.  (Ricky Webster)
At this time of the year, when the days are darker and colder, it's nice to have a bright treat. Today's recipe for Winter Lemon Pie packs a citrusy punch and feels right for a dessert or a mid-morning snack. The buttery crust combined with the citrusy punch is a great match and the hint of vanilla ties it all together.
Citrus is at its peak of sweetness and juiciness in the winter months. Have you ever wondered why that is, and why citrus is often at its cheapest in the winter? Well, it's because in North America, citrus is typically harvested between the months of October and June.
Citrus is high in vitamin C, and in the winter months it is important to consume vitamin C so that we can help keep our immune system strong and help to fight off colds and flu. Vitamin C also helps us beat the common fatigue caused by darker days, by aiding in the body's absorption of iron.
I love this recipe because it utilizes the entire fruit. It's not just the zest and or juice, but the interior fruit as well. You may be thinking that this pie will be bitter if we use the pith; well, with the lemons spending time in sugar, the flavors meld and marry creating a balance and pure lemon flavor.
This recipe was inspired by the Shaker, or Ohio, Lemon Pie. I used Meyer lemons in this pie today as their season is among some of the shortest in the citrus world. Whenever I see Meyers hit the grocery store shelves (December to March), I snag some. Meyer lemons are thinner skinned and sweeter than the traditional lemon. They are also a bit more herbal and almost floral. I highly recommend you try them. They are also a bit smaller than a traditional lemon.
If you have a lemon dessert fan or lover in your life, I recommend you bake this for them.
Winter Lemon Pie
Filling:
2 cups granulated sugar
1 teaspoon kosher salt
3-4 lemons (3 regular lemons or 4 Meyer lemons)
4 tablespoons unsalted butter, melted
4 eggs
1/4 cup all-purpose flour
1 teaspoon vanilla
Crust:
1 unbaked pie crust, purchased or homemade
In a medium bowl, combine sugar and salt.
Zest lemons and place zest into the sugar and salt mixture.
With a paring knife, trim away and remove much of the pith (white part of the zested rind).
Slice the lemons very thinly. A mandolin is a great tool for this. Be careful to remove all seeds from sliced lemons.
Add lemons and all escaped juices to the sugar mixture.
Let this mixture sit for at least 2 hours at room temperature or preferably overnight in the refrigerator.
When the lemon mixture has set and sugars have completely dissolved, melt the butter.
Preheat the oven to 350.
In a medium bowl, whisk the flour into the melted butter, until smooth and no lumps remain.
Whisk in vanilla.
One by one, whisk in each egg, until mixture is thick and homogeneous.
Add lemon/sugar mixture to the egg mixture and fold together until combined.
Pour into unbaked pie shell.
Bake for 50-60 minutes or until curd is set.
Remove from the oven and cool for about an hour, then set the pie in the fridge to completely chill before serving.
Eat as is, or top with berries, fresh whipped cream or even some meringue for a fun twist on a lemon meringue pie. If it is a bit too punchy in lemon flavor, it pairs and mellows perfectly with some vanilla ice cream.
Store any leftover pie in the fridge.
Serves 8-10
Local award-winning chef and Rind and Wheat owner Ricky Webster can be reached at ricky@rindandwheat.com. Follow Webster on Instagram @rickycaker.
Local journalism is essential.
Give directly to The Spokesman-Review's Northwest Passages community forums series -- which helps to offset the costs of several reporter and editor positions at the newspaper -- by using the easy options below. Gifts processed in this system are not tax deductible, but are predominately used to help meet the local financial requirements needed to receive national matching-grant funds.
Subscribe to the Spokane7 email newsletter
Get the day's top entertainment headlines delivered to your inbox every morning.
---