A&E > Entertainment
Globetrotter Torch George hopes to pass the torch to young girls who love basketball
Jan. 19, 2023 Updated Thu., Jan. 19, 2023 at 3:34 p.m.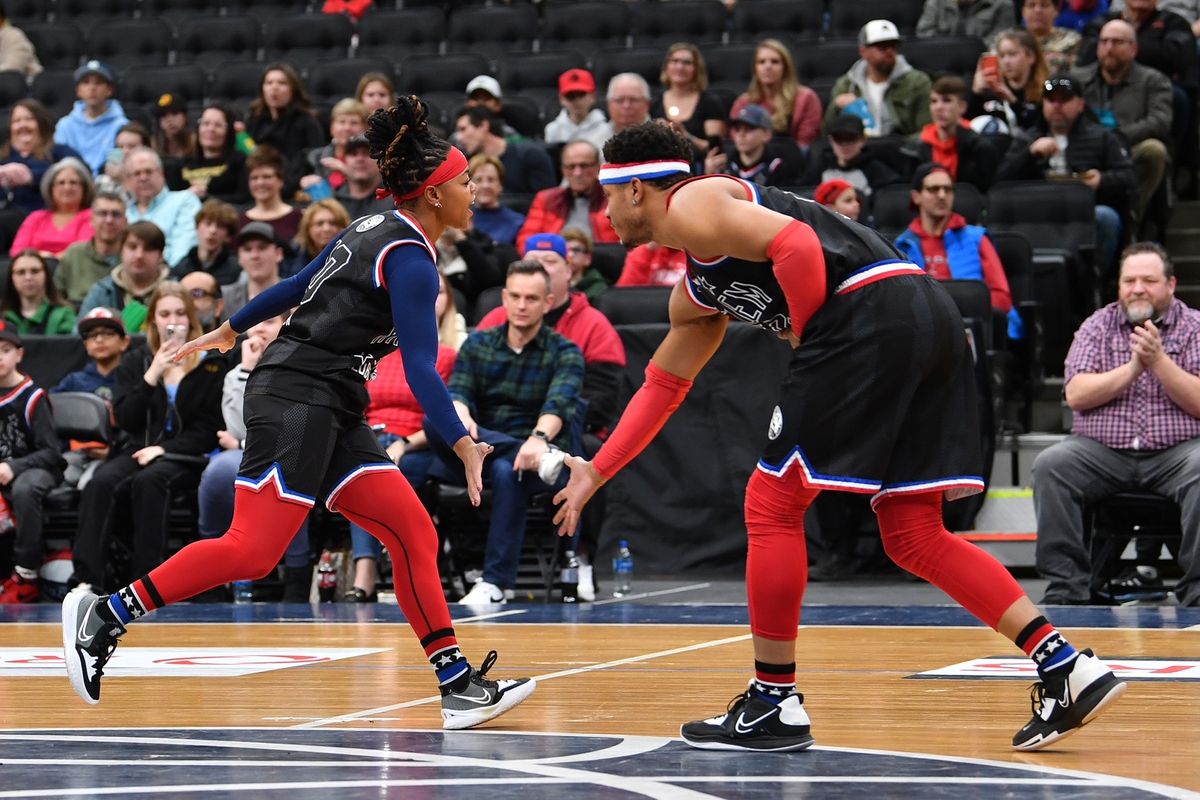 Torch George, who is known for her ball handling skills, and the Harlem Globetrotters will play Monday at the Spokane Arena.
At 5-foot-3, Harlem Globetrotter Cherelle "Torch" George is an impossibly quick and speedy point guard
who is all about inspiring young girls.
"What I do is promote female empowerment," George said in a phone interview. "I'm all about the little girls seeing me out there. I give them hope to be whatever they want to be on the basketball court or wherever they want to be."
George, 38, is proud to note that she also inspires boys.
"Boys come up to me all the time and tell me how impressed they are with how I take care of the ball," George said.
That's no surprise since the Pennsylvanian native became the first of the team's female stars to own her own Guinness World Record title. The "Queen of the Crossover" set the record for the most basketball under the leg tumbles in 1 minute for a woman at 32.
"I'm proud of what I achieved but it takes a lot of work," George said. "In basketball and life as well, it's about what you make of it. It's about putting in endless hours of work. It's about digging deep. If the Globetrotters didn't work hard, we wouldn't be able to do all that we do."
The Globetrotters' artful athleticism and entertaining moves and ball-handling will be on display when the legendary team battles the Washington Generals on Monday at the Spokane Arena.
"We're going to be putting on a show for the fans in Spokane," George said. "We know how much basketball means in the Pacific Northwest."
Expect a high-energy exhibition when the Globetrotters take the court and engage the fans in the interactive game, which will be filled with unpredictability, humor and highly skilled play.
"There is no basketball or entertainment like what we present," George said. "It's always a memorable experience for the kids and the adults since there is nothing like the Globetrotters."
That's not hyperbole. The storied team, which was born in Chicago 97 years ago, has a proud tradition bolstered by such iconic players as Meadowlark Lemon, Curly Neal and arguably the greatest basketball player of all-time, Wilt Chamberlain.
"It's an honor to be part of this team when you look at who preceded me, George said. "It's incredible."
Lynette Woodard, a two-time Olympian and captain of the gold-medal winning 1984 United States Olympic Team, joined the Globetrotters as the team's first female player in 1985 after a successful professional career in Italy and Japan.
"Lynette is a trailblazer," George said. "I'm following in her footsteps and I hope to be a role model for girls everywhere."
The Purdue University alum will be signing autographs with her teammates after the game at the Spokane Arena.
"We'll be out there for at least a half-hour signing jerseys, balls and whatever," George said. "It's something we love to do. We enjoy it almost as much as playing basketball."
Local journalism is essential.
Give directly to The Spokesman-Review's Northwest Passages community forums series -- which helps to offset the costs of several reporter and editor positions at the newspaper -- by using the easy options below. Gifts processed in this system are not tax deductible, but are predominately used to help meet the local financial requirements needed to receive national matching-grant funds.
Subscribe to the Spokane7 email newsletter
Get the day's top entertainment headlines delivered to your inbox every morning.
---