A&E > Entertainment
Helmer Noel finds a home in Kendall Yards after bouncing from Austin to Boston
Jan. 19, 2023 Updated Thu., Jan. 19, 2023 at 3:35 p.m.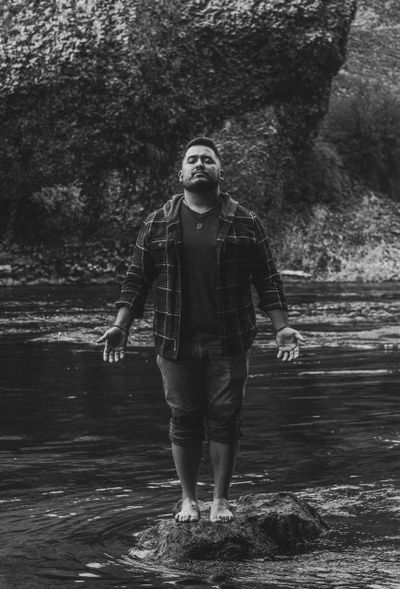 Singer-songwriter Helmer Noel couldn't find Spokane on the map three years ago, but the singer-songwriter couldn't be more pleased residing in Kendall Yards.
"I never heard of Spokane for most of my life," Noel said. "I didn't know much about the Pacific Northwest. It's surprising that I ended up here, but I'm so thankful I'm based here now since life is so much better for me."
Noel, 35, bounced around from such music meccas as Austin and Boston before landing in Rhode Island. When Noel finally arrived in the Lilac City 16 months ago, he experienced serendipity upon leasing his apartment from guitarist-songwriter-producer Logan McDonald.
"Helmer told me that he was a singer but when I tell people that I'm a musician, I'll often hear them say, 'I'm a singer,' and well, not everybody is really a singer," McDonald said. "I also don't like mixing my day job with music."
However, Noel surprised McDonald after he hired him as a lodge monitor. "Helmer started working part-time in his building making sure folks receive their packages and things like that," McDonald said. "One day I heard him singing to himself and I recall thinking, 'Oh my gosh, he can really sing!' "
Noel and McDonald, 25, started collaborating in December 2021. Noel's mellifluous voice floats over his latest gorgeous single, the xylophone-driven "Slow Ride." The catchy and moving tune is part of his forthcoming EP, "City of Arrows," which will drop Sunday. The songs will be showcased Saturday at the Lucky You Lounge.
"Meeting Logan was like divine intervention," Noel said. "When I look at everything, it's all come about in an amazing way. I ended up in Spokane, which was so unlikely and then I met Logan. What are the odds of all of this happening?"
Much is due to the pandemic since Noel started working remotely and he decided to travel across the country. "When I spent some time in Spokane I knew immediately that this was the place for me," Noel said. "This city is one of the country's best kept secrets. Since it's so far away from other cities, a lot of people haven't been here and they don't know how great it is. And for me, it's perfect since there is such a great music scene here. I love the vibe. I'm so inspired right here in Kendall Yards."
Noel stresses how significant a week-long retreat was in Kalama, Washington, just before he visited Spokane. Noel spent time with a Buddhist monk who changed his life.
"I spent one-on-one time with Master Lind and everything changed with him," Noel said. "I took meditation classes and I was given such a lift by the experience. Right after my time with Master Lind in Kalama I found Spokane and I couldn't be more pleased with my life and my music."
It's evident that Noel has found his groove crafting provocative, melodic, eclectic rock.
"A lot has to do with me riding a wave here," Noel said. "It's crazy vibrant in Spokane right now. It's inspired my music, but it's not just me. There are other musicians in town that are moved by the momentum in the arts in this city. Spokane is the place to be and I'm anxious to see what happens next. I'm excited about running with my momentum."
Noel was selected for NPR's Tiny Desk concert in Seattle in 2022.
"That was exciting since I submitted my music and I got the call back," Noel said. "That was an amazing experience and I'm excited about seeing where I can go next with my music. But for the time being it's all about my EP's release and the record release party at the Lucky You."
McDonald believes Noel's career is about to take off. "Helmer has all the talent to get to the next level and he's such a tremendous singer," McDonald said. "It's going to be fascinating to see where this goes."
Local journalism is essential.
Give directly to The Spokesman-Review's Northwest Passages community forums series -- which helps to offset the costs of several reporter and editor positions at the newspaper -- by using the easy options below. Gifts processed in this system are not tax deductible, but are predominately used to help meet the local financial requirements needed to receive national matching-grant funds.
Subscribe to the Spokane7 email newsletter
Get the day's top entertainment headlines delivered to your inbox every morning.
---