A&E > Entertainment
Mountain Gear's gift to Spokane is the Banff Film Festival
Jan. 19, 2023 Updated Thu., Jan. 19, 2023 at 3:35 p.m.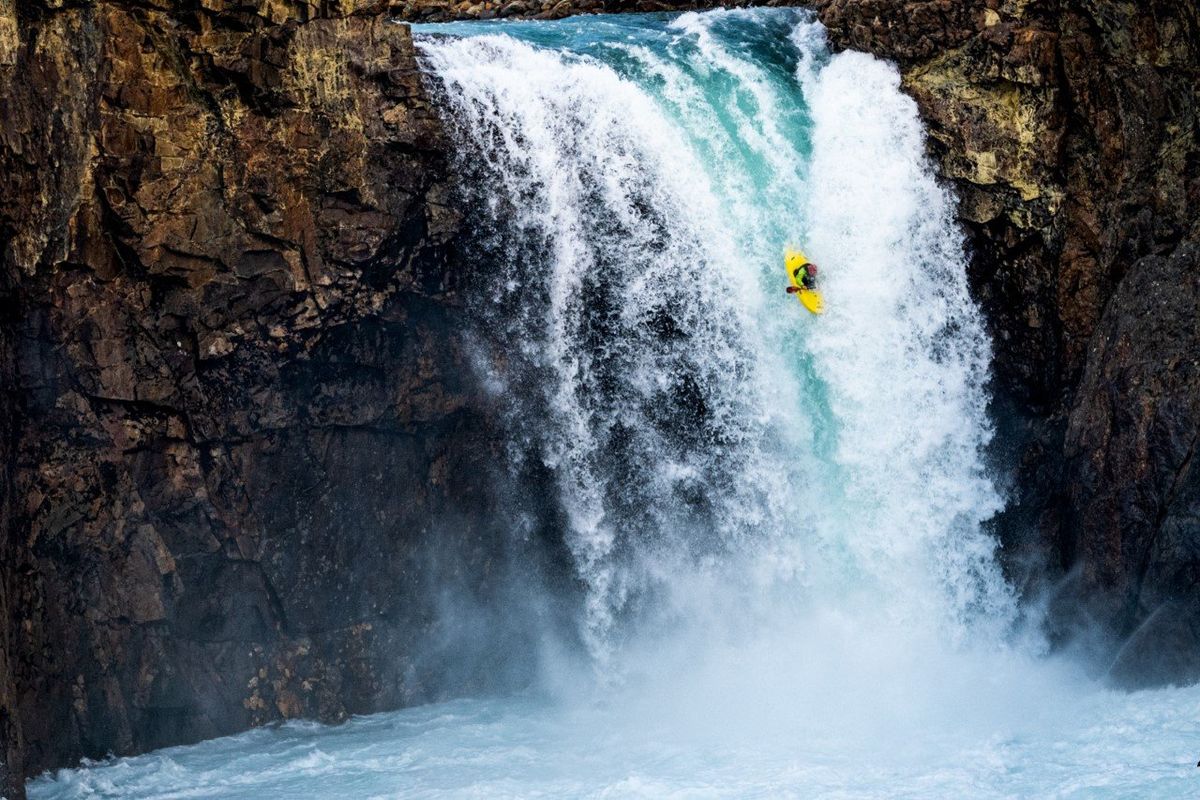 The kayaking film "A Baffin Vacation" is featured in this year's Banff Mountain Film Festival.
Many shops closed their doors permanently in 2020. However, Mountain Gear, the late, lamented Spokane outfitter, which sold outdoor products such as tents and kayaks, opted to shut down in January 2020, before the pandemic, after a healthy 37-year run .
"It was just our time to close," Mountain Gear owner Paul Fish said. "It all happened right before the whole world went to hell."
However, the store still lives on through the Banff Mountain Film Festival, which returns Friday to the Bing Crosby Theater.
Fish isn't sure of the first year he booked the Banff Festival for Spokane but he recalls why he was attracted to the outdoor adventure films.
"It was about marketing for Mountain Gear," Fish said . "Instead of paying advertising to market the store, I brought in the films so people paid us. It made so much sense and it became this amazing tradition that has outlived the store. We've been doing the festival for more than 30 years and people love it and I get it. The films are fun."
Part of the appeal is that many of the activities screened are possible for average adventurists.
"What you see in these films can actually be done by the regular person," Fish said. "It's not like the Warren Miller films in which you watch those movies and you think, 'Wow, if I try that, I'm going to die!' When I watch those films, I watch people ski off a cliff, which I'll never do. However, I remember watching one of the Banff films about paragliding and I learned how to paraglide. I have seen mountain climbing films and I'm no Tommy Cannon but I can climb like these people. Hopefully those who come out for the film will be as inspired as I've been."
An eclectic collection of films with varying running times and subject matter is slated for Friday night and Saturday evening. The programming each night is different. Biking enthusiasts will enjoy "Continuum" and "North Shore Betty" Friday and the compelling "The Fastest Girl in the Village" and "Do a Wheelie" Saturday.
"Reel Rock Bridge Boys," which is set for Friday and "Reel Rock 16: Cenote" for Saturday will appeal to climbers. Skiers won't want to miss "Doo Sar: A Karakoram Ski Expedition" Friday and "FLOW" Saturday.
"A Baffin Vacation" is a unique kayaking adventure, which will go up Friday and "Wild Waters," another paddler flick, will go on Saturday. Environmentalists will be interested in "Before They Fall" Friday and the quirky "Nuisance Bear," which focuses on a polar bear, on Saturday.
"There are an array of very entertaining movies," Fish said. "I'm biased but this has always been a well rounded film festival. This festival always has something for everyone. It all starts with the Banff Center, which has amazing writing classes and film classes."
The Banff Center, which is based in Calgary, started as a single drama course in 1933 and has grown to become a pacesetter in arts, culture and creativity. The Banff Center, which is located in the Canadian Rocky Mountains, started its film festival in 1976 with the focus on mountain culture.
"So this festival has always been a natural for Spokane," Fish said. "People come up to me from time to time and tell me how much they miss Mountain Gear. Hey, I miss Mountain Gear but it's gone. But Spokane still has the Banff Film Festival thanks to Mountain Gear. The Banff Film Festival is Mountain Gear's gift to Spokane."
Fish arrived in Spokane in 1983 from Bellingham. The California native immediately embraced the area. "I saw immediately the potential of this area as an outdoor mecca," Fish said. "So there was Mountain Gear and then there is the Banff Film Festival."
Fish is pleased there is an array of movies since he notes not every project is for everyone. "I saw a film last year about snowboarding in Iran," Fish said. "I thought it was boring but some people said it was their favorite with the focus on Iranian culture. But there are always movies that I love. One of the films that blew me away this year was 'A Baffin Vacation.' It's about Sara McNair and her husband, who live on this remote island and their experience. There are so many amazing adventures to check out at this festival, which is like no other."
Local journalism is essential.
Give directly to The Spokesman-Review's Northwest Passages community forums series -- which helps to offset the costs of several reporter and editor positions at the newspaper -- by using the easy options below. Gifts processed in this system are not tax deductible, but are predominately used to help meet the local financial requirements needed to receive national matching-grant funds.
Subscribe to the Spokane7 email newsletter
Get the day's top entertainment headlines delivered to your inbox every morning.
---