Sports > High school sports
Autumn Agnew, Eden Sander pace Central Valley girls past Gonzaga Prep; No 6 Bullpups boys escape with close win over Bears
Jan. 20, 2023 Updated Fri., Jan. 20, 2023 at 9:37 p.m.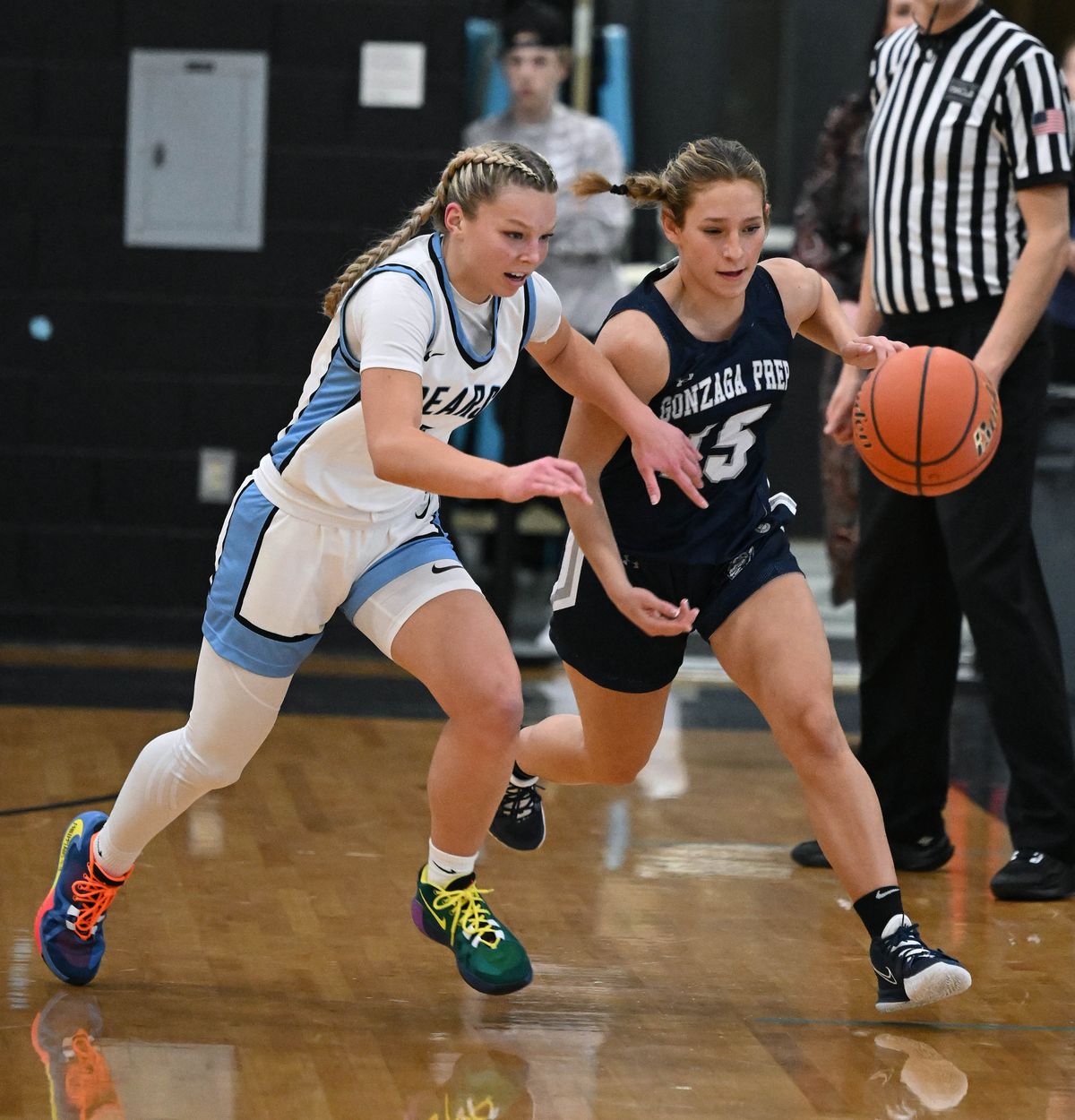 Gonzaga Prep guard Julia Few (15) dribbles the ball downcourt as Autumn Agnew gives chase, Friday, Jan. 20, 2023, at Central Valley High School. (COLIN MULVANY/THE SPOKESMAN-REVIEW)
The Central Valley girls basketball team went through some growing pains last season, finishing .500 overall and 4-5 in the Greater Spokane League, a departure from the Bears' recent history of being at or near the top of the league standings.
They are growing up quickly.
With senior starter Skyler Neumann out with an ankle injury, three sophomores joined two seniors in the starting lineup Friday night at home against Gonzaga Prep.
It provided another opportunity for the young Bears to show why they are back at the top of the league standings.
Senior Autumn Agnew hit four 3-pointers and scored 22 points, sophomore Eden Sander contributed a career-high 21 points and the Bears pulled away from the Bullpups 65-53.
Central Valley (12-3, 5-0) stayed undefeated in league with four games to play. Gonzaga Prep fell to 10-5, 3-2.
"It was a great win that we needed for playoffs," Agnew said. "It was a team win and it was just so fun."
"I'm really proud of our kids sticking to our game plan," CV coach Felice Orrell said. "They worked really hard tonight."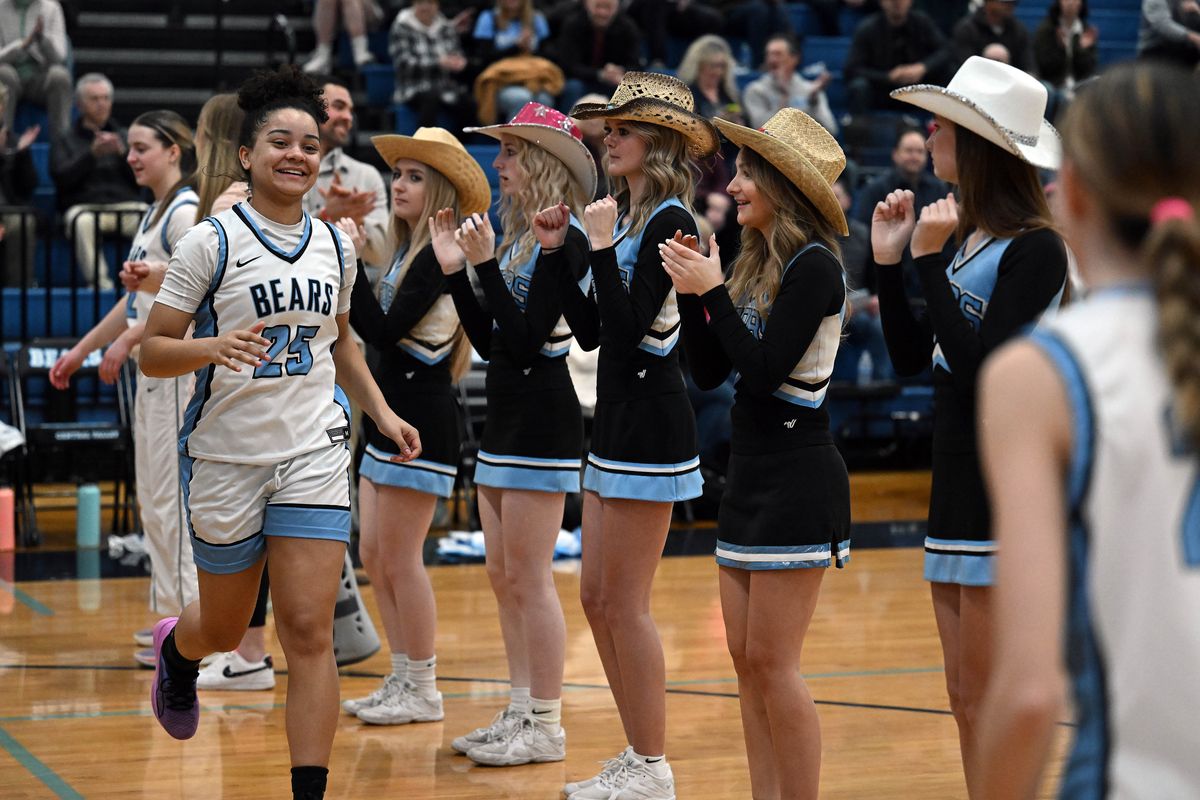 Central Valley point guard Gabbie Wilson takes to the court during player introductions before a GSL high school basketball game with Gonzaga Prep, Friday, Jan. 20, 2023, at Central Valley High School. (COLIN MULVANY/THE SPOKESMAN-REVIEW)
CV build a double-digit lead, watched it shrink to four in the third quarter, then turned up the heat on its opponent, holding G-Prep to six points in the fourth quarter.
"We came out a little flat there in the third," Orrell said. "We got a timeout, get our heads right. Get back to it again. We're really a defensive-driven team this year. That's our bread and butter. We just needed to calm down."
"We came out and we said, 'Defense is gonna win us this game,' " Agnew said.
Sander provided the offense, scoring nine points over her season average.
"I'm really excited (about the career high), but I only got it because everyone ever shares (the ball) so well," she said.
"I was happy to finally shoot well."
Orrell has four 10th-graders in her regular rotation.
"It's been fun to watch our sophomores grow a lot throughout this season," Orrell said. "(Sander) has done just what she needs to be doing."
After a sluggish start, the Bears got hot late in the first quarter. Agnew and Sander hit back-to-back 3-pointers and CV led 16-11.
Sander continued with the hot hand in the second quarter. She made an early 3, then drove to the hoop for a contested layin that put CV up by 11 midway through the quarter.
Gabby Wilson hit a corner 3 with just under 2 minutes and CV led 35-26 at halftime.
G-Prep's Lucy Lynn made two short jumpers and a baseline runner to start the third quarter, and Taliah Lee's 3-pointer with 4 1/2 minutes left in the quarter drew the Bullpups within 43-39. Lynn had 11 points in the third quarter and CV's lead was six entering the fourth.
Quick buckets by Wilson and Agnew pushed the lead back to double digits. Sander hit a 3 a bit later and the Bears' defense did the rest to pull away.
"The GSL is as competitive as always," Orrell said. "Getting a league win on a Friday night against a quality opponent is always good."
Lynn led G-Prep with 14 points and Lee added 11.
Boys
Gonzaga Prep 64, Central Valley 56: Henry Sandberg hit five 3-pointers and scored 16 points, Jamil Miller added 14 points and the Bullpups (13-3, 4-1) beat the Bears (2-13, 2-3) in the late game.
G-Prep won the nonleague matchup earlier in the season by 29 points.
"We knew that they would come out and play hard," G-Prep coach Matty McIntyre said. "And so we're happy for the win, and we'll get back to work tomorrow."
G-Prep led by 10 at halftime, but CV scored the first six points in the third quarter to trim the deficit. The Bullpups called a timeout, then ran off an 8-0 run to reestablish the double-digit lead.
Sandberg's fifth 3-pointer of the game, with just more than 2 minutes left in the third quarter, made it 47-33. The Bears came roaring back in the fourth quarter with a 7-0 run. Kyelan Breesnee's fade-away jumper with 6 minutes left cut the lead to three. Daniel Crowley's short jumper with 2:14 to go made it 54-52 for G-Prep.
McIntyre called timeout .
"Just keep some poise," was his message, he said. "In those moments, you've got a lot of control over your defense. We have to continue to value our defense and do things right no matter how frustrating things get on the offensive end."
Jace Swanson (13 points) hit a 3-pointer to get the lead back to six with 90 seconds left, then Jamil Miller's steal and two-handed slam put it at nine.
Crowley led CV with 17 points – 13 in the third quarter – and Breesnee finished with 15.
Local journalism is essential.
Give directly to The Spokesman-Review's Northwest Passages community forums series -- which helps to offset the costs of several reporter and editor positions at the newspaper -- by using the easy options below. Gifts processed in this system are not tax deductible, but are predominately used to help meet the local financial requirements needed to receive national matching-grant funds.
Subscribe to the sports newsletter
Get the day's top sports headlines and breaking news delivered to your inbox by subscribing here.
---