News > Crime/Public Safety
Man sentenced to 23 years for killing friend in shooting at Spokane Valley bar: 'So totally senseless'
Jan. 20, 2023 Updated Fri., Jan. 20, 2023 at 8:58 p.m.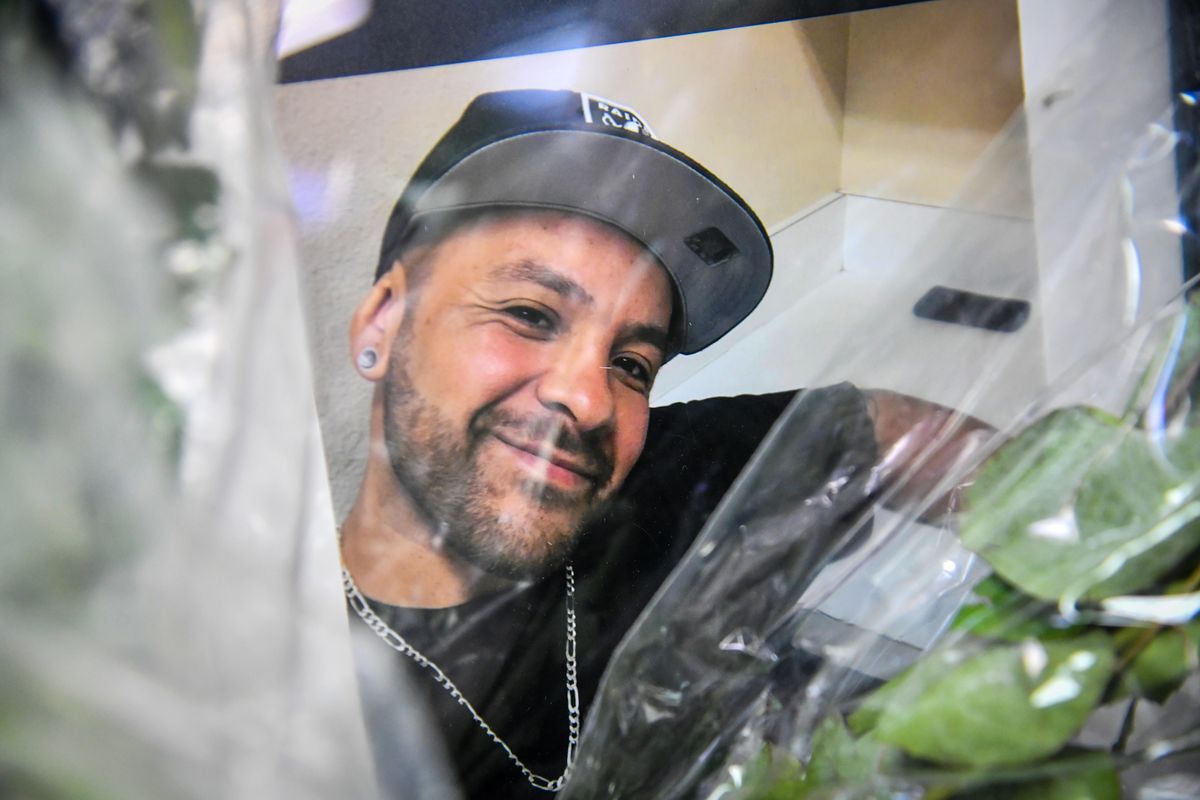 A memorial has sprung up at Exclusive Barbershop, Tuesday, July 27, 2021, for Daniel Martinez, who died after his friend allegedly shot him at Ichabod's East last weekend. Daniel's barber station is now covered in flowers, balloons and memorial candles. (Dan Pelle/THE SPOKESMAN-REVIEW)
A 31-year-old man who killed his friend at a Spokane Valley bar and injured three others in 2021 was sentenced to 23 years in prison Friday.
Alexandro Aguilar and his friend, Daniel Martinez, 42, got into a fight with some other men at Ichabod's East in July 2021. As the fight broke up, Aguilar went to his car and got a gun. He then returned to the bar to shoot at Anthony Bonds Jr., one of the other men involved in the fight.
Aguilar fired a number of shots into the crowded bar. Bonds and Bonds' brother, along with a woman, were injured. Martinez died of a gunshot wound.
"This is your fault," Teresa Martinez, Daniel's sister, yelled via Zoom to Aguilar on Friday. "I will not forgive you."
Martinez asked Spokane County Superior Court Judge Maryann Moreno to give Aguilar the maximum possible sentence.
She lamented the fact that after her parents die, she'll be alone, instead of spending time with her brother like she envisioned.
Sanjuana Martinez, Daniel Martinez's mother, was tearful as she spoke about her love for her son.
"Daniel's death was a huge, huge loss to me, my family, his daughters and son," she said. "We all loved Daniel very much."
Daniel Martinez was a beloved barber, who frequently gave free haircuts to those in need, friends and family said.
In a statement read by his lawyer, Aguilar called Daniel Martinez a loving friend.
The two were as close as brothers, Aguilar said. He even asked Daniel Martinez to baptize his young son. The pair were restoring 1964 Chevrolet Impalas together.
Those good memories will "haunt and hurt" him for the rest of his life, Aguilar said in the statement read by attorney Karen Lindholdt. He wrote he didn't intend to kill Daniel Martinez. Lindholdt added that Aguilar had been drinking for hours leading up to the shooting.
Aguilar pleaded guilty to second-degree murder and three counts of assault .
Before handing down the sentence, Moreno told Aguilar the shooting never should have happened.
"It's just so totally senseless," she said.
Moreno sentenced Aguilar to 20 years in prison with an additional three years because Aguilar committed the crimes with a firearm.
Local journalism is essential.
Give directly to The Spokesman-Review's Northwest Passages community forums series -- which helps to offset the costs of several reporter and editor positions at the newspaper -- by using the easy options below. Gifts processed in this system are not tax deductible, but are predominately used to help meet the local financial requirements needed to receive national matching-grant funds.
Subscribe now to get breaking news alerts in your email inbox
Get breaking news delivered to your inbox as it happens.
---