100 years ago in Spokane: The true identity of Jack the Spanker was in dispute after some victims said the wrong man was arrested
Sat., Jan. 21, 2023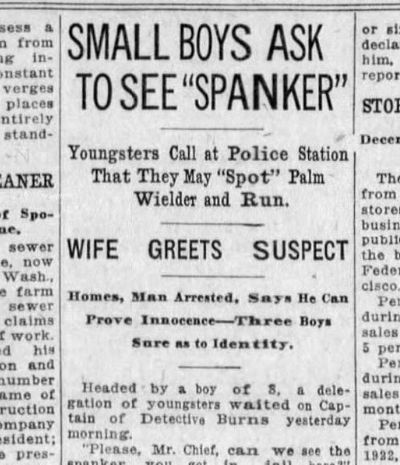 A number of boys who claimed to be victims of "Jack the Spanker" – a man who walked up and spanked small boys on the street – told police that the man they had in custody was not their assailant.
However, since three others did identify him, he was booked on an assault charge and released on a $100 bond. His wife came down to the station to take him home.
"It'll be settled in court all right," he said. "I didn't lick any of those kids and I'll prove I didn't."
Meanwhile, a delegation of youngsters showed up at the police station and asked to see the alleged spanker.
When asked whether they had been spanked, one of them said, "Oh yes, we've all been spanked, but at home, and that's why we want to see the spanker. He ain't spanked us yet and we want to get a good look at him so when he gets out we can run every time we see him."
A detective uttered a hearty laugh and then shooed them out of the station.
From the music beat: The Spokesman-Review reserved an advertising section strictly for teachers of music – and apparently Spokane had plenty of those.
One ad was for Karel Havlicek, "Violin Virtuoso," head of the violin department at Washington State College. Four other violin teachers advertised.
Ida T. Mathews was a teacher of "banjo, mandolin, guitar and kindred instruments, and cello." Several piano teachers offered their services. J. Frederick Stone, "Noted American Tenor," served as a vocal instructor and coach.
Also on this day
(From onthisday.com)
1793: Louis XVI is executed by guillotine in Paris.
Local journalism is essential.
Give directly to The Spokesman-Review's Northwest Passages community forums series -- which helps to offset the costs of several reporter and editor positions at the newspaper -- by using the easy options below. Gifts processed in this system are not tax deductible, but are predominately used to help meet the local financial requirements needed to receive national matching-grant funds.
Subscribe now to get breaking news alerts in your email inbox
Get breaking news delivered to your inbox as it happens.
---