News > Crime/Public Safety
10 people killed, 10 injured in mass shooting at California dance studio
Jan. 22, 2023 Updated Sun., Jan. 22, 2023 at 9:38 a.m.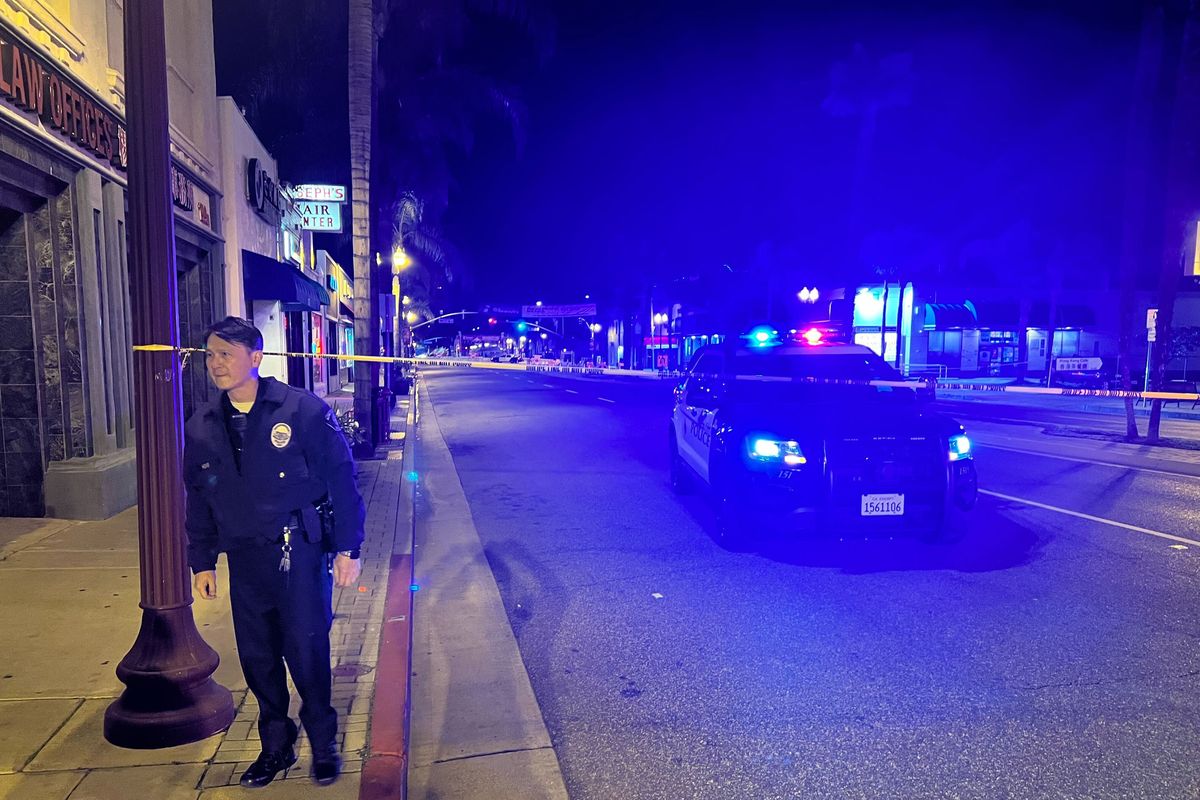 Police at the scene of a shooting at Monterey Park, California, on Saturday night, Jan. 21, 2023. (Raul Roa/Los Angeles Times/TNS) Police at the scene of a shooting at Monterey Park, California, on Saturday night, Jan. 21, 2023. (Raul Roa/Los Angeles Times/TNS) (Raul Roa/Los Angeles Times/TNS)
MONTEREY PARK, Calif. — Ten people were killed and at least 10 others were injured when a gunman opened fire at a ballroom dance studio in Monterey Park on Saturday night, the Los Angeles County Sheriff's Department said.
The mass shooting, one of California's worst in recent memory, happened in the 100 block of West Garvey Avenue at around 10:22 p.m., sheriff's Capt. Andrew Meyer told reporters Sunday morning. The shooting occurred on Lunar New Year's Eve, about seven miles east of downtown Los Angeles.
There was scant information on the suspect: Male and still at large. There is no known motive, nor a description of the shooter.
"When officers arrived on scene, they observed numerous individuals, patrons … pouring out of the location, screaming. The officers made entry to the location and located additional victims," Meyer said.
Firefighters pronounced 10 of the victims dead at the scene, Meyer said. At least 10 others were transported to numerous local hospitals, and their conditions range from stable to critical.
Meyer said investigators don't know whether the victims were targeted. He said it was too early to know whether the shooting was a hate crime. "We will look at every angle," Meyer said. There was no description of the weapon used other than it was a firearm, Meyer said.
Meyer said he's aware of some kind of incident in the neighboring suburb of Alhambra, north of Monterey Park, "and we have investigators on scene trying to determine if there's a connection between these two incidents."
Law enforcement were on scene at the Lai Lai Ballroom & Studio on the 100 block of South Garfield Avenue in Alhambra Sunday morning, about two miles north of the Monterey Park shooting. It was not clear if the police activity at that site was the same one referenced by Meyer.
Seung Won Choi, who owns a seafood barbecue restaurant on Garvey Avenue across from where the shooting happened, said three people rushed into his restaurant and told him to lock the door.
They said there was a man with a semi-automatic gun in the area. The shooter, they said, had multiple rounds of ammunition on him, so that once his ammunition ran out he reloaded, Choi said.
Wong Wei, who lives nearby, said his friend had gone to the dance club that night with a few of her friends. His friend was in the bathroom when the shooting started.
When she came out, he said, she saw a gunman and three bodies — two women and one person who was the boss of the club, Wei said, adding that his friend escaped to his home around 11 p.m.
The shooter was carrying a long gun and appeared to fire indiscriminately, his friend told him.
"They don't know why, so they run," he said.
The shooting occurred near the site of a Chinese Lunar New Year celebration. Tens of thousands had gathered Saturday for the start of a two-day festival, one of the largest Lunar New Year events in the region.
Earlier in the day, crowds were enjoying skewers and shopping for Chinese food and jewelry. Saturday's New Year festival hours were scheduled from 10 a.m. to 9 p.m.
John, 27, who declined to give his last name, lives near the shooting site. He got home around 10 p.m. and heard about four or five gunshots, he said. Then he heard police cruisers "smashing" down the street. He went downstairs at around 11:20 p.m. to see if the shooting occurred at the New Year festival.
"My first concern was I know they're having a Lunar New Year celebration," he said. But he said he saw that the festival had already been cleaned up for the day when he arrived. He went to the scene of the shooting and saw one person being put on a stretcher. Another person had a bandage on their arm.
Video on social media showed police and fire units swarming an area on Garvey Avenue and treating victims.
Injured people were taken to multiple hospitals in the area.
The violence left many in the area stunned.
Edwin Chen, a 47-year-old delivery dispatcher, rushed over from Woodland Hills to Monterey Park around 12:30 a.m. after hearing the news. Chen grew up in the area, he said, and about a dozen of his relatives and friends live there.
He said he was saddened this happened just as the community was celebrating Lunar New Year.
"This is (supposed to be) a happy time," he said. "I want to find out as much as possible. It's still shocking."
"Our hearts go out to those who lost loved ones tonight in our neighboring city, Monterey Park, where a mass shooting just occurred," Los Angeles City Controller Kenneth Mejia, the first Asian American to hold citywide office in L.A., said on Twitter.
Monterey Park, a city of 61,000 in the San Gabriel Valley, has a majority Asian American population. Located east of Los Angeles, the suburb is 65% Asian American, 27% Latino and 6% white, according to census data.
One of the anchor suburbs in the San Gabriel Valley, Monterey Park is a hub of Asian American supermarkets and restaurants.
Monterey Park's two-day Lunar New Year festival had been scheduled to conclude on Sunday. But that day's events are canceled "out of an abundance of caution and in reverence for the victims," Monterey Park Police Chief Scott Wiese said.
White House press secretary Karine Jean-Pierre tweeted that President Joe Biden has been briefed on the Monterey Park shooting. The tweet said Biden directed his homeland security adviser, Elizabeth Sherwood-Randall, "to make sure that the FBI is providing full support to local authorities, and to update him regularly today as more details are known."
The mass shooting in Monterey Park was one of the worst in modern Los Angeles County history. One of the last mass shootings of this scale happened on Christmas Eve in 2008, when a man dressed as Santa Claus entered a home in Covina, armed with five handguns. Nine people were killed in that shooting rampage, including the gunman's former wife and her parents. The gunman took his life hours after the shootings.
Other mass shootings in California in recent memory include the massacre at a San Ysidro McDonald's in 1984, where a gunman killed 21 people; and the terrorist attack that resulted in 14 deaths in San Bernardino in 2015.
Saturday's shooting came just five days after six people — including a 10-month-old baby, her 16-year-old mother and a grandmother — were killed in the Central Valley farming community of Goshen in Tulare County.
Anyone with information on the shooting is asked to call the L.A. County Sheriff's homicide detectives at (323) 890-5500. Anonymous tips can be made by calling (800) 222-8477.
Los Angeles Times staff writer Ruben Vives contributed to this report.
Local journalism is essential.
Give directly to The Spokesman-Review's Northwest Passages community forums series -- which helps to offset the costs of several reporter and editor positions at the newspaper -- by using the easy options below. Gifts processed in this system are not tax deductible, but are predominately used to help meet the local financial requirements needed to receive national matching-grant funds.
Subscribe now to get breaking news alerts in your email inbox
Get breaking news delivered to your inbox as it happens.
---