News > Crime/Public Safety
After 32 years of prosecution, including MLK bombing suspect and Otto Zehm trial, Assistant U.S. Attorney Joe Harrington retires
Sun., Jan. 22, 2023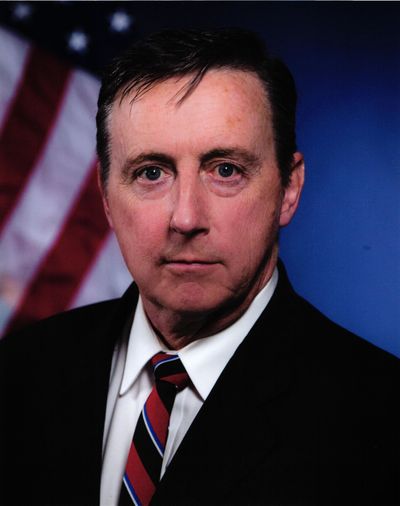 When Joe Harrington took a job at the U.S. Attorney's Office in Eastern Washington in September 1990, he figured he'd get some trial experience under his belt and then move on to private practice.
"Four years, turned into seven, turned into 10," Harrington, who retired from the office after 32 years effective Dec. 30, said in a recent interview.
During that time, the Gonzaga Law School graduate helped prosecute four North Idaho men who committed bank robberies and bombed the offices of The Spokesman-Review and Planned Parenthood as part of the Phineas Priesthood. He led the federal prosecution against Kevin Harpham, the white supremacist who planted a bomb along the route of the Martin Luther King Jr. Day march in 2011. The bomb was discovered beneath a bench across the street from Auntie's Bookstore. Police rerouted the parade and disabled the device before detonation. Harpham was convicted and sentenced to 32 years in federal prison.
Harrington, 65, also helped supervise the team responsible for the successful federal prosecution of former Spokane Police Officer Karl F. Thompson Jr. for civil rights violations in the 2006 killing of Otto Zehm.
But Harrington's initial interest was in math and engineering, he said. He took a job with Kaiser Aluminum in Mead before enrolling at Gonzaga Law during a recession, then spent four years after his graduation in 1986 working for the U.S. Securities and Exchange Commission. Harrington said he was encouraged into public service by Professor John Morey Maurice, a calling that he contqinued to pursue during his years as a federal prosecutor. Harrington said he was also influenced by his dad, who spent a career working for the federal government as a special agent with the intelligence division of the IRS.
"Public service, in my opinion, is a noble calling," Harrington said.
Early mentors in the office included Earl Hicks, an assistant U.S. attorney still practicing in the office, as well as Thomas Rice, who assisted in the prosecution of Harpham and shortly afterward was appointed by President Barack Obama as a U.S. District Court judge, a title Rice still holds today.
Jim McDevitt, who served as U.S. attorney for the office from 2001 to 2010, called Harrington "one of the best trial lawyers in the office."
"Joe has a real calm demeanor," McDevitt said. "He wasn't given to histrionics, or any of that stuff. He always had his research done, had his facts down."
Harrington also mentioned the influence of Jim Shively, an Air Force pilot who was shot down over Vietnam in 1967 and held prisoner at the "Hanoi Hilton" compound. Shively returned to Spokane and became a lawyer, eventually leading the U.S. Attorney's Office. Harrington noted the POW/MIA flag flew beneath the American flag at the Thomas S. Foley United States Courthouse because of Shively.
The longtime prosecutor praised local law enforcement for its partnership throughout the years, including their work in apprehending Harpham several months after the bomb was left on the parade route in January 2011.
"That was an incredible investigation," Harrington said, noting he didn't take a day off that year from Jan. 19 through Labor Day in pursuing charges against Harpham.
Harrington called the Thompson prosecution "an important case, but also a difficult case."
"Some people rushed to judgment before seeing and hearing all the evidence in the case," Harrington said.
He also said he believed the case was "a catalyst for some changes," and praised the work of Spokane Police Chief Craig Meidl, who faced questions during his appointment about being among the officers who stood and saluted Thompson in the courtroom after the guilty verdict. Meidl has since apologized for the salute to both the public and Zehm's family.
"I think the city of Spokane is fortunate to have Chief Meidl at the helm," Harrington said. Thompson was sentenced to a little more than four years in federal prison after the verdict; he was released from custody in 2016.
Carl Oreskovich, the attorney who represented Thompson at trial, called Harrington " a good advocate for the government."
"There's no pretense in him," Oreskovich said.
Oreskovich, who's also from Montana, remembered a time when he was a witness in a case where Harrington was the prosecutor. After a particularly contentious cross-examination, Oreskovich returned to his office to find "a bottle of spirits and a note with a bunch of kind words" from Harrington.
"I thought, that's a class act, that guy," Oreskovich said.
Harrington found himself back in front of a familiar judge at the end of his term, arguing again to hold in prison the men responsible for the Phineas Priesthood bombings and robberies in Spokane in 1996. No one was injured in the blasts, but Harrington said having to argue again for their incarceration after legislative changes and an appellate ruling overturning their sentences brought back memories of the crimes.
"I think it resurrected in me the terror the county of Spokane had experienced," Harrington said.
The four men all received lesser sentences than what was originally handed down in the late 1990s. One of those was Charles Barbee, whose original life sentence was reduced to 55 years and, following a successful appeal of that sentence, down to 40 years in December. Mark Vovos, a longtime Spokane defense attorney who represented Barbee at resentencing and on his appeal, said Harrington was always "very thorough and very prepared."
"I like Joe," Vovos said. "I just don't like his position as a prosecutor, sometimes."
On two occasions, Harrington was called on to serve as head of the U.S. Attorney's Office, even though he hadn't been appointed by a president. Once was in March 2017, when the Trump administration asked Mike Ormsby to step down. He ended up serving in the position for more than two years, then again when Bill Hyslop resigned in March 2021 until Vanessa Waldref's confirmation in October of that year.
Harrington said he was proud and honored to serve as head of the office, citing accomplishments in partnership with the Yakima area to tamp down violent crime in 2019 and a push to name women to three of the six leadership positions in the office under his guidance.
"I've had a very fulfilling career," Harrington said. "There's nothing better than, at the end of the day, feeling like you've done more good than harm."
Waldref, in a statement, praised Harrington's "leadership, wisdom, and institutional knowledge."
"Joe's eloquence, tenacity, and advocacy on behalf of the United States serve as models for other lawyers both inside and outside the Office," Waldref said. "Over his long and successful career, Joe has earned a gravitas that accrues not only to himself and the Office, but to his longtime and well-served clients: the people of the United States."
Harrington said he plans to spend more time with his family and skiing in retirement. He is married with three children. He also plans to retrace the route in Timothy Egan's book, "A Pilgrimage to Eternity: From Canterbury to Rome in Search of Faith," a medieval trail known as the Via Francigena that takes the participant from Canterbury in England, through France, Switzerland and Italy.
Local journalism is essential.
Give directly to The Spokesman-Review's Northwest Passages community forums series -- which helps to offset the costs of several reporter and editor positions at the newspaper -- by using the easy options below. Gifts processed in this system are not tax deductible, but are predominately used to help meet the local financial requirements needed to receive national matching-grant funds.
Subscribe now to get breaking news alerts in your email inbox
Get breaking news delivered to your inbox as it happens.
---