News > Nation/World
Zelenskyy urges Ukrainians to remain unified
Jan. 22, 2023 Updated Sun., Jan. 22, 2023 at 5:49 p.m.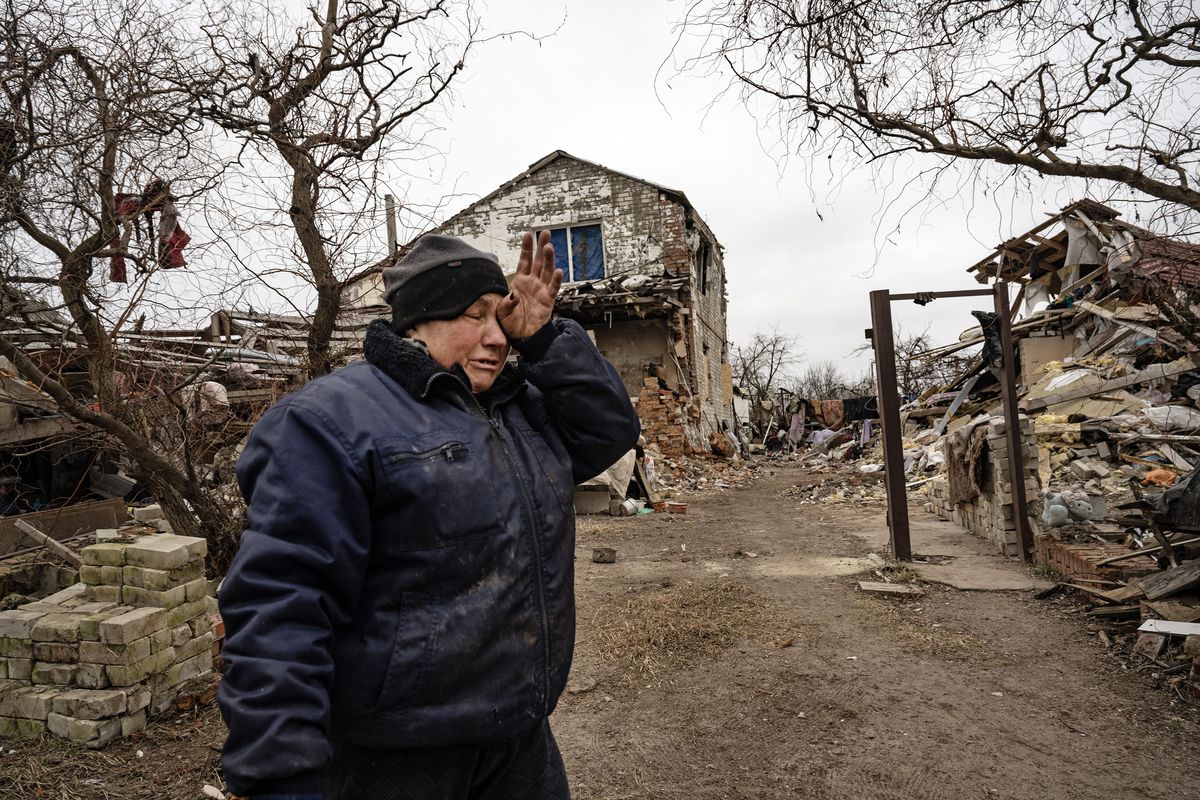 Nina Yevlakhova, 63, outside the remains of her home in Ruski Tyshky, near Kharkiv, Ukraine, on Sunday, Jan. 22, 2023. (Lynsey Addario/The New York Times) -- NO SALES. -- (LYNSEY ADDARIO)
With winter conditions bogging down military troops and leaving both sides looking ahead to spring offensives, Ukrainian President Volodymyr Zelenskyy on Sunday called on Ukrainians from all regions to remain unified.
His comments came in a speech marking Unity Day, a holiday created to commemorate events that took place more than a century ago — and one whose meaning has acquired added poignancy in the wake of the Russian invasion.
The day marks a 1919 treaty signed in Kyiv to unite republics in Ukraine and western Ukraine into a single independent state, and since Russian forces rolled across the border in late February, Zelenskyy noted, many Ukrainian fighters have found themselves defending their homeland far from their actual homes.
"We are all together, no matter where we were born and where we grew up," he said. "Say today: I will defend my Ukraine. My unity."
For Zelenskyy, soaring rhetoric has become a critical tool both at home and abroad as he tries to set the war in the context of global democratic values and galvanize public opinion. On Sunday, he met with former British Prime Minister Boris Johnson, who helped rally support for Ukraine early in the conflict.
But his speech came just days after Ukraine suffered a setback in its campaign for more Western military support.
Ukraine had been hoping to secure an influx of German-made Leopard 2 tanks from its European allies, but Western military officials meeting in Germany said Friday that they had failed to reach an agreement.
To date, Germany has refused to send Leopards from its own stock or give its formal approval to other countries such as Poland that have them to export the tanks to Ukraine. But it has said it plans to begin training Ukrainians in their use, and on Sunday, Polish military officials said they would do the same.
Some military officials have been looking for signals from Germany that it might acquiesce to the tanks' being transferred, even if it withholds formal approval. In an interview on French television on Sunday, German Foreign Minister Annalena Baerbock suggested that her government would not object if the Poles sent them.
And Sunday, the new chair of the House Foreign Affairs Committee, Rep. Michael McCaul, R-Texas, argued on ABC's "This Week" that the United States should send at least one M1 Abrams — its best tank — to Ukraine to persuade Germany to greenlight the Leopards.
"What I hear is that Germany is waiting for us to take the lead," McCaul said.
Since winter has set in, neither Moscow nor Kyiv has made major battlefield gains, although the Russian military authorities say they have taken territory around the city of Bakhmut, in eastern Ukraine, which they have been attempting for months to encircle and then capture amid some of the fiercest fighting of the war.
The slowdown in the pace of territorial change followed gains by Ukrainian forces in the fall in the south and northeast of the country that shifted momentum in the war in their favor.
Ukraine's deputy intelligence chief said Sunday in an interview with a Ukrainian news website that the next few months would most likely be decisive.
"When the spring and early summer are behind us, perhaps we can begin to talk about the end of the war," said the official, Vadym Skibitsky. His comment echoed the view of Ukrainian military officials and military analysts that a new phase of the war is approaching.
Even with the lack of recent progress by either side, civilians are still paying a rising toll.
Authorities in Sumy, a region of northern Ukraine, said Sunday that Russian forces across the border had fired dozens of shells at the village of Esman a day earlier, damaging dozens of houses and wounding a 17-year-old boy.
In Mykolaiv province, in southern Ukraine, a car ran over a land mine Saturday, authorities there said, wounding four people, including a baby.
And Russian forces fired heavy artillery at the Nikopol district in Dnipropetrovsk province, Valentyn Reznichenko, head of the regional military administration, said on the Telegram social messaging app.
One focus of the next phase of fighting may be Zaporizhzhia, a region of southern Ukraine that Russia illegally annexed in October.
In recent weeks, military experts say, both sides have reinforced their positions in the regions, including near the town of Orikhiv, which for months has been shelled by Russian forces.
Lt. Gen. Igor Konashenkov, a spokesperson for Russia's defense ministry, said Sunday that Russian forces had secured a more advantageous position in the province over the past day. There was no independent confirmation of his claims, which were reported by the Tass state news agency.
Col. Yevhen Yerin, a spokesperson for the Ukrainian defense forces, said on national television that small groups of Russian soldiers had attacked Ukrainian positions in Zaporizhzhia but that there had not been large-scale fighting.
This article originally appeared in The New York Times.
Local journalism is essential.
Give directly to The Spokesman-Review's Northwest Passages community forums series -- which helps to offset the costs of several reporter and editor positions at the newspaper -- by using the easy options below. Gifts processed in this system are not tax deductible, but are predominately used to help meet the local financial requirements needed to receive national matching-grant funds.
Subscribe now to get breaking news alerts in your email inbox
Get breaking news delivered to your inbox as it happens.
---