Sports
A Grip on Sports: We will be rooting for a Super Bowl rematch as the NFC and AFC championship games roll this weekend
Mon., Jan. 23, 2023 A GRIP ON SPORTS • It just seemed right. A Sunday sitting, watching NFL playoff football. San Francisco, even without Joe Montana, winning. Cincinnati, with Joe Burrow, winning. Both headed on the road next week, trying to set up a rematch of Super Bowl XVI and XXIII. Yep, that seems right.
•••••••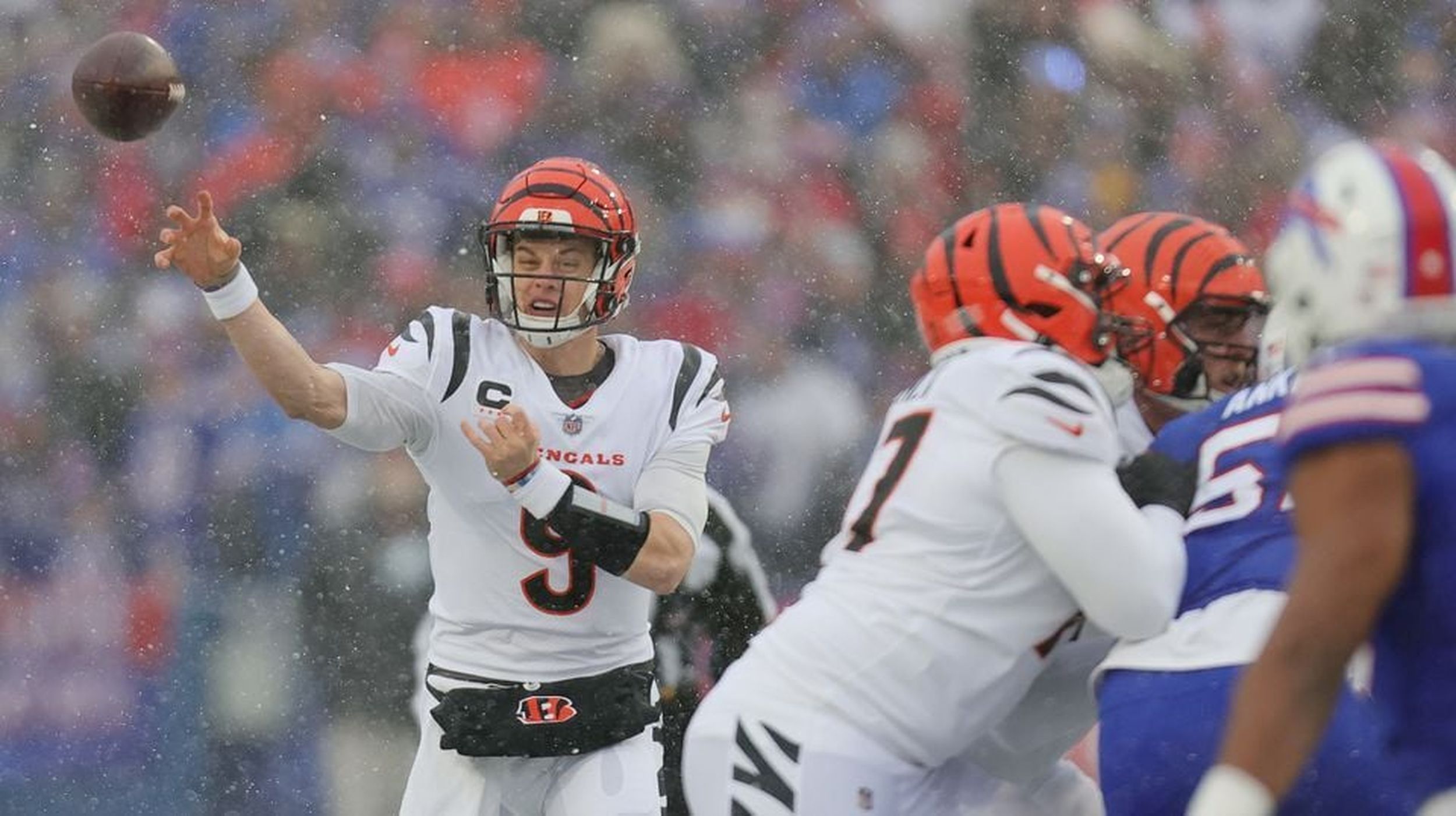 • Montana's legend didn't begin that January day in Detroit 41 years ago, but it certainly was taken to a new level. After all, he added "Super Bowl-winning quarterback" to his resume.
Two weeks earlier, in old Candlestick Park, the 49ers had topped Dallas 28-27. The catch. A singular play in the league's history, nearly as revered as Bart Starr's sneak or Franco Harris' Immaculate Reception.
The Bengals were Paul Brown's second creation – he had built the Browns from scratch back in the day – and a slight underdog. And yet, in the first Super Bowl for both franchises, the game was not all that special.
But it was for some of us. The Bengals were something of "our" team. When they were created in the late 1960s as an expansion franchise, we adopted them. No good reason other than we liked their helmets (a friend gifted us a coffee cup with the helmet on it and, though we didn't drink coffee back then, we held onto it for years).
The 49ers were our father's favorite NFL team, so this Super Bowl was something of a grudge match. His team won, though the game itself was sort of an offensive dud.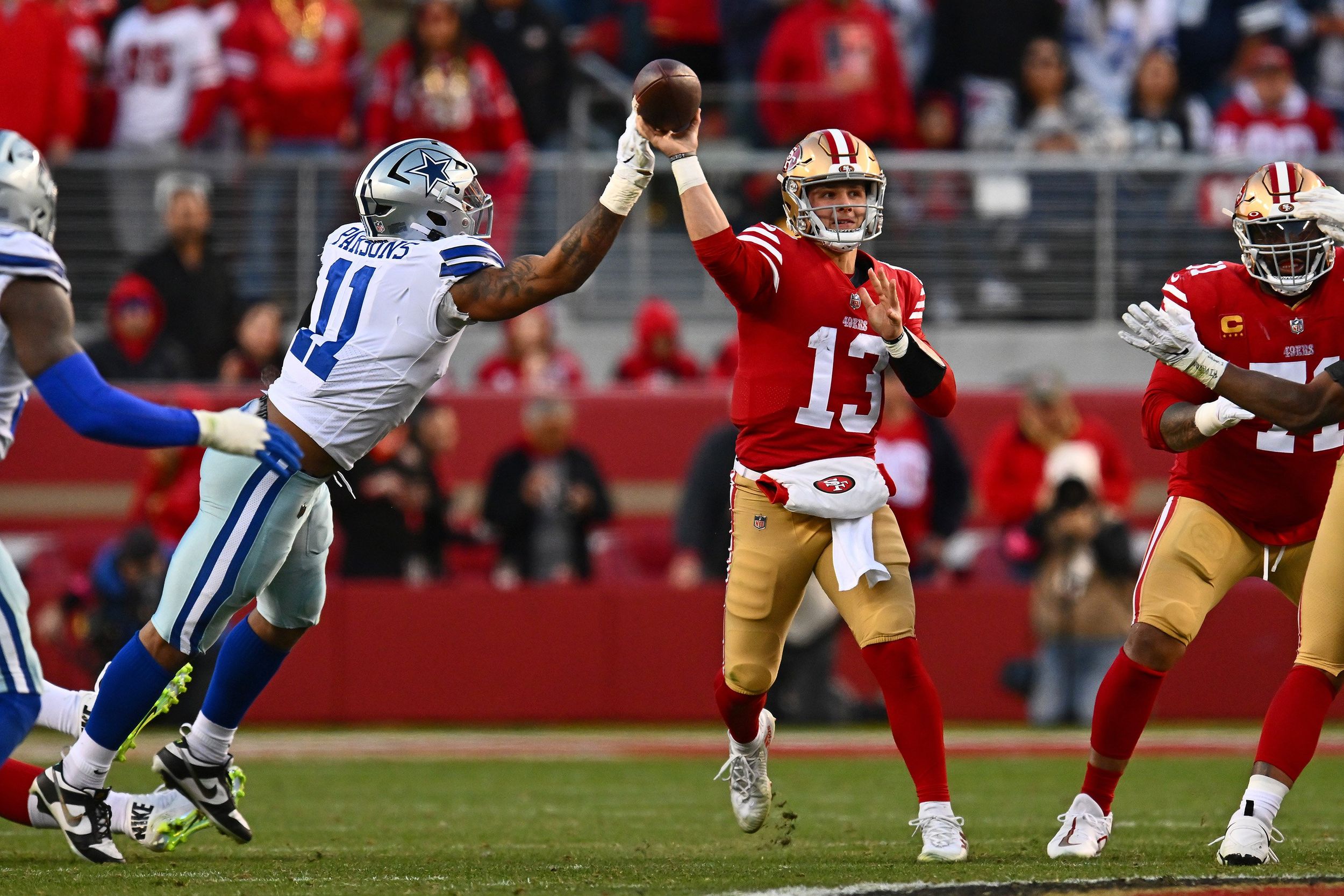 Montana? The Hall of Fame quarterback threw for a "whopping" 157 yards. That's a quarter for Patrick Mahomes these days. And yet the 49ers won. Remember that if and when Brock Purdy leads San Francisco back into the title game this weekend.
Montana did lead the 49ers back to the Super Bowl. In 1985, when they defeated Miami. And in 1989, when the Bengals also returned.
This was the better game.
The 49ers came in favored by seven but trailed by three with 3 minutes, 10 seconds left. They were 92 yards away from winning. The Niners were feeling the heat, especially young offensive lineman Harris Barton.
Montana knew what to do. He entered the huddle at Joe Robbie Stadium, everything on the line, and pointed out to Barton that he had just noticed comedian John Candy in the stands. Tension broken, he led the 49ers on a game-winning drive, hitting John Taylor for the score with 39 second left.
Can the two teams meet again? Last year it looked promising. Both were in the conference title games. Cincinnati went to Kansas City – where it will be again this weekend – and pulled out a 27-24 upset win. The 49ers didn't do their part, though, losing to the Rams in Los Angeles. They get another shot, albeit in Philadelphia, in this week's NFC title game.
We hope both win. And we can re-live a few '80s memories.
• Speaking of memories, we don't have many happy ones from 2020. You know, the lockdown year. And we're not talking about what Lester Hayes used to do to opposing receivers.
That year was also supposed to be the first the S-R held a high school basketball showcase game, featuring the best boys and girls players in the area. But the pandemic forced its cancellation and did the same the next two years.
But Dave Nichols is nothing but not determined. He refuses to say no to something he feels is a good idea.
There will be a game this year. March 14 to be exact. At Lewis and Clark High. Put the date in your phone. It may not be a Super Bowl, but for area basketball players it will be close.
•••
WSU: The Cougars weekend in the Pac-12's mountain region once again turned out to be a tough one. Tied at 55 with Colorado with 4 seconds left, they yielded a game-winning 3-pointer to KJ Simpson and fell to the Buffaloes. Colton Clark has the full story. … The women hung tough with ninth-ranked UCLA in Pullman but fell 73-66 despite not having leading scorer Charlisse Leger-Walker, who was back in New Zealand once again. … Elsewhere in the Pac-12 and college basketball, Jon Wilner looks back at the weekend in the Mercury News. … There was one other men's game Sunday, with Oregon State getting healthy at California 68-48 – the Bears are basically the doctors of the conference. … Utah may be the conference's biggest surprise. … UCLA's scoring woes bit them again in Tucson. … After a bad weekend, Arizona State has little room for error. … The women dominated the headlines, with fourth-ranked Stanford doing that to No. 24 Colorado and Arizona the same to Arizona State, 80-67. … Washington took USC to overtime but then didn't score and lost 63-54. … In football news, just what the heck is Deion Sanders bringing to Colorado and the conference? At the least he's shaking it up.
Gonzaga: After losing to Loyola Marymount at home, the Zags had to get focused quickly on Pacific. As Theo Lawson tells us, Anton Watson led the way. … Elsewhere in the WCC, Saint Mary's is next up for BYU.
Mariners: Just where does the M's roster stand as we get ready for spring training?
Seahawks: The defensive rookies all made contributions and all had some growing pains.  
•••       
• What if Kansas City and Philadelphia win this weekend? Then the Super Bowl will be the battle of the favorites. Both were the leading team in their respective conferences. But that seems boring. We want the Bengals and we don't care all that much who comes out of the NFC. Until later …
Local journalism is essential.
Give directly to The Spokesman-Review's Northwest Passages community forums series -- which helps to offset the costs of several reporter and editor positions at the newspaper -- by using the easy options below. Gifts processed in this system are not tax deductible, but are predominately used to help meet the local financial requirements needed to receive national matching-grant funds.
Subscribe to the sports newsletter
Get the day's top sports headlines and breaking news delivered to your inbox by subscribing here.
---