News > Features
Coeur d' Alene 5th grader wins national award for Safe S'mores Shield
Mon., Jan. 23, 2023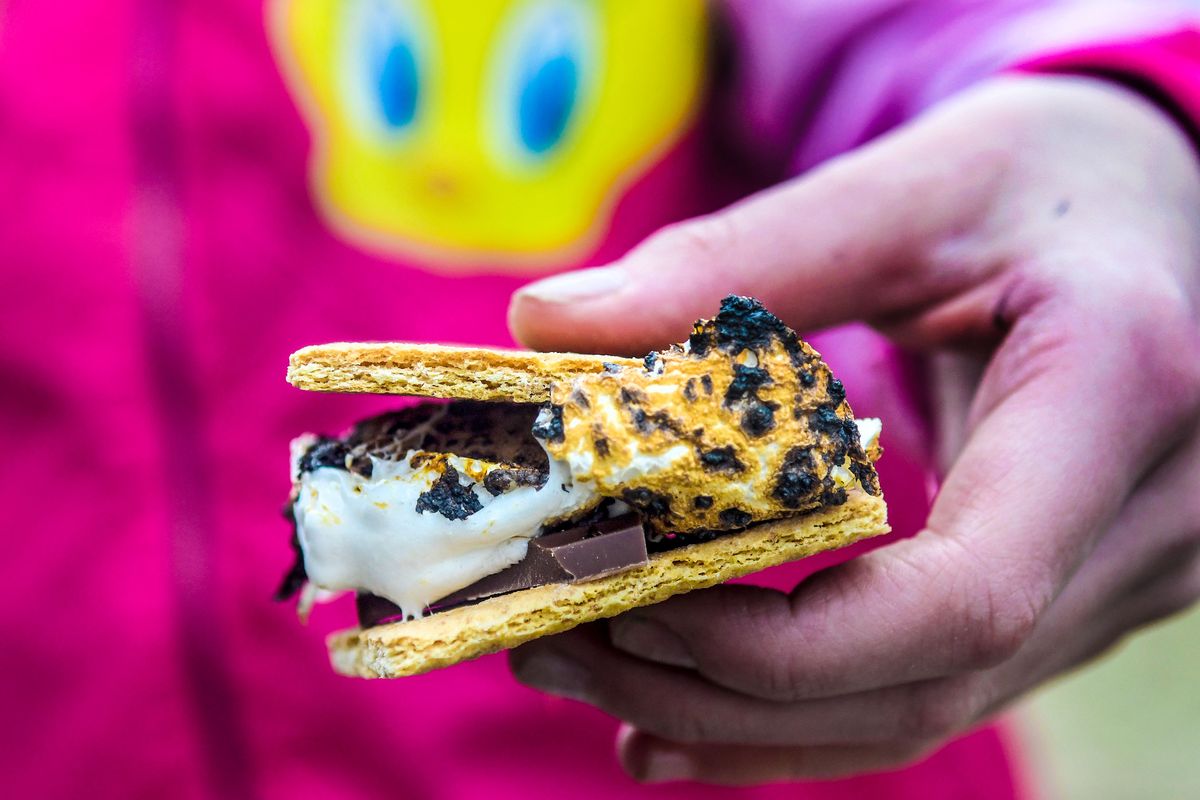 Julianna Schwam holds a s'more that she made using her invention, the Safe S'Mores Shield in front of her home in Coeur d'Alene on Wednesday, Jan 18, 2023. The 5th grader's invention won Invent Idaho's Award:Best Logbook Award at Invention Convention U.S. Nationals. (Kathy Plonka/The Spokesman-Review)
Tuesday was National Kid Inventor's Day, but Julianna Schwam doesn't need a dedicated day to celebrate. This spring, the Coeur d'Alene fifth-grader won a first-place award at the Invention Convention U.S. Nationals at the Henry Ford Museum in Dearborn, Michigan.
Schwam, a student at North Idaho Christian School, participates in Invent Idaho, a program for young inventors in grades 1-12. Since 1989, the program has celebrated student creativity and innovation, while teaching the inventive thinking process in an interdisciplinary curriculum. Young inventors take part in progressive levels of competitions. Students can participate through schools, organizations like Boys and Girls Club, or independently.
A love of a traditional campfire dessert and a desire to help others led Julianna, 11, to invent her award-winning Safe S'mores Shield.
While on vacation in Florida, she noticed her aunt had difficulty roasting her marshmallows around the campfire.
"She had a leg brace and couldn't get close enough to the fire for her s'more to get gooey," recalled Julianna.
When she returned home to Coeur d'Alene, Julianna got busy finding a solution.
Inventiveness runs in her family. Her grandfather was noted aviator, inventor, and biomedical engineer Forrest Bird. Her grandmother, Pamela Bird, was the founder and CEO of Innovative Product Technologies, Inc. (IPT, Inc.).
"All three of my kids love to tinker around," said Julianna's mother Rachel Schwam.
Schwam learned about Invent Idaho from co-founder and state coordinator, Beth Brubaker.
"Invent Idaho is my passion and my baby," said Brubaker, a teacher at North Idaho STEM Charter Academy. "I'm a big believer that kids need to learn problem-solving skills when they're little. Real-world problem solving is a life skill, whether or not they grow up to be an inventor or an engineer."
Schwam agreed.
"I want my kids to be independent and think outside the box," she said. "I want them to use their imaginations and see where it takes them."
Julianna's imagination has taken her to the Invention Convention U.S. Nationals three times. This year marked her second first-place win for Best Logbook.
"My first invention was Hydrant Clear," she said.
Hydrant Clear is a solar light bulb that can be attached to fire hydrants to melt the snow around them, so they're easier for firefighters to get to in the winter, she said.
After winning at the regional and state level, she won Best Logbook at the 2020 nationals, which were held online.
The following year, she worked with her younger sister, Autumn, to create a cord keeper. An accident inspired that invention.
"I vacuumed up my dad's phone charger cord," Julianna said.
The sisters used a 3D printer to make a cord-keeper. They won at the regional and state level.
Students are only allowed to spend $25 on their inventions and parental help isn't allowed unless needed for safety reasons.
The components for Julianna's Safe S'Mores Shield include an umbrella, a fire-resistant blanket and "lots of tape and glue."
After removing the fabric from an umbrella, she fitted the fire-resistant blanket to the spokes and attached a telescoping s'more stick to the top. Its design offers the user protection from sparks while roasting their marshmallows.
"I got to test it and eat s'mores in our backyard," the young inventor said. "It's a working model."
Brubaker explained that inventions must fit one of five categories: working model, nonworking model, adaptations, gadgets and games and her favorite, Jules Verne.
"My colleague and I dreamed it up to encourage imagination," she said. "It's usually futuristic or space-oriented."
And space is why Julianna won't be competing in Invent Idaho next year. She won $200 for her 2022 first-place finish and is using that money to attend Space Camp in Alabama – the timing may conflict with competitions.
"I've always wanted to go," she said. "I love space and science and all the cool experiments you can do. I want to grow up and be an astronaut and go Mars."
Cindy Hval can be reached at dchval@juno.com
Local journalism is essential.
Give directly to The Spokesman-Review's Northwest Passages community forums series -- which helps to offset the costs of several reporter and editor positions at the newspaper -- by using the easy options below. Gifts processed in this system are not tax deductible, but are predominately used to help meet the local financial requirements needed to receive national matching-grant funds.
Subscribe now to get breaking news alerts in your email inbox
Get breaking news delivered to your inbox as it happens.
---