A&E > Entertainment
Angela Bassett Nearly Missed the Announcement of Her Own Nomination
Jan. 24, 2023 Updated Fri., Jan. 27, 2023 at 11:57 a.m.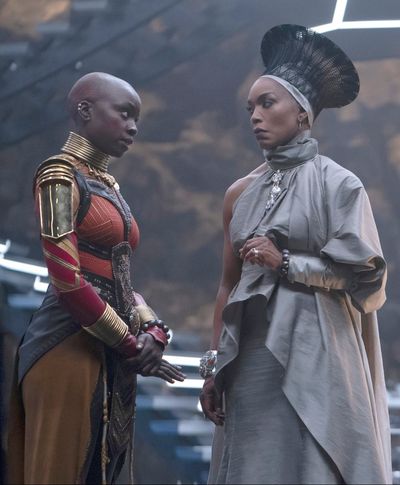 Angela Bassett made Marvel history Tuesday morning as the first star (and woman of color) in a Marvel Cinematic Universe film to receive an Oscar nomination in a comic-book adaptation. She has been nominated before – she was up for lead actress nearly three decades ago for the Tina Turner biopic "What's Love Got to Do With It" – but said she was humble and grateful to be recognized for her supporting role in "Black Panther: Wakanda Forever."
"I'm very excited about it because I know that it's been 30 years," Bassett said. "So it's not easy to come by landing in just these five coveted slots."
All season long, Bassett has been honored for her work in the film: She took home a Golden Globe and a Critics Choice Award for supporting actress earlier this month and is in the running for an NAACP Image Award, a Screen Actors Guild Award and a BAFTA Award.
As Queen Ramonda, who becomes the sovereign ruler of the Wakanda kingdom after the death of her son, King T'Challa (Chadwick Boseman), she is tasked with protecting the Afrofuturist nation from outside threats posed by neighboring countries and the underwater nation Talokan, led by the demigod Namor (Tenoch Huerta Mejía).
Although the comic-book adaptation did not receive a best picture nomination like 2018's "Black Panther," it did receive nods in the costume design, makeup and hairstyling, original song and visual effects categories.
In a video interview from her Los Angeles home, Bassett discussed mourning Chadwick Boseman's death, her own character's death and the glee she felt over her second Oscar nomination. Here are edited excerpts from that conversation.
Where were you when you heard about the nominations?
You knew Super Tuesday was on its way. So I set my alarm for 5:25 a.m. I think I went down about 11 p.m. and woke up at 3:45 a.m. on my own, and tried, tried, tried to go back to sleep and just couldn't. The spigot turned on adrenaline and just flooded me.
They say when you can't sleep, get out of bed and walk around in the dark. So I was like, "But what time is it?" and looked at the clock. It's 5:25 a.m. (a few minutes before the nominations would be announced on the West Coast). I was trying to turn the television on, and I couldn't figure it out. I thought I was going to miss it. I just could not figure out how to get my television on. But finally I did and when it started, it's like, "Oh, my gosh, the first category!" I'm glad I showed up on time.
This film has an undeniable feminine energy, from the moments where you refer to the nation of Wakanda with "she" pronouns to the introduction of tech prodigy Riri Williams, played by Dominique Thorne. How does this film empower young Black girls?
I'm very proud that the film focuses and is led by Black women. It's not the first time for me, the same is true of "Waiting to Exhale" (1995), that was a first and led by four Black women. I suppose I've been in this position before. So I'm comfortable with it, I'm thrilled by it and I hope it will teach Black girls, we're winning. We can win.
The film and its creative team lost Chadwick Boseman, Wakanda's leader, to cancer in 2020. How did you handle his death and translate your grief onscreen? What would Chadwick think of the film?
I handled that with a great deal of pride and love and respect for who he was and who he is. This was not the moment to fall down, but this was to use all of that love, all those emotions that we felt for him, all those memories that we have of him, and to put it into the work and to make it, hopefully, as special as he is. That's no less than what he would have done and what he would have wanted for us.
Your character drowns during an attack led by Namor. What was it like filming that scene?
That scene, well thankfully, the water was warm. The girls were there, Lupita (Nyong'o), Danai (Gurira). I was prepared for that day, of course, you knew it was coming up. It wasn't as sad as it was the day I reckoned it was going to occur. That's for sure.
As we look at your lifelong acting career, how do you feel about this being your second nomination?
I am ecstatic over it, but there's also part of me that maintains that I must keep my feet firmly planted on the ground, on terra firma, on Earth. It's been a journey of hard work, wonderful opportunity. Saying yes to what excites you about the work and individuals, and it will always continue to be that way.
These awards are a fantastic gift from your peers in your community and this certainly is the apex of it. But I know I'm thankful that I still have to get up this morning, get in my car and drive myself to the set and put in the work with my colleagues today. So, I can't sit around heaven all day.
This article originally appeared in The New York Times.
Local journalism is essential.
Give directly to The Spokesman-Review's Northwest Passages community forums series -- which helps to offset the costs of several reporter and editor positions at the newspaper -- by using the easy options below. Gifts processed in this system are not tax deductible, but are predominately used to help meet the local financial requirements needed to receive national matching-grant funds.
Subscribe to the Spokane7 email newsletter
Get the day's top entertainment headlines delivered to your inbox every morning.
---