Sports > Area sports
John Owen, former wrestling coach of Central Valley, West Valley and North Idaho College and Vietnam veteran, dies at 75
Jan. 24, 2023 Updated Tue., Jan. 24, 2023 at 8:25 p.m.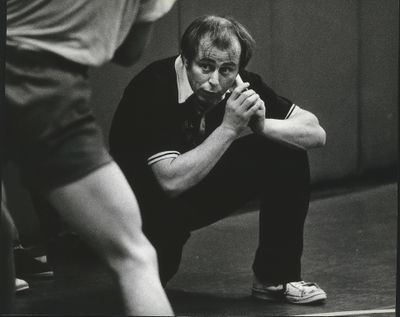 Wrestling fans were reminded annually during the Washington State high school tournaments in the Tacoma Dome by announcer Ed Aliverti, who repeatedly called wrestling "The World's Oldest and Greatest Sport".
He wouldn't have had to remind John Owen. From his youth, through high school, college and internationally, as both competitor and coach, wrestling was his passion and became his life's work.
Over the Christmas holidays when the Owen clan gathered for dinner in Seattle, John suffered what would become a fatal stroke. He died Thursday.
"It was such a shock," his youngest brother, Don, said. "We had just sat down for dinner."
He had some moments of clarity despite the gravity of the situation, Don continued. But John was able to quip about a family member enamored with that other winter sport, "Tell him basketball is bad."
Owen's death at age 75 was a blow to the area's passionate and connected wrestling community.
Growing up the eldest of nine children in Lolo, Montana, their dad was more into boxing and discouraged his sons from wrestling, Don said.
The eldest of nine children, John discovered wrestling against his dad's wishes. Born with a club foot that would require surgery, and just out of his cast, John was beating everybody in his class. His dad said, "He can't be that good," but John answered that he was. And proved it.
"John was probably 90 pounds," Don said. "(Dad) let John and (brother) Mike wrestle."
Don said all the boys of the nine children wrestled, saying, "Wrestling is what we did. The girls were good fist fighters."
The family wrestling tree continues and keeps adding branches.
At age 18, during the height of the Vietnam War, Owen was drafted as a helicopter medic. When he ended his tour of duty, he worked several years on the railroad while attending college .
Owen coached youth and in high school, and had an acclaimed coaching career at North Idaho College and internationally. Before his death in January, Owen was still in the wrestling room teaching the sport he loved to youth at Evergreen Middle School in Spokane Valley.
"It was amazing what impact he had for me," said Phil McLean, a Washington state and national champion when he wrestled for John at NIC, who coaches the sport at Mead High School.
"He took a farm kid from Deer Park (where Phil won three state titles)," McLean said. "I was going to Washington State (that had no program at the time). John Owen took me under his wing.
"He was a game changer," added McLean, who finished his career at Fresno State. "A nonstop teacher."
During his 18-year career, Owen was a teacher of technique. His wrestling room was known for its toughness.
"It was a month before I scored a point," McLean said. "The level of ability was a whole new world."
Owen was also fun-loving and ran youth camps that attracted as many as 500 kids.
During an 18-year coaching career at NIC, he coached 35 national junior college champions and 102 Junior College All-Americans.
He coached on USA freestyle teams against Cuba and Russia in 1991 and '92 and is in six wrestling halls of fame.
But Owen returned to high school and coached 10 state champions among 38 state placers. He was doing what he loved, coaching youngsters, up until his final days.
Local journalism is essential.
Give directly to The Spokesman-Review's Northwest Passages community forums series -- which helps to offset the costs of several reporter and editor positions at the newspaper -- by using the easy options below. Gifts processed in this system are not tax deductible, but are predominately used to help meet the local financial requirements needed to receive national matching-grant funds.
Subscribe to the sports newsletter
Get the day's top sports headlines and breaking news delivered to your inbox by subscribing here.
---