100 years ago in Spokane: A 'quarrelsome' dog turned out to have good reason to be
Wed., Jan. 25, 2023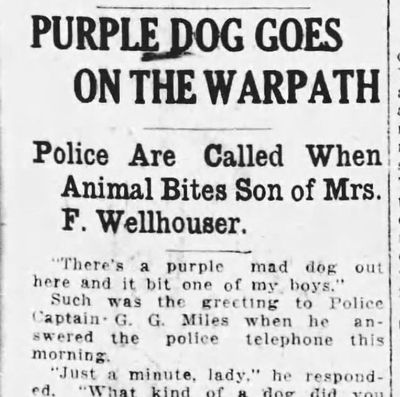 Here's a rough transcription of a call received by a Spokane police captain.
"There's a purple mad dog out there and it bit one of my boys!"
"Just a minute, lady," said the captain. "What kind of dog did you say that was?"
The reply was a repetition of the original complaint, complete with the word "purple."
The incredulous captain sent two men to the scene, who confirmed that the dog was, in fact, purple.
Some practical joker had painted the dog, or dipped it in a purple bath.
As a result, the dog was in a (justifiably) "quarrelsome mood."
From the slander beat: The fallout from the Maurice Codd subornation of perjury trial continued when P.H. White, a witness, sued defense attorney William H. Plummer for slander.
Why?
Because Plummer referred to White in court as a "human packrat."
White took extreme exception to this, noting that a packrat is known to "steal anything it can move, roll or carry away." He said this subjected him to "hatred, contempt and ridicule," and he sued Plummer for $35,000.
Local journalism is essential.
Give directly to The Spokesman-Review's Northwest Passages community forums series -- which helps to offset the costs of several reporter and editor positions at the newspaper -- by using the easy options below. Gifts processed in this system are not tax deductible, but are predominately used to help meet the local financial requirements needed to receive national matching-grant funds.
Subscribe now to get breaking news alerts in your email inbox
Get breaking news delivered to your inbox as it happens.
---