A&E > Entertainment
A "cute but damaged" comic returns to Spokane Comedy Club
Jan. 26, 2023 Updated Thu., Jan. 26, 2023 at 2:22 p.m.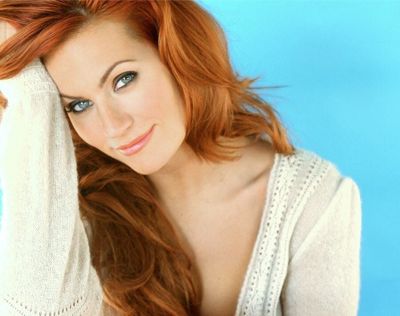 When April Macie won "The Funniest and Hottest Comedian" contest on "The Howard Stern Show" in 2008, the charismatic humorist received quite a career bump.
"When you get some acclaim from Howard Stern, it's awesome," Macie said from her Los Angeles home. "That can only help. It was satisfying when I won, but my favorite part of that experience is a photo I have of Howard laughing at something I said. Howard knows that I'm funny and the reality is that it doesn't hurt that I look a certain way."
However, good looks and jokes are often regarded as mutually exclusive in the comedy world.
"That's true but it's wrong," Macie said. "Just because you're attractive doesn't mean you can't be funny. Maybe some of the reason I'm funny is due to how my life was growing up, which was difficult. My mom drank a lot. Billy Joel sang about how my hometown was a dump. Where I grew up is nothing like it is here in Los Angeles."
Macie, 46, was raised just outside of Allentown, Pennsylvania, which the Piano Man toasted 40 years ago. Macie said she was misunderstood and that her classmates verbally abused her.
"It wasn't easy growing up being called doo-doo breath," Macie said. "But it made me funny. I grew up with a lot of sadness. My dad's sister committed suicide. My sense of humor helped me overcome a great deal of pain. When you're attractive people don't give you bags of money and puppies. Life can be difficult. You can be cute and funny, but you can also be cute and damaged. I talk about the problems I had but so did Richard Pryor, who proved that you can take tragedy and make it palatable enough that people laugh at it."
Macie jokes about her marriage, her family and sex.
"My husband is Iranian but don't worry about him," Macie said. "How threatening can he be wearing skinny jeans?"
Macie and her husband met in Florence, Italy, where he owns a home. The couple, who have been married for five years, keeps the property in Italy for one reason. "It's about health care," Macie said. "If something happens to you and you're an Italian citizen, you're covered, unlike here. The worst thing that can happen to you in this country is that you get sick. So it's cheaper to own a home in Italy than get stuck with medical bills here. I love to compare the countries. People in Italy enjoy life. It's much different here. There's a sadness living here that there isn't in Italy. And then there is my husband's view. It's interesting seeing the American dream through my husband's eyes."
Macie's goal isn't to be the most popular or wealthiest comic.
"I just want to be happy," Macie said. "Money isn't going to give me happiness. What would make me happiest is living in Santorini and then also being able to do stand-up like I do now."
Local journalism is essential.
Give directly to The Spokesman-Review's Northwest Passages community forums series -- which helps to offset the costs of several reporter and editor positions at the newspaper -- by using the easy options below. Gifts processed in this system are not tax deductible, but are predominately used to help meet the local financial requirements needed to receive national matching-grant funds.
Subscribe to the Spokane7 email newsletter
Get the day's top entertainment headlines delivered to your inbox every morning.
---