News > Nation/World
NASA commemorates those lost in 3 tragedies on Day of Remembrance
Jan. 26, 2023 Updated Thu., Jan. 26, 2023 at 7:37 p.m.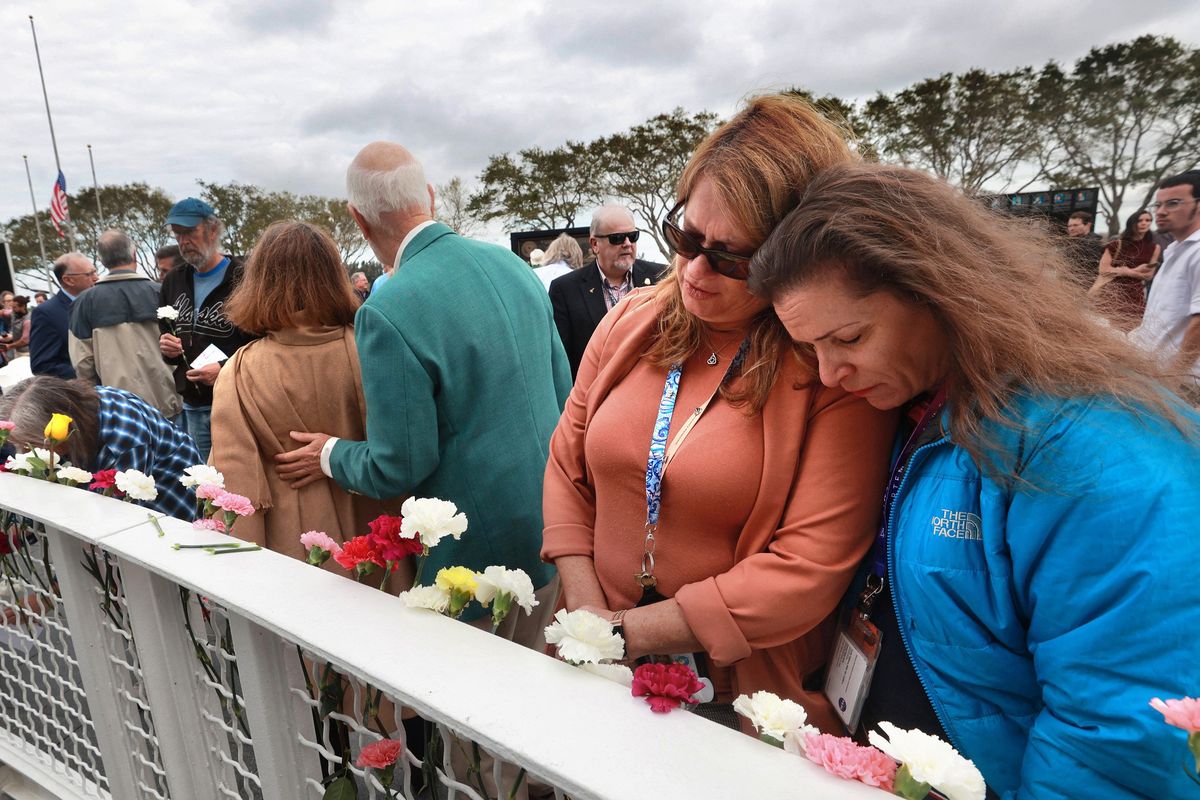 Space Shuttle Columbia team members remember the loss of the STS-107 crew during NASA's Day of Remembrance ceremony on Thursday at Kennedy Space Center Visitor Complex in Florida. (Tribune News Service)
KENNEDY SPACE CENTER – It has been nearly 20 years since the seven crew members aboard Space Shuttle Columbia didn't make it home, and NASA leaders gathered Thursday to commemorate their lives as well as those from Space Shuttle Challenger and Apollo 1 on the Day of Remembrance.
The somber annual event ties together the three fatal incidents as well as remembering others who died in the pursuit of space exploration.
The anniversaries of Apollo, Challenger and Columbia fall within six days of each other.
The Apollo 1 fire that killed Virgil I. "Gus" Grissom, Edward H. White and Roger B. Chaffee during a launchpad test at what was then Cape Kennedy Air Force Station happened in the early evening of Friday, Jan. 27, 1967. The three astronauts who were set to be the first crewed mission of the Apollo lunar landing program were testing ahead of their planned February launch when a fire broke out at 6:31 p.m. during a simulation on Launch Complex 34.
NASA's next major blow came 19 years and one day later, just before noon on Tuesday, Jan. 28, 1986, when Space Shuttle Challenger exploded 73 seconds after liftoff, killing all seven astronauts aboard. The spacecraft disintegrated over the Atlantic Ocean off the coast of Central Florida after an O-ring seal failed.
People all over the country viewed the disaster live because the shuttle was carrying Christa McAuliffe, who would have been the first teacher in space. Also killed were astronauts Michael J. Smith, Francis R. "Dick" Scobee, Ronald E. McNair, Ellison Onizuka, Gregory Jarvis and Judith Resnick.
Then 17 years and three days later tragedy struck again, when in the morning hours of Saturday, Feb. 1, 2003, Space Shuttle Columbia disintegrated upon reentry on the shuttle's 28th mission, killing the seven-member crew of STS-107 – Rick Husband, Kalpana Chawla, William McCool, David Brown, Laurel Clark, Michael Anderson and Israeli astronaut Ilan Ramon.
Among several events around the nation was a ceremony at the Kennedy Space Center Visitor Complex. It was held at the Space Mirror Memorial with Astronauts Memorial Foundation president and state Rep. Thad Altman as well as Kennedy Space Center Director Janet Petro and NASA Associate Administrator Bob Cabana.
"Why do we do this every year? Why do we have a NASA Day of Remembrance?" asked Cabana. "Obviously, it's to honor our fallen comrades … those who paid the ultimate sacrifice in our quest to explore. But more importantly, it's so we do not forget the hard lessons learned from Apollo, Challenger and Columbia."
He shared heartfelt memories of each of the seven crew of Columbia, recalling, for instance, Mike Anderson, who had "two of the most beautiful daughters," and Laurel Clark, who "could always make you smile" and had "the wildest socks all the time." For Israeli astronaut Ramon, he recalled his infectious smile.
The ceremony, which came under gray clouds and a brisk chill, opened with an invocation from Rabbi Zvi Konikov of the Chabad of the Space & Treasure Coasts, and he too reminisced about Ramon and their friendship.
"20 years ago, Ilan turned to me with a question. How does one mark the Sabbath in space? With every 90 minutes, another sunset? Every 10 1/2 hours a Sabbath. And every 20 days is the new year – the Jewish new year – Rosh Hashana. Jerusalem, we have a problem," Zonikov joked. "So I had my homework to do. But Ilan taught us a powerful message. No matter how fast we're going, no matter how important our work, we must pause and think about why we're here on Earth. And that's what we're doing today.
"We pause to recall the memory of all those courageous souls, all our nation's fallen astronauts who gave their whole – soul and body too – including Columbia's seven heroic human beings."
The lives lost were honored with the ringing of a bell, each with a lingering toll for each of the 25 names of those who died not only in the Apollo and shuttle disasters but also those who died during test flights during training.
Sheryl Chaffee, daughter of Apollo 1 astronaut Roger Chafee, joined Cabana and Petro laying the wreath at the memorial, her reflection just under her father's name inscribed on the towering black wall memorial.
"I'm never going to forget. All right? I don't want anybody to forget," Cabana said. " … I want everybody to feel what I felt knowing that crew so that we remember and we don't forget, so that we don't make the mistakes of the past as we move forward."
NASA Administrator Bill Nelson was in Washington to lead a ceremony that included a wreath-laying at the Tomb of the Unknown Soldier while other ceremonies were held at Johnson Space Center in Houston and 10 other NASA facilities across the nation.
Nelson led a panel discussion earlier this week with Cabana and Deputy Administrator Pam Melroy in Washington. Both Cabana and Melroy were at KSC's Shuttle Landing Facility awaiting Columbia's return that morning two decades ago.
"I was out at the runway with Bob Cabana and the crew didn't land on time," Melroy said. "We all stared out, looking as we did for the shuttle, listening for the sound of the distinctive double boom. And we didn't hear it and the time came and went.
"As we all looked at each other, Bob knew. Cabana knew before the rest of us, and it's because he'd been through it with Challenger. He was the first to say to all of us, they're not coming home."
NASA's leaders hope to keep the tragedies and lessons learned in the minds not just on one day, or one week, but throughout the year.
"We can prevent accidents with people flying in space. That's why our Day of Remembrance is so important," Cabana said.
Cabana was assigned as the director of Flight Crew Operations in Houston, and STS 107 was his first flight in that role.
"I rode out to the pad with that crew and that's the last time I saw them," he said. "I knew the Challenger crew, but I really knew the Columbia crew and I knew that it was preventable. I knew we could have done something in retrospect when we learned about it. And it's very hard. I was someone that had to tell families they weren't coming home. I don't ever want to have to do that again."
Local journalism is essential.
Give directly to The Spokesman-Review's Northwest Passages community forums series -- which helps to offset the costs of several reporter and editor positions at the newspaper -- by using the easy options below. Gifts processed in this system are not tax deductible, but are predominately used to help meet the local financial requirements needed to receive national matching-grant funds.
Subscribe now to get breaking news alerts in your email inbox
Get breaking news delivered to your inbox as it happens.
---