Sports > High school sports
Unsung: Mia Pierce attracts college offer despite lack of spotlight at Upper Columbia Academy
Jan. 26, 2023 Updated Thu., Jan. 26, 2023 at 5:57 p.m.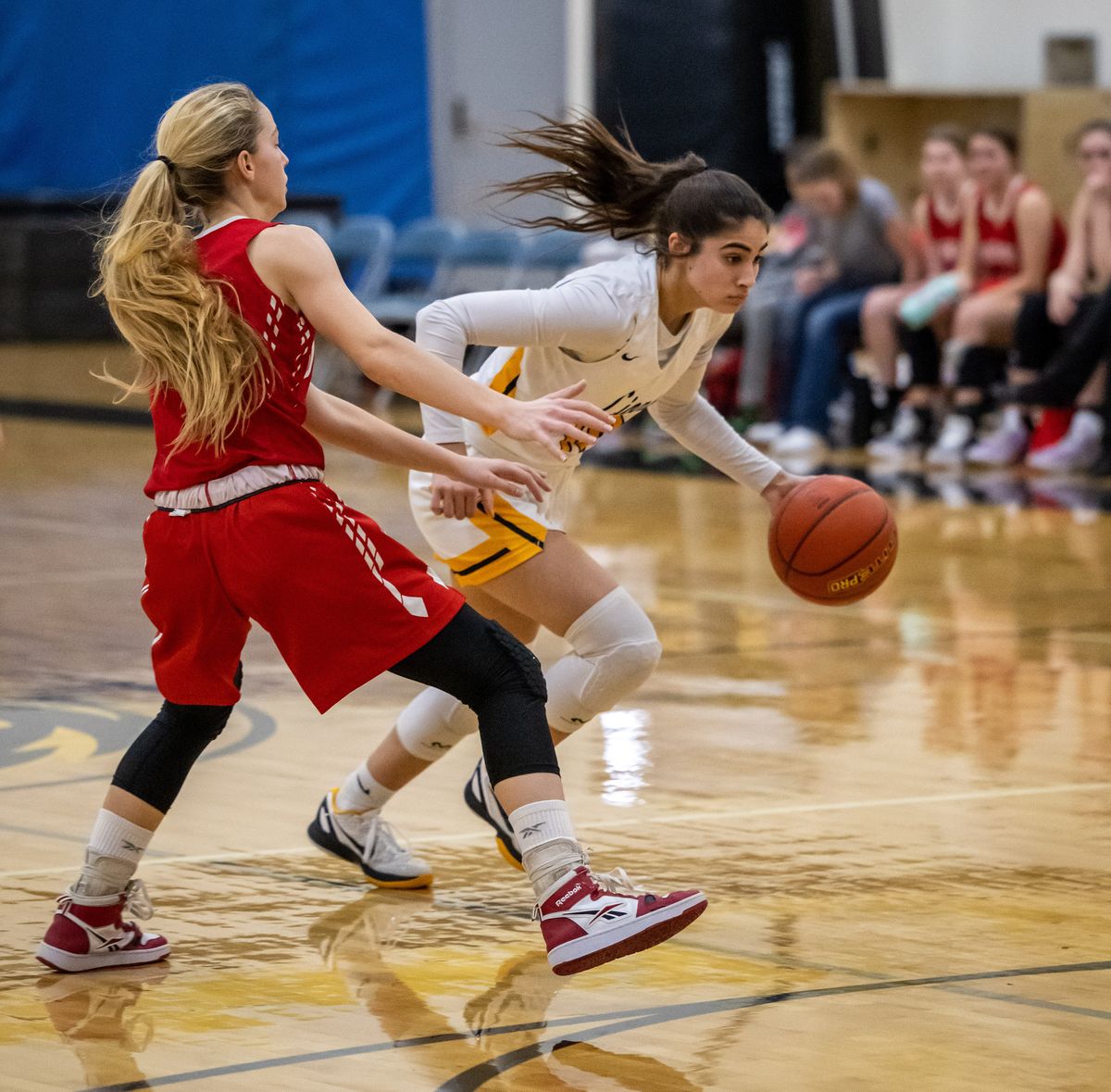 Upper Columbia Academy guard Mia Pierce drives against Davenport during a Northeast 2B League game on Jan. 18 in Spangle. (COLIN MULVANY/THE SPOKESMAN-REVI)
The talent pool of high school basketball players in the Spokane area is recognized by many across the state. Even still, not all good players get the same attention – especially if they don't play in the spotlight of the Greater Spokane League.
Mia Pierce is one such player.
A senior at Upper Columbia Academy in Spangle, the spotlight has mostly escaped Pierce in her career, but she is one of the premier point guards in the 2B classification. As a junior, she averaged 17 points per game and shot nearly 46% from the 3-point line, ranking her No. 1 in 2B during the 2021-22 season.
Despite a lack of fanfare, and fighting through a serious injury, Pierce has generated attention where it counts – she has accepted an offer to continue her athletic pursuits at the next level.
New era
Upper Columbia, a "private co-educational Christian Academy operated by the Seventh-day Adventist Church," according to its website, didn't offer sports until Pierce enrolled four years ago when her family moved to Spokane. The push began when her dad, Trent Pierce, reached out to the principal of the school at the time – a former high school basketball teammate of his.
"(The principal) was kind of for it and it kind of started from there," Trent Pierce said. "We wanted something competitive for the kids and something they'd enjoy and that was a good program. It's actually been good bringing kids here, so we've gotten something rolling."
Along with girls basketball, UCA offers six varsity sports teams recognized by the Washington Interscholastic Athletic Association.
In the initial season in 2019-20, 17 girls turned out to field two teams at UCA. Most lacked general basketball knowledge.
"Because the natural instincts are right there, you do a lot more coaching of basic fundamentals and less of the team things," Trent said. "It makes it a little harder to get a whole team to work together as a team because of a lack of experience."
Trent and Mia worked together to build the foundation of the team. In that first season, the Lions finished 4-12 overall and 2-10 in league – with three of their wins coming against the same team.
"This league is tough," Trent said. "There's a lot of things you have to be prepared for because every team throws something different at you, and getting kids who don't have a lot of experience to be able to do that has been a work in progress."
The pandemic limited the Lions to four games in the condensed spring season in 2020. They finished 1-3 with little progress made in the second year.
"It's a whole different experience," Mia said. "It's frustrating at times, but there's a lot of teaching involved. It's kind of learn when you can, but they pick things up pretty fast."
Year 3
Things began to click with the program last season.
The Lions began the year 3-1, defeating teams that had finished ahead of them in league standings in their first two seasons. Mia averaged 23 points a game during that stretch, including a 34-point game in which she hit seven 3-pointers against Northwest Christian.
After losing two in a row to league opponents, the Lions went on a four-game winning streak to put their record at 7-3 heading into the final month of the regular season.
Everything was finally coming together, but it turned from good to bad in an instant.
During a league contest at Lind-Ritzville/Sprague, Mia went running up the sideline on defense and planted her foot to cut off a defender.
Her leg gave out and she tore her ACL.
"It's very hard not having her out there, because she's one of those people who puts in a lot of work and takes care of the details," Trent said.
The Lions played without their star player for the remainder of the year. The season came to an end with a 9-7 record following a defeat to St. George's in a loser-out playoff game. It was the best season in school history, but the effects of Mia's injury were noticeable during the final stretch.
A tough time
The summer became a recovery period for Mia as she awaited her senior season. Instead of playing basketball like she normally would, she watched from the bench – all while doing physical therapy to strengthen her leg on the side.
"I broke a lot of bones as a kid and had a lot of healing time, but I had no idea how tough an ACL recovery is," Trent said. "I had a new empathy for them, because I watched her deal with the mental part just not being able to do anything for so many months. It's a tough injury."
While getting back on the court was her No. 1 priority, Mia began worrying about her future of playing in college. Her club coach, Ron Adams of the Spokane Stars, helped in the process.
"It had me a little nervous because I was missing my last season of AAU, which is probably the biggest time to get recruited," she said. "I had a really great coach with connections and was able to get game film out and was able to visit some schools and talk to coaches."
One of those schools was Azusa Pacific University, an NCAA Division II school in Southern California. Just a week after visiting, the coach called Mia with an offer.
"Talking with the coach, he's really great," she said. "They just have a really good system there and great environment. It was honestly everything I was looking for in a school and it just fit."
A new year
Mia's road to recovery continued through the first month of the high school season.
"Just telling them the first day, 'I don't think Mia is going to be back,' their eyes kind of get big," Trent said. "I'm like, 'Oh boy, this is going to be a whole lot different.' "
But it wasn't different. The team played well without her for the first three games, wins against Asotin, Tekoa-Rosalia and Liberty.
After suffering back-to-back losses to highly ranked Colfax, Mia was finally cleared to get back on the court. On Jan. 5, she was back doing what she loved again.
"It was a long road," Mia said. "It was a lot more difficult than I thought it'd be. I had a lot of great people; great PT help me get through. It's so fun to be back."
The Lions are 7-6 with two games left in the regular season, matching their win total from last season before Mia went down with injury.
"With Mia back, a lot more players have stepped up and are much better players because of it," Trent said. "Hopefully, that gives us a little boost here as we get to the late part of the season."
The Pierces hope that boost will push UCA into the school's first berth to the state tournament.
"That would mean everything," Mia said. "I remember at the end of last season, all I wanted to do was come back next season and make it to state, because we were super close this last year. It just hurt so bad not being able to fight for that, so it's just been the motivation this last year to get there. It would mean a lot."
"You see the girls start to believe they can play with these teams," Trent said. "Once the girls start to believe it, they start to play a little harder in practices and games. Crossing our fingers – it would be cool."
Local journalism is essential.
Give directly to The Spokesman-Review's Northwest Passages community forums series -- which helps to offset the costs of several reporter and editor positions at the newspaper -- by using the easy options below. Gifts processed in this system are not tax deductible, but are predominately used to help meet the local financial requirements needed to receive national matching-grant funds.
Subscribe to the sports newsletter
Get the day's top sports headlines and breaking news delivered to your inbox by subscribing here.
---