Sports > Gonzaga basketball
Despite missing old Gonzaga running mate Rui Hachimura, Corey Kispert settling into his role with Wizards
Jan. 27, 2023 Updated Sat., Jan. 28, 2023 at 5:22 p.m.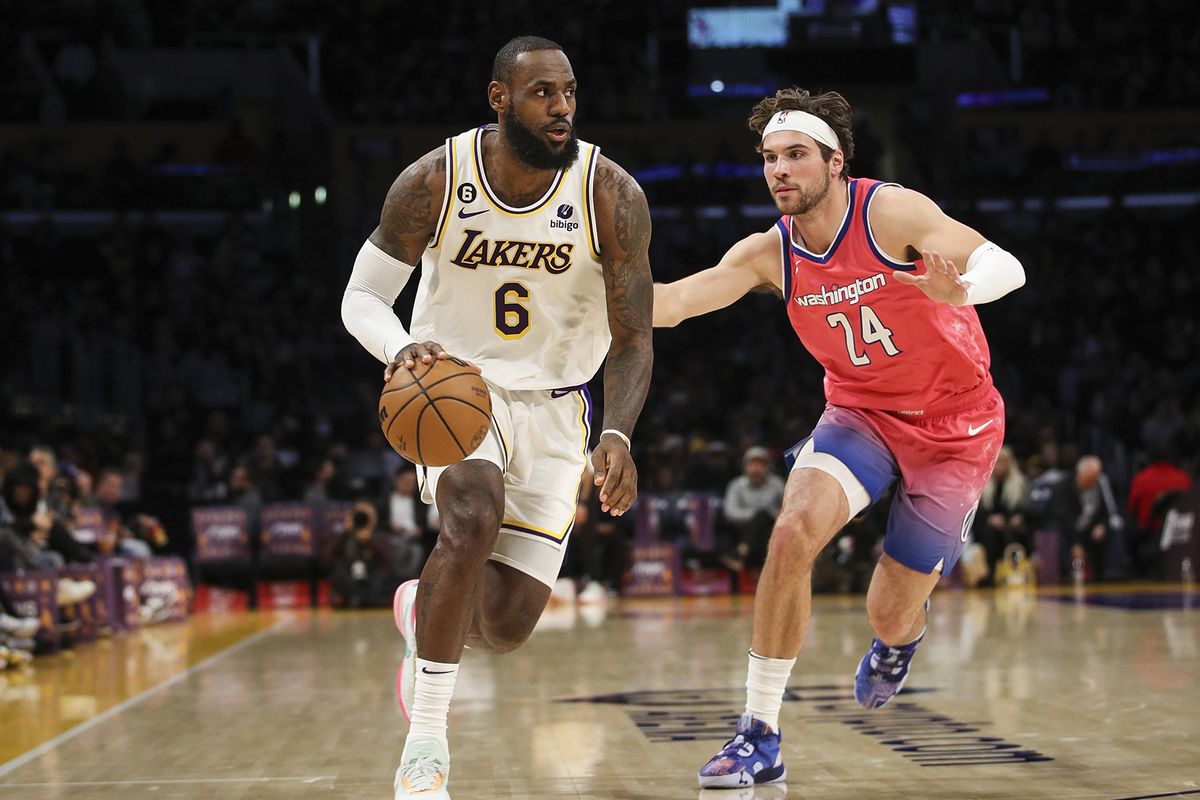 Washington's Corey Kispert defends Los Angeles' LeBron James during a Dec. 18 game at Crypto.com Arena. Two years since being drafted with the 15th pick, Kispert says he feels much more comfortable guarding at the NBA level. (Tribune News Service)
DALLAS – Corey Kispert is fully aware that above all else the NBA is a business, a fact recently reinforced in a big way when fellow Gonzaga product and close friend Rui Hachimura was traded from the Washington Wizards to the Los Angeles Lakers on Monday.
On Tuesday , Kispert and Washington were in Dallas to face the Mavericks, a game they won 127-126, and the shock of seeing Hachimura dealt was still being felt by Kispert and his teammates.
"It's fresh, but I miss him," Kispert said after morning shootaround.
"I've spent a lot of years playing with Rui. He was one of the people that helped me adjust to D.C. Seeing him go is just another reminder of the business of basketball. It's tough and a cutthroat kind of place. You could be gone at any moment."
The 15th pick in the 2021 NBA draft, Kispert averaged 8.2 points, 2.7 rebounds, and 1.1 assists per game as a rookie last season as he started 36 games. As of Friday, he is averaging 9.5 points, 2.9 rebounds, and 1.4 assists per game, starting 26 of the 40 games in which he's appeared thus far this season.
"Yeah, I feel good. I'm still trying to grow and elevate. Feel like I've gotten a lot better since I've gotten to D.C., made some real improvements in my game," Kispert said. "I feel like I'm in a great spot here.
"I feel much more comfortable defensively out there (this season compared to last). Know scouting reports, know players and tendencies. Offensively, being able to shoot consistently with or without a rhythm. There's a lot of times where I'll go long stretches without seeing a touch or seeing the rim, so being able to knock shots down consistently is the mark of a true professional."
Gonzaga fans, of course, remember him from his days in Spokane between 2017 and 2021, when he averaged 11.6 points, 4.0 rebounds and 1.4 assists per game during his successful run as a Bulldog.
As a senior, Kispert was named West Coast Conference Player of the Year and was the recipient of the Julius Erving Award as the nation's top small forward.
"(I recall my time at Gonzaga) with super fond memories, that place is home. Love the people, love the community," Kispert said. "The basketball is great. It was a great place play and grow up. Met my future wife (former GU player Jenn Wirth) there too, so it's hard to have any negatives about it."
One of Kispert's newest teammates in Washington is veteran guard Monte Morris, who is in his sixth NBA season after coming over in the offseason in a trade with Denver. Morris, who Kispert calls "a steadying influence" on the Wizards, likes what he sees in the Gonzaga product.
"He's still young in this league, but he's able to make shots," Morris said. "That's big time. His confidence is high and the sky's the limit with him, to be honest."
During the season, much of Kispert's time is occupied by practices, games, community events and traveling with the Wizards. When the ex-Bulldog has had free time during his first nearly two seasons in the NBA, he has explored the many attractions of the nation's capital.
"Oh yeah, I've been around enough. There's endless stuff to do and endless stuff to see, but done all the monuments, all the Smithsonians," Kispert said. "Anytime there's a new visitor in town, you got to take them to those places and check off things I haven't done before."
Even though the Wizards went from having two ex-Zags on their roster to one earlier this week, Kispert sees a positive trend with Gonzaga products in the professional ranks.
"Yeah, it's great. Our network is growing," he said. "It seems like every city you go to there's someone that has a connection to Gonzaga or went to Gonzaga, an ex-teammate that you had. It's really cool to see so many Zags in the league.
"I think we're top five or top 10 as far as colleges with the most players in the league. It's really, really cool."
Stephen Hunt is a freelance writer based in Frisco, Texas.
Local journalism is essential.
Give directly to The Spokesman-Review's Northwest Passages community forums series -- which helps to offset the costs of several reporter and editor positions at the newspaper -- by using the easy options below. Gifts processed in this system are not tax deductible, but are predominately used to help meet the local financial requirements needed to receive national matching-grant funds.
Follow along with the Zags
Subscribe to our Gonzaga Basketball newsletter to stay up with the latest news.
---