Sports > Area sports
Runners break five meet records at second Lilac Grand Prix
Jan. 27, 2023 Updated Fri., Jan. 27, 2023 at 10:56 p.m.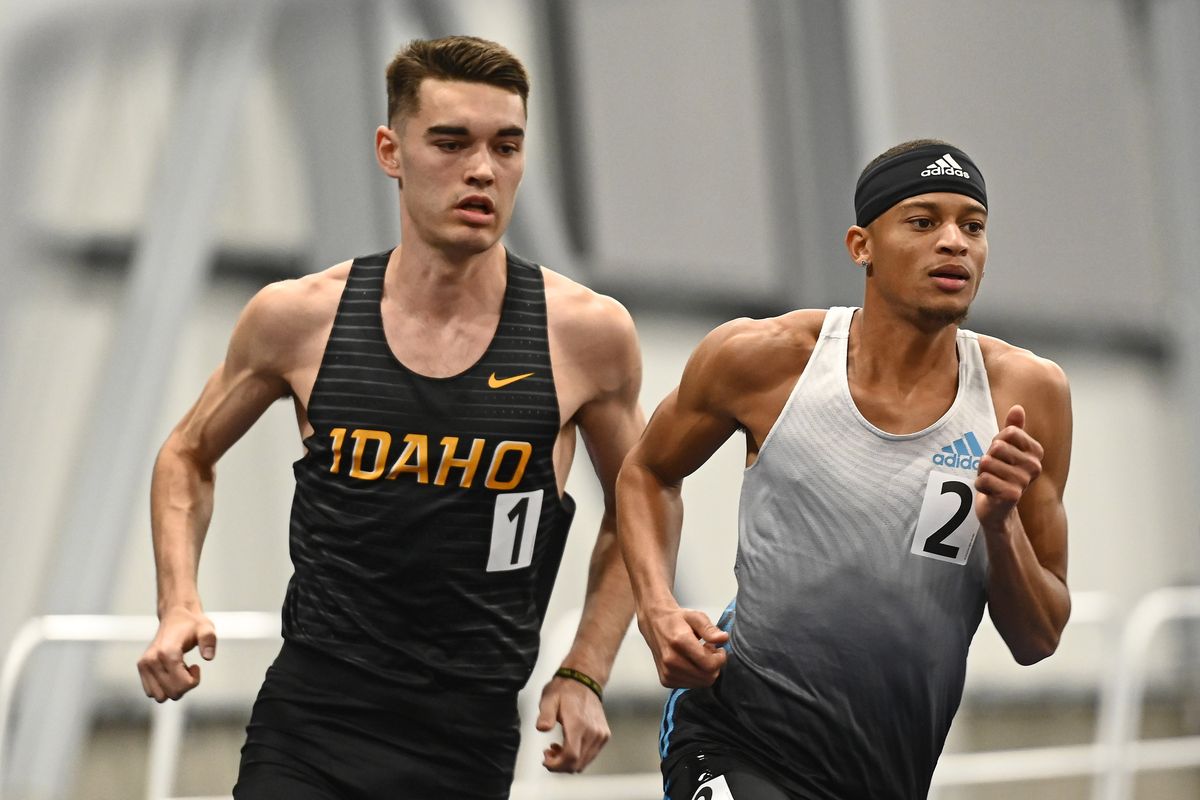 University of Idaho's Lorenz Herrmann starts the men's 800-meter run with Christian Harrison during Friday's Lilac Grand Prix track and field competition at the Podium. (James Snook)
The finish line doesn't move, but just about everyone in the world of track and field starts in a different place.
That was never more evident than it was Friday night at the Podium during the second running of the Lilac Grand Prix, professional track's ongoing mission to Spokane.
In the season opener for the majority of the competitors, some of them were ready to roll – five meet records fell in the eight events and even one facility record, former Oklahoma State runner Kaela Edwards continuing a remarkable rebound from a case of Graves' disease by beating a stellar field in the women's 800 meters.
And some runners predictably struggled with a little rust in their first or second outings after a long winter's training.
Still, for all the fast racing this night in undercover Spokane in front of another loud Podium audience, you couldn't miss the buzz coming from 2,300 miles away, where two American records were shattered in Boston.
Olympian Woody Kincaid capped the night at the John Thomas Terrier Classic with a 12-minute, 51.61-second run at 5,000 meters, on the heels of a blazing 7:28.24 in the 3,000 by former Notre Dame NCAA champ Yared Nuguse – a mark that not only lopped almost 2 seconds off the American indoor record, but is superior to the outdoor AR, as well.
Naturally, the news made it to one of Nuguse's rivals, Cole Hocker, even before he stepped on the Podium's 200-meter oval for his run at 3,000 .
"As far as seeing the time, props to him – I'm happy for him," said Hocker, who cruised nearly solo to a victory in 7:51.59. "I'm just happy for American distance running right now and I'm proud of these guys around me."
He wasn't figuring on anything close to record pace for his 2023 opener – but figures it will come.
"I definitely have big goals," said the former Oregon collegian, who was sixth in the 2020 Olympic 1,500. "I see myself getting those records under my name at the end of the day."
Hocker's not the only one with big goals, obviously. There's another world outdoor championship at this season's end and an Olympics in 2024 – though grails like that looked very far away to a runner like Edwards even just six months ago.
It was back in April 21 at the USATF Golden Games in California that Edwards found herself running strong in a hot 800 – until hitting a "bad, bad wall" about 200 meters from the finish and slipping to 11th, though she still managed to clock 2:01.26.
A few days later, a positive test confirmed a case of COVID-19. But even when the tests turned negative, Edwards kept feeling worse. Training got harder, times got slower through the summer until she finally shut her season down. In September, a doctor finally diagnosed her with Graves' disease. Recovery was slow and any attempts at training went slower, and not until July did her racing start to return to previous levels.
On Friday night, she blasted through the first two laps in 59 seconds and shaved a half-second off the Podium record of 2:01.72 that Olympian Ajee Wilson set at last February's USATF indoor championships.
"It's gratifying just because how long it's taken and how much I've been through – and all the support I've had," said Edwards, one of five former NCAA champs in Friday's 800 field. "There were a lot of tears."
The men's 800 was considerably more competitive, even if Noah Kibet – a new addition to the host Nike Union Athletic Club – did wire-to-wire it. Isaiah Harris – a top-10 U.S. ranker the past six years – chased the 18-year-old Kibet all the way, finishing barely a half-second behind the Kenyan's 1:46.74.
"There's certain people that are almost generational talents," Harris said of Kibet, who ran 1:44.88 last year and was a silver medalist at age 17 in the world indoors. "Kibet's a guy in that category. He's going to be a problem on the world team for so many years to come."
Two of his new clubmates, defending national champ Sinclaire Johnson and German Alex Bartelsmeyer, showed blistering finishes to win the women's and men's 1,500 – with 2016 Olympic bronze medalist Clayton Murphy losing contact with the three pace-setters over the final 300 and falling to fifth.
And the night's tightest finish came in the high school girls mile, with Californian Simira Kennedy overtaking Logan Hofstee in the final 20 meters after a bold burst by the East Valley runner with 350 meters to go.
"It was another fun meet," said Union club coach Pete Julien, the former Washington State distance coach.
"Jan. 27 is tough for athletes who have their eyes on August, but there was some great racing and another great meet for Spokane. We'd love to continue to grow it and get some sprints and a few field events – we like it small, but we'd like to do more."
Local journalism is essential.
Give directly to The Spokesman-Review's Northwest Passages community forums series -- which helps to offset the costs of several reporter and editor positions at the newspaper -- by using the easy options below. Gifts processed in this system are not tax deductible, but are predominately used to help meet the local financial requirements needed to receive national matching-grant funds.
Subscribe to the sports newsletter
Get the day's top sports headlines and breaking news delivered to your inbox by subscribing here.
---