News > Washington
'The perfect plane for the Pacific Northwest': Horizon flies last turboprop plane out of Spokane on Thursday evening
Fri., Jan. 27, 2023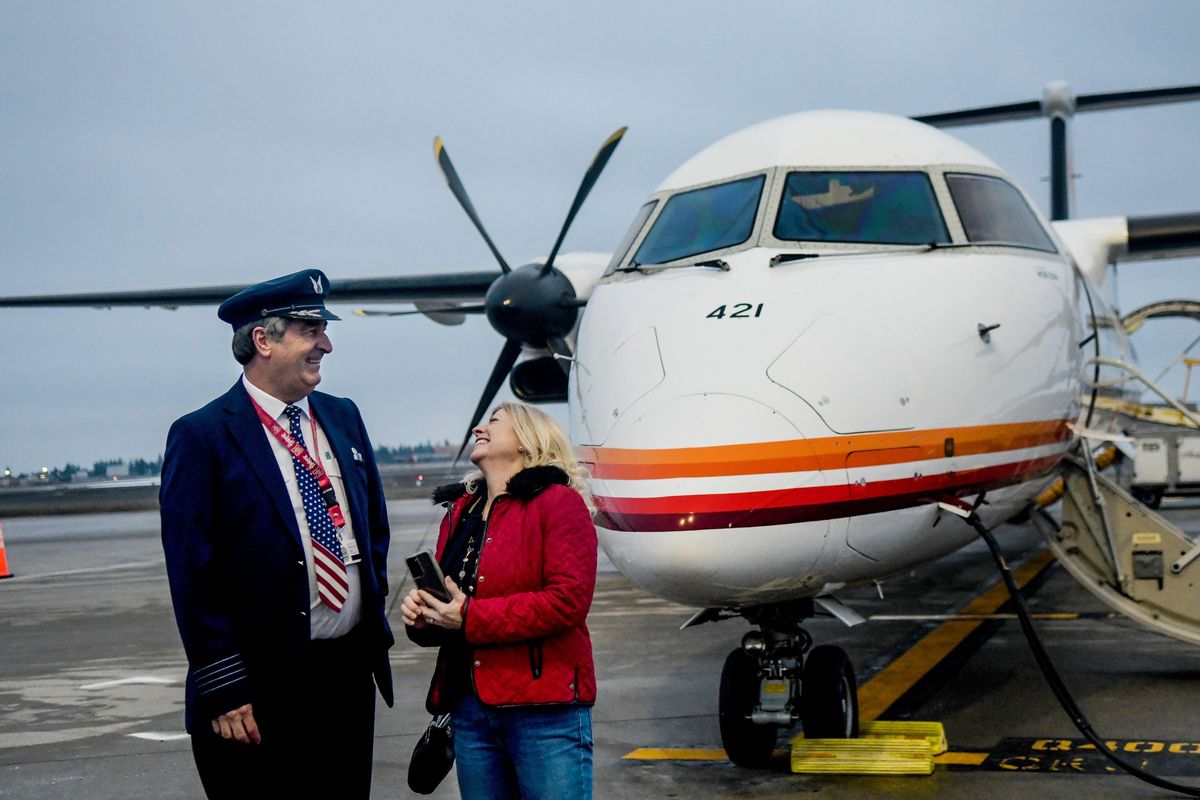 Horizon Air pilot Alan Dutton and his wife, former flight attendant Lola Dutton, share a laugh as Alaska Airlines Q400 turboprop prepares for its final flight out of Spokane International Airport on Thursday. (Kathy Plonka/The Spokesman-Review)
Passengers paused for a few more selfies than normal while climbing off a Horizon flight that arrived at Spokane International Airport from Seattle on Thursday afternoon.
They lined up the perfect shots of the signature turboprop engines in the background, relishing the last time such engines, and the Q400 turboprop aircraft, will carry Horizon passengers across the state.
"It's one of the perfect airplanes for the Pacific Northwest," said 57-year-old David Snell, waiting in Concourse C for his 62-minute flight over the Cascades.
Horizon, which was acquired by Alaska Airlines in 1986, estimates it's carried more than 50 million Pacific Northwest commuters on the plane since its introduction in January 2001. Thursday marked exactly 22 years since the Q400 came into service, said Joe Sprague, the president of the airline.
"That was a coincidence," Sprague told assembled media and many self-avowed "av geeks," or "aviation geeks," who flocked to Spokane to board the last turboprop flight and recorded his remarks on smartphones and snapped photos. "We didn't know that until after the fact."
Many of those same enthusiasts applauded and cheered when Sprague said their captain would be Alan Dutton, a Horizon pilot for more than three decades who has the most flight hours of any of the airline's pilots on the plane. Dutton was flying the last turboprop flight, Flight 2400, headed out of Spokane at 6 p.m. He planned to retire after the flight.
"Once in a while, we get applause from the back of the plane when it's a real rough flight in and we make a sweet landing," Dutton said, but nothing like the hero's welcome on Thursday evening.
Snell was one of those enthusiasts who quickly booked a ticket on the last flight. A former Horizon customer service representative based in Idaho Falls, Snell said he used his frequent flyer miles to book a seat on the farewell flight.
"It's more like real flying," Snell said, describing the feeling of riding on the turboprop plane. "You get to experience it."
Turboprop engines were first patented in the late 1920s, and the first prototype was built by a Hungarian mechanical engineer named Gyorgy Jendrassik about 10 years later. The first turboprop planes were manufactured by the Rolls-Royce company and flew in the mid- to late 1940s in Britain.
Since then, turboprop aircraft have undergone improvements to reduce the noise of the engines outside the windows. The cabins have also been extended, more than doubling the passenger capacity from 37 in early commercial air models to 76 on the aircraft that left Spokane on Thursday.
Perry Solmonson, a senior Q400 pilot with Horizon, likened the aircraft to "a Swiss army knife," saying that those who've flown it have pushed for improvements that included deicing and improved handling for pilots.
The Q400 has a ton of horsepower, Solmonson said, practically creating its own lift with its engines. That allows the aircraft to perform better in windshear events, when the wind direction or speed changes suddenly, he said.
Flying the aircraft also feels different in a turboprop, he said.
"When the altitude changes, you can feel that in the seat of your pants before it shows up on your instruments," Solmonson said.
Horizon is retiring the aircraft as part of a transition to a newer jet model, the E175, built by Brazilian airplane manufacturer Embraer. The jet carries the same number of passengers as the Q400, but the seating plan allows for first and premium classes, and more room for carry-on items to be stored. The aircraft will also all offer Wi-Fi, an amenity air travelers have come to expect on flights, even ones lasting no more than an hour.
"People love the Q400," Sprague said. "But there are a lot of passenger-friendly amenities on the E175."
Sprague said Horizon will sell its remaining Q400 aircraft to other airlines, likely overseas. One of its Q400 planes is being donated to Portland Community College to be used in training future mechanics at the school's Aviation Maintenance Training Program, he said.
Some who were boarding the flight had no idea they were taking part in history. That included married couple Kyle and Jennifer Weir, who were on the first leg of a three-day vacation away from the kids.
"We've done this a lot," Jennifer Weir said, "and we're on turboprops, every time. I'm kind of surprised they're getting rid of them."
Kyle Weir took the opportunity to crack a few jokes with Dutton about his impending retirement.
"I've never walked in to an airport and seen a party, with TV crews there," Kyle Weir said.
Snell said he's been present for the retirement of three Horizon aircraft: the Metroliner turboprop aircraft and the F28 jet, said he was looking forward to his flight, even if it was going to be dark outside the airplane.
"I had to think about it, but I thought, I'm not going to miss this," he said.
He climbed aboard, along with dozens of others, and at just a few minutes past 6 the plane pushed back, climbing with its two historic engines into the black Spokane night.
Local journalism is essential.
Give directly to The Spokesman-Review's Northwest Passages community forums series -- which helps to offset the costs of several reporter and editor positions at the newspaper -- by using the easy options below. Gifts processed in this system are not tax deductible, but are predominately used to help meet the local financial requirements needed to receive national matching-grant funds.
Subscribe now to get breaking news alerts in your email inbox
Get breaking news delivered to your inbox as it happens.
---