100 years ago in Spokane: A remorseful resident publicly apologized for using an unidentified 'ugly word' at a heated meeting
Sat., Jan. 28, 2023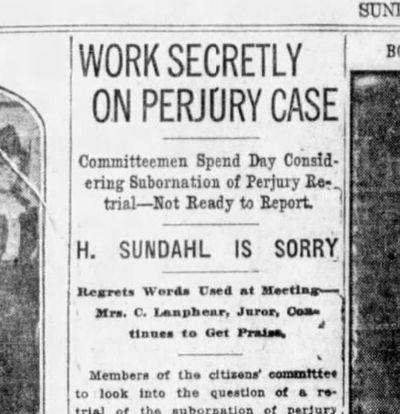 The mass meeting held to discuss the Maurice Codd subornation of perjury trial was so wild and raucous, Henry Sundahl had to issue a formal apology the next day.
"Kindly permit me to offer my sincere apologies to all ladies and gentlemen present at the meeting," he wrote in a letter to The Spokesman-Review. "In the flare of the moment, the 'ugly word' was spoken by me and I am sorry to have offended any one."
The ugly word was apparently unprintable. The Spokesman-Review had quoted him the day before as saying, "Your reference to the Masons and the Klan, or pardon me, ladies, ––." with the last word represented only by dashes.
Sundahl had already riled up the crowd with his early remarks, including this one: "The question is, shall we spend $25,000 more on a class of people that are human trash? I'm not a Catholic. I'm not a Klansman. I'm not a Christian, in the church sense, but only believe in a supreme being over us all. And when, Mr. Plummer, I interrupted you, I didn't call you a Klansman, but you've got your snoot in a place where it shouldn't be!"
The "human trash" apparently referred to the perjury defendants, and Plummer was one of their attorneys.
This was not the only incendiary comment uttered in the mass meeting. A huge crowd at City Hall spent much of the meeting jeering, shouting and cat-calling.
The majority of those at the mass meeting evidently believed that justice had not been served in either the Codd murder trial or the subornation of perjury trial. They advocated for a retrial.
Their attitude was summed up by one speaker who said that actions in the jury room "were a scandal and a disgrace to our Spokane civilization," and urged an investigation into the jury.
One unidentified person in the crowd even yelled, "Get the rope!"
The next day, juror Carrie Lanphear, the one holdout for acquittal in a number of the cases, declared that she was ready to go before any properly constituted body and tell the story of what happened in the jury room. The S-R said that "she promises some startling revelations."
Local journalism is essential.
Give directly to The Spokesman-Review's Northwest Passages community forums series -- which helps to offset the costs of several reporter and editor positions at the newspaper -- by using the easy options below. Gifts processed in this system are not tax deductible, but are predominately used to help meet the local financial requirements needed to receive national matching-grant funds.
Subscribe now to get breaking news alerts in your email inbox
Get breaking news delivered to your inbox as it happens.
---