Sports > EWU basketball
Angelo Allegri carries red-hot Eagles to 75-71 win over Weber State, extending win streak to 12 games
Jan. 28, 2023 Updated Sat., Jan. 28, 2023 at 8:09 p.m.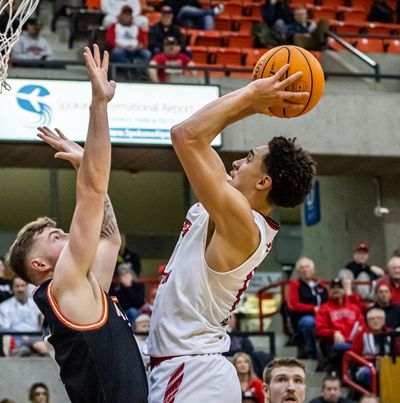 Earlier in this record-long winning streak, Steele Venters was carrying Eastern Washington to victories with clutch shots late.
On Saturday, it was Angelo Allegri's turn.
The fifth-year senior scored a career-high 28 points on 10-of-12 shooting from the field to help the Eagles men's basketball team hold off the Weber State Wildcats 75-71 at Reese Court in Cheney.
"He was just getting to his spots," Venters said of Allegri. "Once you see a few go in, you're just hot, and that's what he did tonight."
Allegri had just eight points – and five turnovers – at halftime, but he hit a series of important shots late in the game, including two 3-pointers in the game's final 2 minutes as well both attempts on a 1-and-1 with 15.9 seconds that gave Eastern a four-point lead.
After KJ Cunningham missed a 3-pointer on Weber State's subsequent possession, Tyreese Davis grabbed the rebound. Before Weber State could foul him, he tossed the ball upcourt to Venters, who dribbled out the final few seconds.
Venters, Eastern's leading scorer this season at 16.6 points per game, had 13 points but had one of his worst shooting games of the season. He finished 3 of 13 from the field and 2 of 10 from 3-point range.
Still, Venters made three free throws late when he was fouled attempting a 3, one of many key possessions late that helped the Eagles hold off the Wildcats (11-11, 6-3 Big Sky).
The victory was Eastern's 12th in a row , topping what had been the program's Division I record 11-game winning streak in 2004. The Eagles (15-7 overall) are also 10-0 in Big Sky play, at least two games ahead of everyone else in the conference with eight more games to go before the conference tournament.
"I try to keep guys in reality, and the reality is we're on a great streak right now," EWU coach David Riley said. "It's fun, and it's exciting, and we're part of history. We can celebrate that.
"But the other reality is that doesn't change anything for the next game, and we're just trying to stay in the moment as much as possible, enjoy it, have fun. We have a great group of guys who are having a blast together."
The Eagles again got key performances from their bench, notably from sophomore Cedric Coward.
The Eagles held the lead most of the first half. With 5:56 left, their lead grew to a game-high eight points when Allegri hit a 3-pointer to make the score 29-21 Eastern. Allegri finished 6 of 8 on 3-pointers.
But over the next 10 minutes – stretching into the second half – the only Eagles points came on a Venters 3 just before halftime, and even that was quickly answered by Zahir Porter's buzzer-beating 3 heading into halftime.
Down 32-27 at half, Weber State opened the second on a 9-0 run to take a 36-32 lead, capped by an inside basket from Alex Tew.
Sophomore Ethan Price missed a 3 on Eastern's next possession – their fourth straight miss to open the half – but Coward was there for the offensive rebound and the putback to end Weber's scoring streak.
Two scoreless minutes later, Coward scored on another putback to tie the game at 36.
"He does that game in and game out," Venters said of Coward. "He comes in and makes momentum plays, takes charges, gets blocks. He's just consistent with it … and that's what we needed tonight."
Coward finished with 11 points and 11 rebounds for his second double-double of the season. He also had four assists.
Soon after Coward's baskets, sophomore reserve Dane Erikstrup made 3-pointers on back-to-back possessions to keep the Eagles ahead 46-42. Weber State stayed within two possessions the rest of the game but never took the lead.
Sophomore Dillon Jones, the Big Sky's leading rebounder, led the Wildcats in points (18), rebounds (seven), assists (four) and turnovers (three). Junior guard Steven Verplancken added 16 points on 6-of-12 shooting from the floor.
Eastern has defeated every other team in the Big Sky, including a pair of wins over Montana. But it will play its next three games on the road, beginning at Sacramento State on Thursday, followed by a game Saturday at Portland State.
Local journalism is essential.
Give directly to The Spokesman-Review's Northwest Passages community forums series -- which helps to offset the costs of several reporter and editor positions at the newspaper -- by using the easy options below. Gifts processed in this system are not tax deductible, but are predominately used to help meet the local financial requirements needed to receive national matching-grant funds.
Subscribe to the sports newsletter
Get the day's top sports headlines and breaking news delivered to your inbox by subscribing here.
---