Sports > Gonzaga women
Brynna Maxwell's third-quarter spark lifts Gonzaga women over Pepperdine
Jan. 28, 2023 Updated Sat., Jan. 28, 2023 at 7:51 p.m.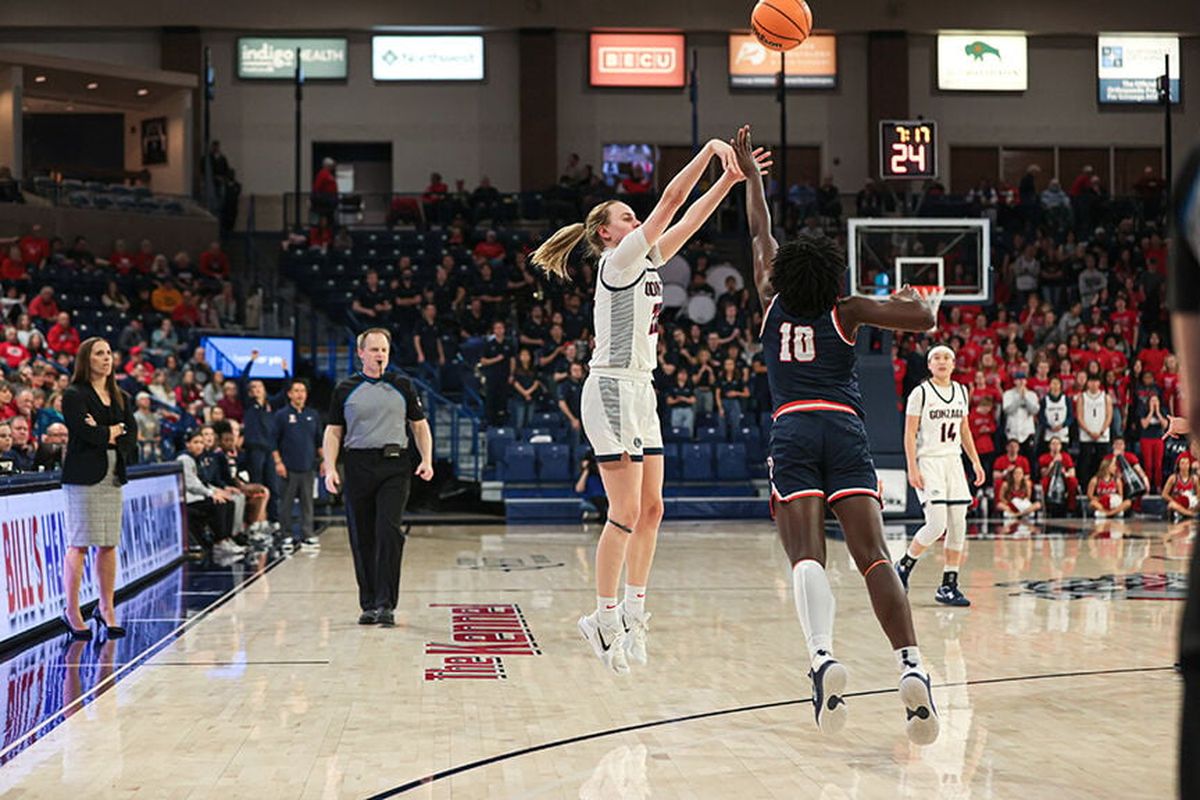 Gonzaga guard Brynna Maxwell made 6 of 9 3-point attempts against Pepperdine on Saturday. (Courtesy Gonzaga Athletics)
Brynna Maxwell and the Gonzaga women proved it again Saturday afternoon: The best way to get out of a slump is to shoot your way out.
Overcoming their worst first half of the season , Maxwell and the 17th-ranked Zags lit up Pepperdine in the second and rolled to a 67-49 West Coast Conference win at the Kennel, their 14th consecutive win.
Maxwell hit 6-of-9 on 3-pointers and finished with a game-high 24 points.
It wasn't easy, though. With starting forward Eliza Hollingsworth out with a concussion suffered two nights earlier, the Zags were pushed around in the first half by a program that hasn't won in Spokane since 2007.
At one point in the second quarter, the Zags were 3 for 19 from the field, 0 for 4 from long range and getting outrebounded 20-9.
That they trailed the last-place Waves by only 10 was due to an aggressive defense that forced 10 early turnovers.
The halftime stats weren't much better, yet the Zags trailed only 28-24 – the perfect opportunity for coach Lisa Fortier to offer some inspiring words in the locker room.
"She lit a fire under us," Yvonne Ejim said.
The players did the rest.
"We stopped feeling sorry for ourselves," Maxwell said. "It was a team effort to do the things we needed to do."
Mostly that meant shooting better and competing on the glass.
The Zags did both emphatically in a stellar third quarter to improve to 21-2 overall and 11-0 in the WCC. They lead second-place Portland by just one game with seven games left in the regular season. Third-place BYU lost at Pacific to fall four games back.
The top 3-point shooter in Division 1, Maxwell was in a slump going into the game. She was 4 for 16 in the previous three games, then missed her first attempt on Saturday.
"Whether you're in a slump or you're not in a slump, it's not a thing to be worried about or it just gets in your head," Maxwell said.
"If this team needs me to shoot, I'll shoot," said Maxwell, who did just that.
GU took its first lead, 31-30, on a 3-pointer from Maxwell 2 minutes into the second half. Less than a minute later she hit another, then a short jumper before Kaylynne Truong also found the groove with her first 3-pointer.
That made it 39-33, and Pepperdine never got closer than five the rest of the way.
For the quarter, GU made 10-of-13 shots and all six attempts from long range for 26 points. Maxwell outscored the Waves 14-10 in the third quarter .
"She puts in the time in practice and she's competitive," Fortier said of Maxwell, who has made at least one 3-pointer in every game this season.
Fortier didn't take any credit for the turnaround from an eight-point first quarter, the Zags' lowest of the season.
"I don't know why our intensity switched," Fortier said. "We just kind of bogged down. We were walking the ball down."
"Then (in the third quarter) it was a totally different situation," Fortier said. "Then our fans get excited and it gets fun."
Truong finished with 16 points and nine assists, and Ejim added 13 points and eight boards.
Ally Stedman scored 17 points for Pepperdine (7-14, 2-9).
Gonzaga shot 37% from the floor and held the Waves to 29.3%. Pepperdine outrebounded Gonzaga 43-35, but the Zags were a plus-5 in the second half.
Gonzaga is back on the road this week, Thursday at Santa Clara and Saturday at San Francisco.
Local journalism is essential.
Give directly to The Spokesman-Review's Northwest Passages community forums series -- which helps to offset the costs of several reporter and editor positions at the newspaper -- by using the easy options below. Gifts processed in this system are not tax deductible, but are predominately used to help meet the local financial requirements needed to receive national matching-grant funds.
Subscribe to the sports newsletter
Get the day's top sports headlines and breaking news delivered to your inbox by subscribing here.
---