News > Education
Chaos reigned at Sacajawea Middle School on Friday as he took first steps on new leg
Sat., Jan. 28, 2023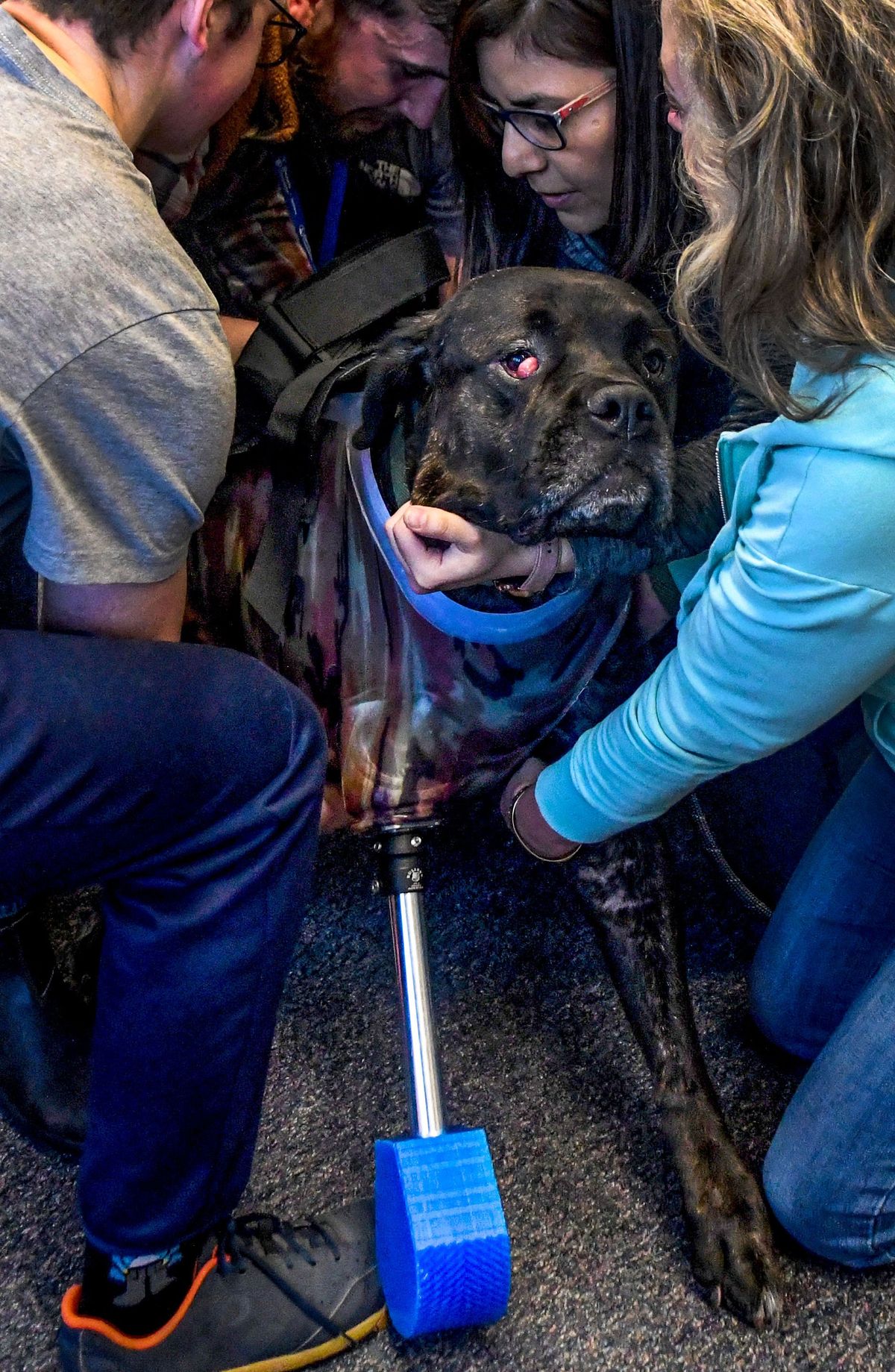 Chaos tries out a new prosthetic leg Friday with the help of Sacajawea Middle School eighth-grader Isaac Engel, left, Clint Hastings from Shriners Children's Hospital, dog handler Blanca Parham and teacher Kimberly Taylor. Students from the advanced engineering program at Sacajawea designed the prosthetic with guidance from Shriners Children's Hospital's Clint Hastings. (Kathy Plonka/The Spokesman-Review)
A group of Sacajawea Middle School students lifted and supported Chaos, a Cane Corso dog who hits the scale at 120 pounds, as he first attempted Friday to walk on his new prosthetic leg. They cheered as he took his first tentative step forward. "Yay, good boy, good boy!"
The students in Kimberly Taylor's eighth -grade advanced engineering and robotics class have spent months on the project. Chaos, who belongs to Mikey's Chance Rescue in Kennewick and currently lives in a foster home, has visited the students for fittings before as they worked to design his prosthetic leg.
His foster mom, Blanca Parham, said Chaos broke his leg as a puppy but it was never treated and healed incorrectly. He's now 5 years old. "He was rescued from a family who kept him tied up outside most of the time," she said. "He had to have it amputated. It wasn't functional, anyway."
Parham said she got Chaos 10 months ago, shortly after his leg was amputated. Normally dogs can get by just fine on three legs, but Chaos' size makes it difficult. "He's just so heavy," she said. "The doctors said he can't have all that weight on one leg."
Chaos wants to go on walks, but he can't. When he does have to move around, he gets tired quickly. A request was put in to the Spark at Washington State University, an academic innovation hub, for a prosthetic leg.
"They've been so busy," said Taylor. "They had this on a docket for a while. I proposed it to the kids because WSU came to me."
The students had never done a similar project, but one student volunteered that his neighbor made prosthetics for a living. Clint Hastings, who works at Shriners Hospital for Children, was recruited to join the effort. "I said, 'Well, we'll try,' " Hastings said. "So here we are."
Hastings created a silicone-based plastic mold of Chaos's chest, which is fastened in place with Velcro straps. A fitting designed to house a simple plastic or metal pipe with a plastic "foot" attached was screwed into the mold.
The students experimented with different designs for the feet, trying to create a shape that would allow a rocking motion as Chaos walks. They even used video chat to consult with animal orthotist Derrick Campana, who has a television show called the Wizard of Paws that follows him as he makes prosthetics for various animals.
"These guys came up with all the designs on the bottom depending on what he's walking on," Taylor said of her students.
Student Jamison Taylor was in charge of designing a foot that would work on snow. All the feet were created with a 3-D printer. "It's been a little frustrating at the start," he said. "We wouldn't figure out the foot and how to figure out the rocker motion."
But the students kept at it, knowing that Chaos needed help in order to walk again. Friday was meant to be the final design of the leg but it became apparent that some tweaks needed to be made. Chaos, the very definition of a gentle giant, lay quietly as the prosthetic was attached. He needed help to get to his feet and then seemed confused about what to do.
Hastings walked with him, moving the leg along, and said Chaos just has to get used to throwing his shoulder forward when he wants to take a step.
After a few steps across the room and back, Hastings noticed some improvements that could be made. He noted that the feet were too firm in one area and not firm enough in another. "It's contorting," he said as he pointed out the problem to the students. "He's just compressing through this."
He took off the body mold and used a small blowtorch to soften the plastic and bend it so it wouldn't rub against Chaos. Hastings said he wanted to make sure the mold, much larger than any he's ever made for a child, is comfortable. "This is a huge piece of material for us to work with," he said.
Jamison Taylor said he was happy to see Chaos take a few tentative steps. He said he hopes the new leg will allow him to have a better and fuller life.
"It was really cool," he said. "I hope he gets used to it and can walk and even run, eventually."
Parham said she was looking forward to getting Chaos home and letting him practice getting around with his new leg.
"We're going to work with him on it," she said. "I think he'll really use it."
Local journalism is essential.
Give directly to The Spokesman-Review's Northwest Passages community forums series -- which helps to offset the costs of several reporter and editor positions at the newspaper -- by using the easy options below. Gifts processed in this system are not tax deductible, but are predominately used to help meet the local financial requirements needed to receive national matching-grant funds.
Subscribe now to get breaking news alerts in your email inbox
Get breaking news delivered to your inbox as it happens.
---