News > Nation/World
Fighting rages in eastern Ukraine over critical supply routes
Jan. 28, 2023 Updated Sat., Jan. 28, 2023 at 8:30 p.m.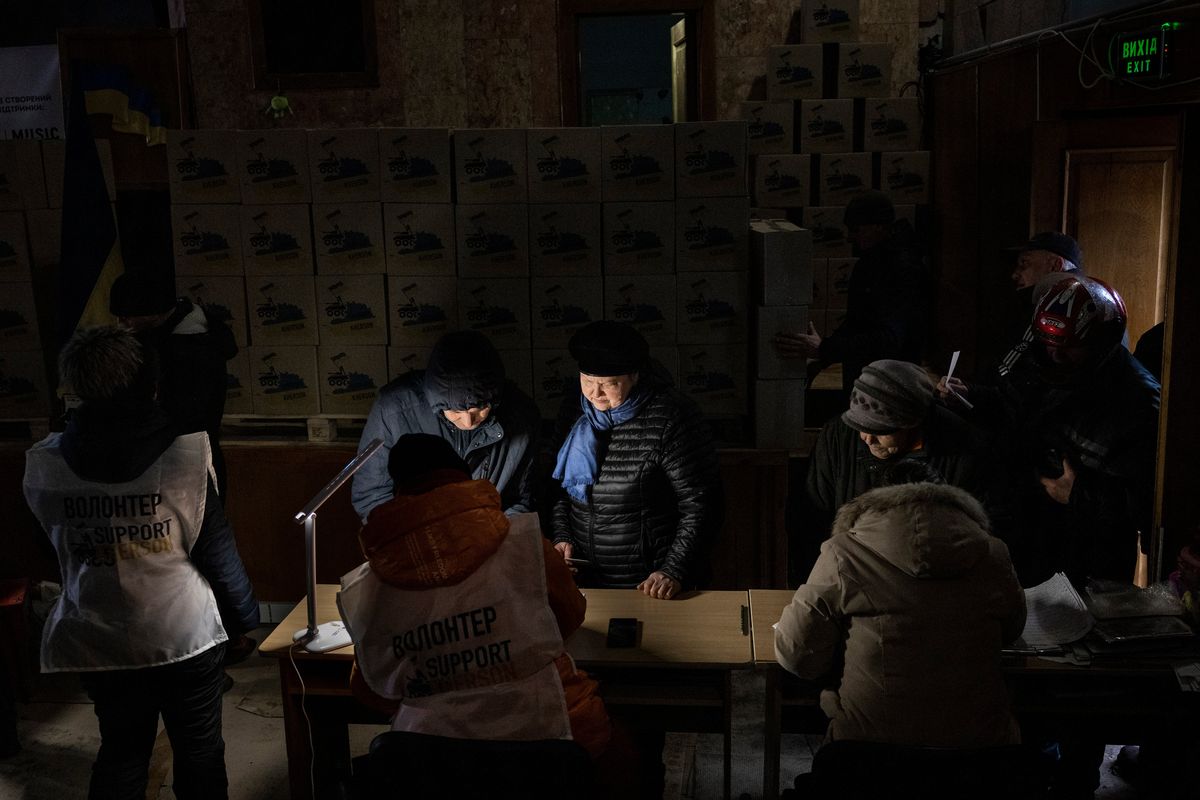 Civilians register to receive humanitarian aid in Kherson, Ukraine on Saturday, Jan. 28, 2023. Russian shelling has killed at least eight civilians in towns and villages along the front line in Donetsk Province in eastern Ukraine over the past 24 hours, local officials said on Friday, the latest violence in a region that has experienced the war's heaviest recent fighting and that Ukraine fears could be a target of a fresh offensive by Moscow. (Ivor Prickett/The New York Times) (IVOR PRICKETT)
KYIV, Ukraine – Russian troops mounted a fierce assault on Ukrainian forces Saturday in an effort to dislodge them from critical positions in eastern Ukraine, with Moscow seeking to protect vital supply routes and both armies jockeying for position in anticipation of new offensive campaigns.
Russia has been trying for months to break through well-fortified Ukrainian defensive positions across the Luhansk and Donetsk regions, throwing wave after wave of soldiers into the fight and suffering heavy casualties but making few territorial gains.
Those efforts have taken on greater urgency as Western and Ukrainian officials warn that Moscow plans to launch a large-scale assault aimed at regaining the upper hand nearly a year after Russia invaded Ukraine. Military experts and Western officials say they also believe that Ukraine will try to mount an offensive of its own to drive Russia out of occupied areas in the east.
"It is no secret that they are preparing for a new wave by Feb. 24," Oleksiy Danilov, head of the Ukrainian National Security and Defense Council, told Radio Liberty on Friday, referring to Russian forces and what will be the anniversary of their full-scale invasion. Moscow's immediate goal, he said, is to capture the entire Donetsk and Luhansk regions and then "to completely go beyond the borders of the regions."
President Vladimir Putin of Russia this month abruptly replaced the top commander of Russia's war effort with Gen. Valery Gerasimov, who U.S. officials believe secured the top job by vowing to go on the attack, with an initial goal of gaining ground quickly in the east.
The epicenter of the fighting in eastern Ukraine since the summer has mainly been around the city of Bakhmut, which has taken on a symbolic significance that military analysts say outweighs its strategic importance.
But in recent days Russian forces have stepped up their assaults on the town of Vuhledar, just more than 90 miles south of Bakhmut. It sits at the intersection of the eastern front in the Donetsk region and the southern front in the Zaporizhzhia region, a location that makes it well positioned for resupplying Russian forces moving between the two fronts.
Military analysts say Ukrainian forces have been using their positions in and around Vuhledar to launch attacks on the region's main railway hub in the occupied town of Volnovakha, less than 10 miles away, threatening Russia's resupply efforts. Trains are essential for moving heavy equipment and large troop formations across the battlefield, so the more Ukrainian forces can cut off the lines running from Russia to southern Ukraine, the more they can isolate Russia's forces in the region.
In that light, pushing the Ukrainians back from Vuhledar would help Russia secure the train lines. It "guarantees Russia a stable supply of the southern part of the occupied territories," according to an analysis issued Saturday by the Conflict Intelligence Team, an independent group that analyzes open-source intelligence.
Denis Pushilin, the Moscow-appointed leader of the Donetsk region, said an eventual capture of Vuhledar by Russian forces "solves many problems," and predicted that the town "may become a new, very important success for us," according to Russian news reports on Friday.
Ukrainian officials have rejected recent reports from Kremlin proxy officials and Russian military bloggers of advances in the area. Col. Sergei Cherevaty, spokesperson for Ukraine's eastern military command, reported fierce fighting around Vuhledar but said on Saturday that Ukrainian forces had thwarted the Russian attacks.
Neither the Russian nor the Ukrainian claims could be independently verified. Britain's Defense Intelligence Agency said Friday that Russian military sources were probably "deliberately spreading misinformation in an effort to imply that the Russian operation is sustaining momentum."
In his overnight address to the nation Friday, President Volodymyr Zelenskyy of Ukraine called the intensity of the fighting around Bakhmut and Vuhledar "extremely acute" and destructive.
"The occupiers are not just storming our positions – they are deliberately and methodically destroying these towns and villages around them," he said.
The intense fighting has led to numerous casualties on both sides as the Ukrainian and Russian militaries pound away at one another with artillery and missiles. At a military hospital near Bakhmut on Saturday, there were at least eight bodies of Ukrainian soldiers in the morgue, and the sound of incoming and outgoing artillery shells was incessant.
On Saturday evening, Russia's Defense Ministry claimed that Ukrainian forces had used a U.S.-made multiple rocket launcher known as HIMARS to strike a hospital in the Russian controlled Ukrainian region of Luhansk, killing at least 14 people.
But Ukrainian officials said the building, located near the town of Novoaidar, was actually a division headquarters of the Russian military. The building was equipped with an antenna and special communications equipment, which is not typically found at a hospital, said a senior Ukrainian official, who spoke on condition of anonymity to discuss military operations.
The official said Ukrainian forces spent several days trying to determine whether the building was in fact a headquarters and whether they would be in violation of international law in case of an attack. The decision to fire was made only after precise confirmation, including photos and videos of the communications equipment installed there, the official said.
The devastating toll on civilians from those attacks was evident Saturday morning in the village of Kostyantynivka, about 15 miles southwest of Bakhmut, where a Russian missile strike killed three people and wounded 14 others.
In the courtyard of a residential neighborhood, the body of a man lay sprawled on the ground amid wreckage and debris. His mother knelt over him, sobbing and stroking his side. Another corpse was covered by a sheet, splayed out near a wheelbarrow that the man had likely been pushing at the moment of impact.
A woman, smoking on a balcony above the courtyard, cried and shouted out to no one in particular: "I hate you all."
This article originally appeared in The New York Times.
Local journalism is essential.
Give directly to The Spokesman-Review's Northwest Passages community forums series -- which helps to offset the costs of several reporter and editor positions at the newspaper -- by using the easy options below. Gifts processed in this system are not tax deductible, but are predominately used to help meet the local financial requirements needed to receive national matching-grant funds.
Subscribe now to get breaking news alerts in your email inbox
Get breaking news delivered to your inbox as it happens.
---