Sports > Gonzaga basketball
Recap and highlights: Julian Strawther erupts for 40 points as Gonzaga pulls away from Portland 82-67
Jan. 28, 2023 Updated Sat., Jan. 28, 2023 at 8:09 p.m.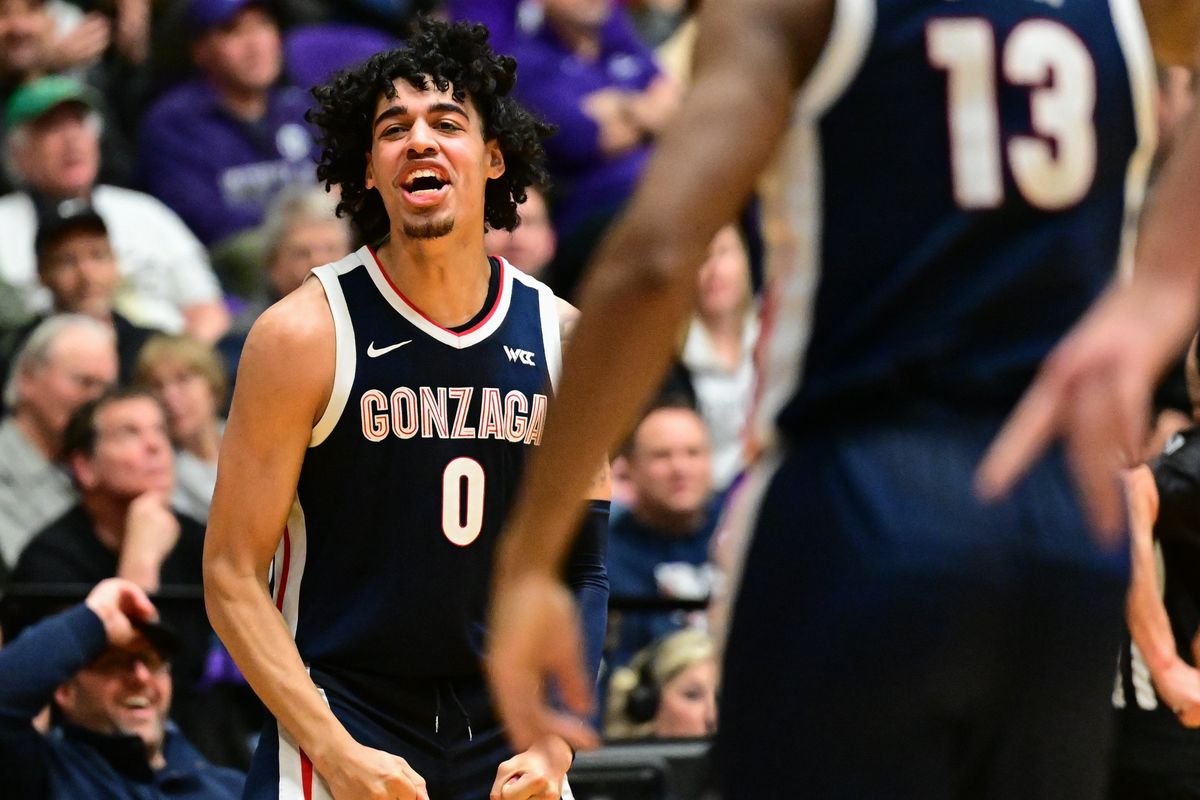 Gonzaga Bulldogs guard Julian Strawther (0) reacts after hitting a three against the Portland Pilots during the second half of a college basketball game on Saturday, Jan 2023, the Chiles Center in Portland, Ore. Gonzaga won the game 82-67. (Tyler Tjomsland/The Spokesman-Review)
PORTLAND – Julian Strawther had his best night in a Gonzaga uniform.
The junior wing scored a career-high 40 points with eight 3-pointers, holding off Portland 82-67 on Saturday at the Chiles Center.
Strawther made 14 of 21 attempts from the field and went 8-for-12 on 3-pointers. He is the first Gonzaga player to score 40 points since Kyle Wiltjer in 2015.
The Pilots cut the Zags lead to two points with just under nine minutes remaining. Strawther made a 3 on the following possession, as the No. 14 Bulldogs (18-4, 7-1 West Coast) closed on a 26-13 run. In fact, from the 8:53 mark the score was: Strawther 14, Portland 13.
Anton Watson was the only other Zag in double figures with 17 points, five rebounds and four assists. Drew Timme had a quiet eight points on 3-for-7 shooting, with five rebounds and five assists.
The Pilots (11-13, 3-6) were led by Moses Wood's 19 points, while Juan Sebastian Gorosito added 17. Former Eastern Washington players Michael Meadows and Tyler Robertson had 10 points apiece.
The Bulldogs face a treacherous week, hosting Santa Clara on Thursday and at Sant Mary's on Saturday. The Gaels are the only unbeaten in WCC play. The Broncos nearly upset GU on Jan. 7, losing by five points.
Youtube
First half
17:46 – UP 5, GU 4: Watson scores the Zags first points on a pair of layups. Portland gets a 3-pointer from Wood to take the lead.
15: 36 – GU 11, UP 7: Wood fouls Strawther on a rebound attempt at the U16 media timeout.
Gonzaga forces four turnovers, leading to nine of its points. Hickman has two steals and Watson adds one.
13:51 – GU 14, UP 10: Wood makes his second 3-pointer to end the Zags run. Portland calls a timeout.
Strawther and Wood lead all scorers with six points apiece.
11:32 – GU 22, UP 14: Strawther with potentially his strongest start of the season, makes another pair of 3-pointers at the U12 media timeout.
Strawther has 12 points, going 4-for-5 on 3-pointers.
8:08 – GU 24, UP 21: Pilots on a 7-0 run, as Wood makes a 3-pointer for a game-high 13 points. Gonzaga calls a timeout.
Both teams up to six turnovers in the half, as the Zags go on a 2:56 scoring drought.
5:20 – GU 27, UP 21: Timme finds Strawther for an open 3-pointer in the corner to break the Zags scoring drought.
Strawther with more points than the rest of his teammates combined, up to 15 in the game, shooting 5 of 7 on 3-pointers.
3:01 – GU 29, UP 27: Watson is fouled and will shoot a pair of free throws after the U4 media timeout.
Halftime
The first half quickly turned into the Julian Strawther show, as the junior wing tied a career best with five 3-pointers to lead visiting Gonzaga over Portland 35-29 at halftime.
Strawther has a game-high 17 points, while Anton Watson added seven. Gonzaga shot 44.8% from the field in the half, but Strawther was the only Zag to make a 3, as the rest of the team went 0-for-6.
Portland did not make a field goal for the final 3:53 of the half. The Pilots shot 34.6% went 4 of 14 on 3-pointers. Moses Wood led with 13 points.
Portland was plagued by turnovers, committing nine in the first half, which led to 16 of Gonzaga's points. GU led for 17:03 minutes.
Second half
18:18 – GU 39, UP 29: Portland quickly adds more to its turnover total, as the Zags open with the first four points of the half on layups from Watson and Strawther. Portland calls a timeout.
15:45 – GU 41, UP 37: Turnovers spark an 8-0 run by the Pilots, which is snapped by Timme's second field goal of the game. He turns it over at the U16 media timeout.
Wood up to 16 points for Portland.
11:51 – GU 50, UP 44: Robertson chases down Timme for a block at the U12 media timeout. Pilots won't go away yet, despite Zags leading in most statistical categories.
7:52 – GU 59, UP 54: Each team trading 3-pointers at the U8 media timeout, as Strawther is having a career night with 29 points and seven 3s.
Gorosito taking charge for Portland, up to a team-high 17 points with 11 in the second half.
2:38 – GU 75, UP 61: Zags running away with it, building their largest lead at the U4 media timeout.
Strawther has 36 points and eight 3-pointers, enjoying the best game of his Gonzaga career.
Pregame
A break was much needed for Gonzaga.
The Bulldogs sat out of Thursday's West Coast Conference slate of games a week after their home win streak fell to Loyola Marymount and struggled in a narrow win over Pacific.
The Zags were let to stew over those results for a full week, before today's meeting at Portland, a team they beat by 40 points on Jan. 14. Tipoff is set for 4 p.m. and the game will be broadcast on KHQ and Root Sports.
The Bulldogs (17-4, 6-1 WCC) dropped eight spots to No. 14 in the AP Poll. Aside from routs of Portland and Pepperdine, Gonzaga hasn't separated itself from the WCC field, with its other four wins by a combined margin of 17 points.
The Pilots (11-12, 3-5) earned home wins over San Diego and Pepperdine last week, before losing to LMU on Thursday, 79-60.
Portland struggled on 3-pointers and from the free throw line in its last meeting with Gonzaga, shooting 33% and 62%, respectively. They'll need to improve on those two areas to have a chance against the Zags.
Series history
Gonzaga holds a 96-48 all-time series lead over Portland with 15 consecutive wins. The Bulldogs have lost to the Pilots once since 2003.
Team stats
Individual leaders
Game preview
More on the Zags
Local journalism is essential.
Give directly to The Spokesman-Review's Northwest Passages community forums series -- which helps to offset the costs of several reporter and editor positions at the newspaper -- by using the easy options below. Gifts processed in this system are not tax deductible, but are predominately used to help meet the local financial requirements needed to receive national matching-grant funds.
Follow along with the Zags
Subscribe to our Gonzaga Basketball newsletter to stay up with the latest news.
---