Sports > High school sports
'On a mission': Lake City boys rout Coeur d'Alene; first-round loss last season fuels state title pursuit
Jan. 28, 2023 Updated Sat., Jan. 28, 2023 at 10 p.m.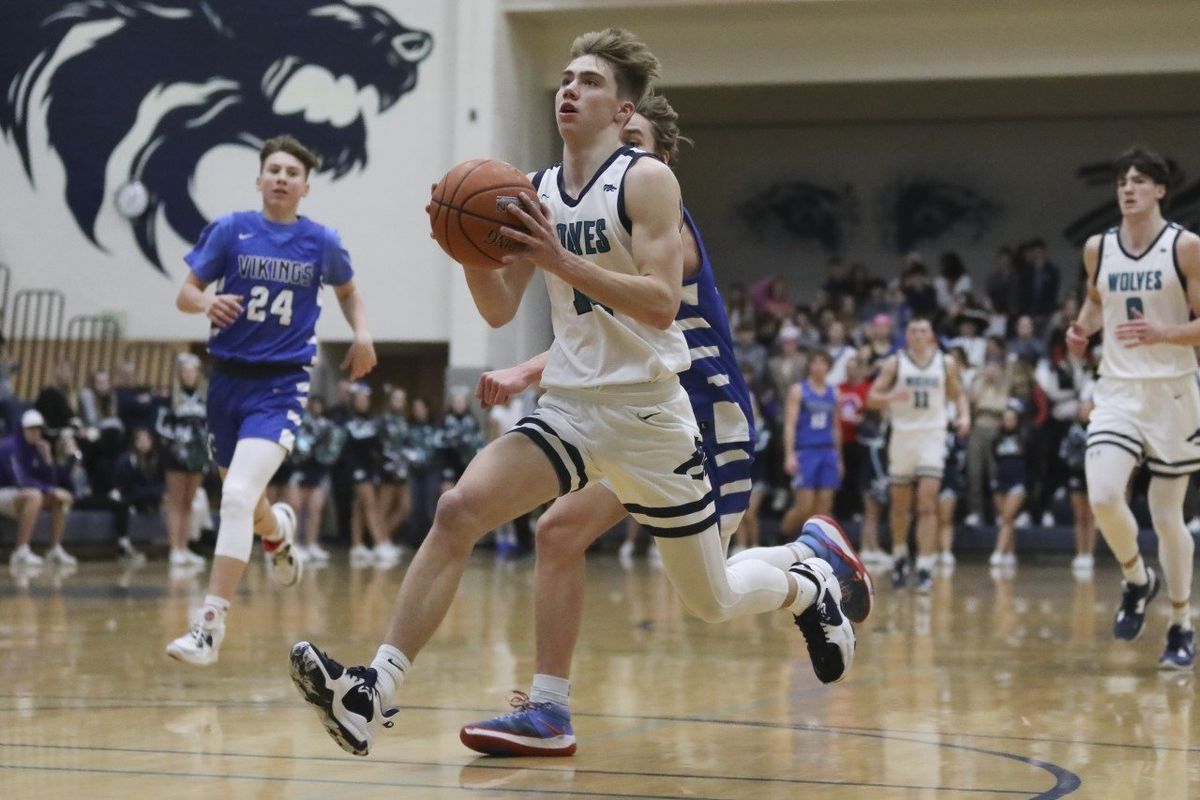 Lake City's Kolton Mitchell goes up for a layup against visiting Coeur d'Alene on Saturday, Jan. 28, 2023. Mitchell finished with 29 points.  (Cheryl Nichols/For The Spokesman-Review)
The Lake City boys team entered the Idaho 5A State playoffs last season as the top seed following a one-loss regular season. But the state title that has eluded the program slipped away again after a first-round upset.
That loss has provided all the necessary motivation this year for veteran coach Jim Winger and his senior-laden team.
At home on Saturday against their archrival, the Timberwolves looked like they were not only ready for the state playoffs, but they played like they could qualify for a small-college conference tournament.
Kolton Mitchell, an Idaho State commit, scored 29 points without playing in the fourth quarter and top-ranked Lake City routed Coeur d'Alene 90-53 in front of a packed gym.
Deacon Kiesbuy added 16 points, Nathan Hocking (Ottawa University of Surprise, Arizona) had 15 and University of Virginia-bound Blake Buchanan, the 6-foot-11 post, chipped in 12 points, eight rebounds and four blocked shots.
"I think we moved the ball real well, you know, moved well without the ball and we all got a lot of shots," Mitchell said. "You know, they went in today and that's kind of what helped us get out to a big lead."
Lake City (15-0, 4-0) scored the first 10 points and it never got closer than that.
Logan Orchard led Coeur d'Alene (11-6, 3-3), ranked No. 4 in the state media poll, with 18 points and Alexander Nipp added 12.
"It was a good game. Come out, play hard," Buchanan said. "It's a league game playing against our rival. We knew what we wanted to do and just go out there and kind of show it. Show 'em who's boss."
"It's funny," Winger said. "My son JJ was saying the other day, 'You know Dad, one of these times all your guys are gonna cut it loose and play a great three quarters or so,' and I think we did that today."
"We're running a new offense this year," Buchanan said. "So, we're trying to get used to that and just getting the flow of everything and just playing together. It's our last year, so we kind of got to put it together and finish strong."
As impressive as the offensive show was, Winger wanted to talk defense.
"Scoring a lot of points is nice, but I think the thing that these guys don't get enough credit for is defensively," he said. "How we been playing in particular the last month – our defense has been outstanding. You know, we've got a lot of firepower, but when we get after it like that on defense, we're an awfully tough team."
Hocking scored six of the first eight points of the game, the last two on a two-handed jam. The next time down, Buchanan swatted a shot into the stands.
"We have pressure out front on the 3-point line because we have Blake standing there waiting for you," Winger said.
"We don't want to get beat off the bounce, but we've got a 6-foot-11 guy going to Virginia staring at ya."
Winger doesn't have to provide any additional motivation for his team. They all know the goal – as well as the bitterness from the way last season ended.
"It fuels us a lot," Mitchell said. "I mean, going back looking at that film, you know, it hurts. I think it was our worst loss we've ever had, you know, being the one seed and stuff. So yeah, it broke us really.
"But it also motivated us a lot and I think we got a whole lot better than last year. I think this team is way different. Our defense, our bodies are a whole lot bigger, stronger, faster. You know, we're a different team."
The loss changed the way the T-wolves approached the offseason.
"It was a big loss for us, and I think we took it right and we went hard in the offseason," Buchanan said. "We worked hard and you know, it's paid off. All things on the court, off the court, in the weight room. But yeah, we think about it, but it's kind of in the back (of the mind), you know? Remember, but we just gotta keep looking forward."
"They're really, really focused," Winger said. " 'Any team, any time' is my motto. I've been telling them, and it happens all the time. You know, it happened to us last year, so you've got to be ready. You've got to be looking straight forward, not messing around."
Winger's been honest with his team about the expectations.
"We've talked about it a lot, you just can't ignore it," he said. "I think, you know, as a group, they're on a mission and we just have to keep it rolling like we're doing.
"There's a lot of distractions with this team. I've said this before, when your first practice the news cameras are there, that's just different."
"We all know what our end goal is," Buchanan said. "And we've got to keep working on it day by day."
Girls
Coeur d'Alene 44, Lake City 40: Teagan Colvin scored 15 points, Madi Symons added 12 and the visiting second-ranked Vikings (18-2, 8-0) came from behind to beat the No. 4 Timberwolves (16-4, 6-2) in the early game.
Olivia Zufelt led Lake City with 19 points and Emberlyn Reynolds added 11.
"That's two good teams just fighting each possession," CdA coach Nicole Symons said.
"Seven (points) down with 5 minutes left and these guys – they did it. They got together as a group and they just said, 'We gotta dig in. We're better than this.' "
Madi Symons scored six points in the deciding 3-minute stretch in the fourth quarter.
"You know, it's her senior year," coach Symons said of her daughter. "She didn't want to give that one up. I'm proud of her for, you know, digging in and getting those buckets for us."
CdA went up by one with 1 minute, 3 seconds left. Lake City didn't get another shot off.
"I just said, 'We got to get one stop,' " Nicole Symons said. "One stop. And then we go down and miss a free throw. So I was like, 'Guys, we just need one more stop.' We got four stops in a row to finish the game."
Local journalism is essential.
Give directly to The Spokesman-Review's Northwest Passages community forums series -- which helps to offset the costs of several reporter and editor positions at the newspaper -- by using the easy options below. Gifts processed in this system are not tax deductible, but are predominately used to help meet the local financial requirements needed to receive national matching-grant funds.
Subscribe to the sports newsletter
Get the day's top sports headlines and breaking news delivered to your inbox by subscribing here.
---