Sports > Outdoors
Think Before You Sink: The do's (and don'ts) of wintertime trail etiquette
Sun., Jan. 29, 2023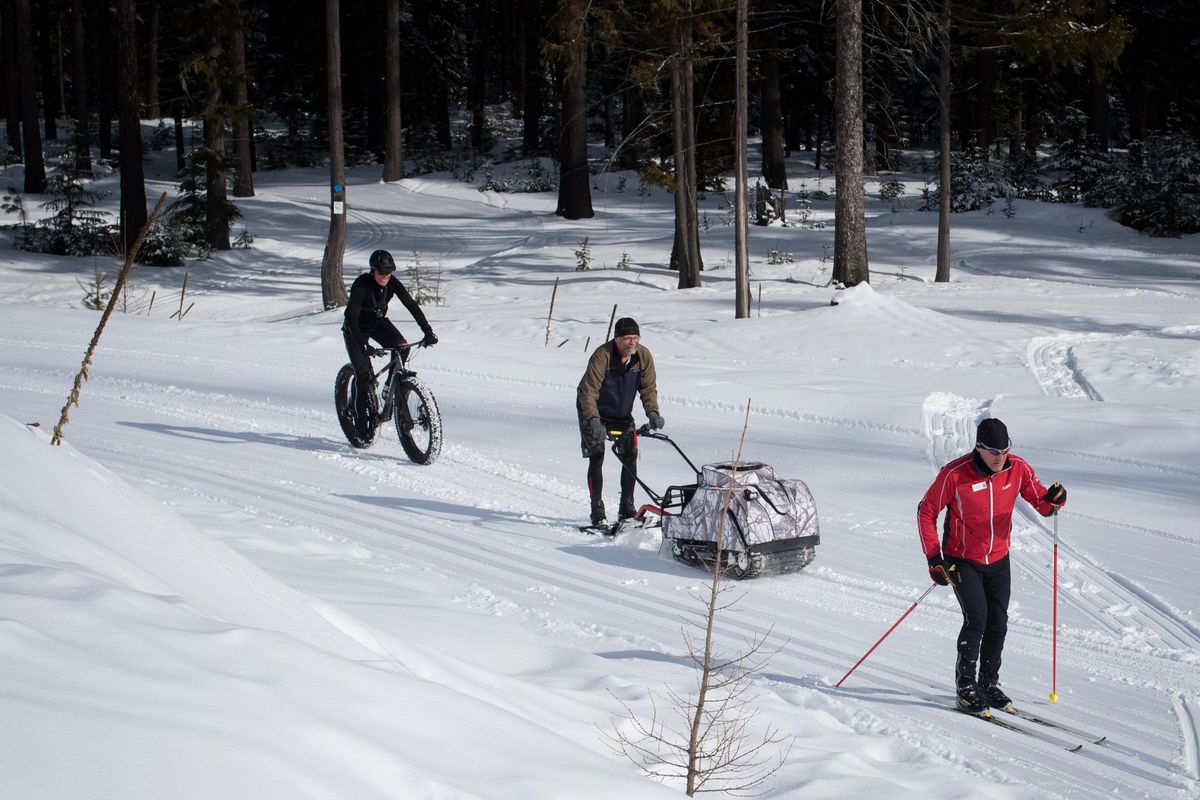 Frank Benish, center, demonstrates a small snow groomer used to create fat bike trails at 49 Degrees North. This year, Benish groomed 20 miles of trail at Riverside State Park before the snow melted. (Eli Francovich)
"Have you ever ridden a fat bike on a severely post-holed trail?" Frank Benish asked.
Flash back to muscling wide tires down a trail reminiscent of the back of a cheese grater … moments before my front tire caught in a particularly deep boot print, knocking me into the deep snow at the trail's side and over the handlebars with a WHOMP.
I laughed ruefully. "Yes."
Benish runs a singletrack grooming machine to pack down snowshoe and fat bike trails at Riverside State Park. At times, he also helps out at the Geophysical Sno-Park in Newport, Washington, or up at Mt. Spokane.
Benish points out that post-holed trails are not just less fun for the intended user groups, but they can become a safety hazard.
Benish described times he has come across trail users hiking or running on recently groomed trails with their feet punching deep holes in the snow.
"I try to use it as an opportunity to educate," Benish said.
As you may imagine, however, some people's responses have been less than polite.
Like most singletrack groomers, Benish's time grooming the trails is unpaid. In recent years, the Evergreen East Mountain Bike Alliance has offered to reimburse him for some of his expenses like fuel, for which he's grateful. With November and December's deep snow, Benish has put in 80 hours running the groomer.
"It's a labor of love," Benish said. "I love helping people to get outside and enjoy winter sports."
As a retired concrete finisher, Benish also likes the challenge of singletrack grooming. Each day is different. Factors like the humidity, temperature and snow density all affect how it packs. Keeping the groomer on track also provides an upper-body workout, especially in deep snow.
Benish typically drives the groomer for the first pass down the trails with a heavier sled called a "break tub." Then he grooms the trail again with a 22-inch steel sled to compact the snow. Typically, the snow is still soft after grooming and needs time (and, with luck, cold temperatures) to set. Sometimes to pack the snow down enough for the groomer to be successful, Benish and other community members will snowshoe along the track first.
"Back in the day, we used to do 'Poor Man's Grooming,' " Benish said . "We'd get five or six of us riding (bikes) in a line and cover a couple miles over and over until we set a track."
Singletrack grooming at Riverside State Park started as a pilot program in the winter of 2018-2019. Benish led the committee that mapped the original grooming trail plan. Benish grooms around 14-16 miles of trails near the Wilbur, Washington, and Seven Mile trailheads.
Groomed trail etiquette
The simple etiquette for sharing groomed singletrack (2-foot-wide trails packed by machine) is to use a different trail if a footprint or tire sinks more than an inch deep.
In those conditions, snowshoeing actually helps evenly pack down the soft snow. With a fat bike tire, sometimes letting some air out will help the tire to stay on top of the snow.
"The city and state are in full support of the grooming efforts and will work with our volunteers to continue educating and working with the public to make it all work," said Ryan Griffith, the assistant recreation director for the City of Spokane Parks and Recreation. "We all need to keep in mind though that the park is still open to the general public and is not a designated sno-park. … We also started grooming with the snowmobile cross-country ski groomer along the Centennial Trail from Wilbur up to the vaulted toilet in the burn area. The thought was to pack it down to provide a great place for walkers. Hopefully, we can get the word out about this option."
At Riverside State Park, as a multiuse park instead of a designated sno-park, it is OK to walk, snowshoe or ride fat bikes down the cross-country ski trail, but stay out of the cross-country ski tracks. To keep the experience enjoyable for all trail users, avoid walking or riding on any of the groomed trails if you sink into the snow more than an inch.
Local journalism is essential.
Give directly to The Spokesman-Review's Northwest Passages community forums series -- which helps to offset the costs of several reporter and editor positions at the newspaper -- by using the easy options below. Gifts processed in this system are not tax deductible, but are predominately used to help meet the local financial requirements needed to receive national matching-grant funds.
Subscribe to the sports newsletter
Get the day's top sports headlines and breaking news delivered to your inbox by subscribing here.
---