Sports > EWU basketball
Best of both worlds: Tanner, Jacob Groves watch Eastern Washington's magical basketball run from afar while celebrating their own at Oklahoma
Jan. 30, 2023 Updated Mon., Jan. 30, 2023 at 9:43 p.m.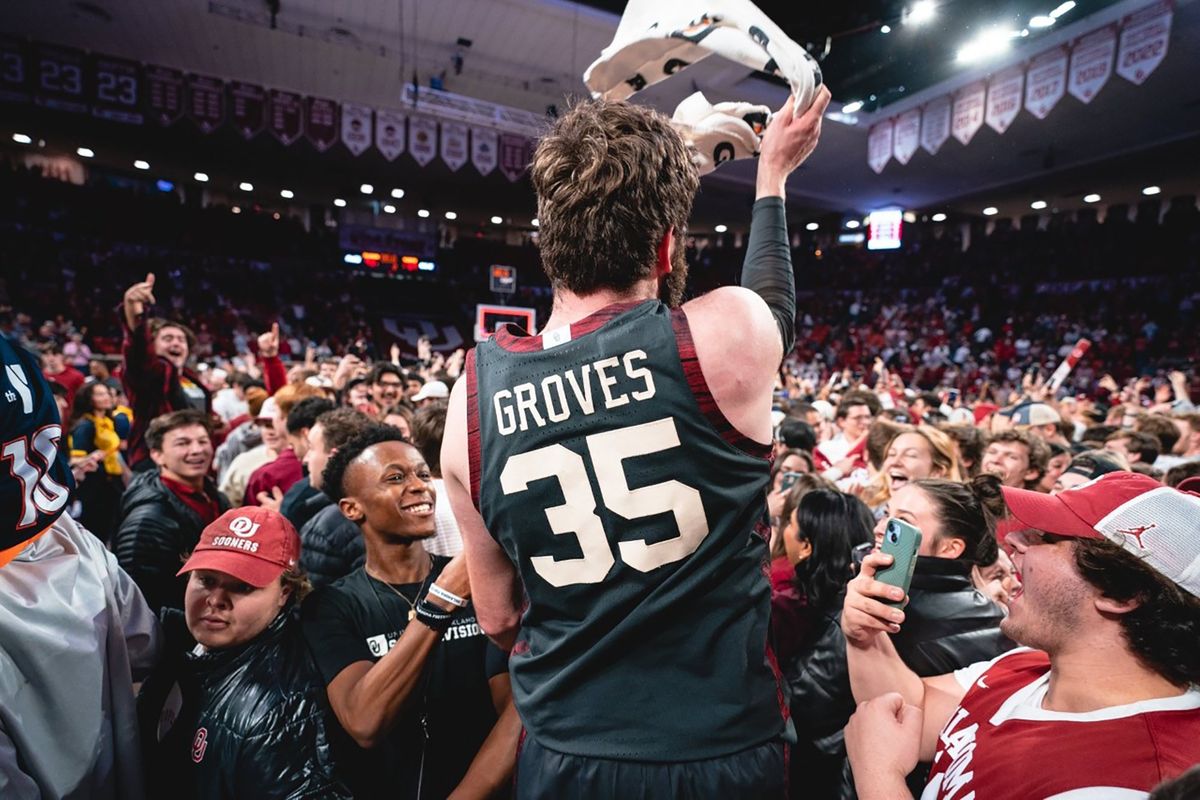 Oklahoma forward Tanner Groves, a Shadle Park alum and former Eastern Washington standout, celebrates Saturday's upset win over Alabama. (Courtesy of Oklahoma athletics)
Being teammates is nothing new for Jacob and Tanner Groves, which this talented duo from Shadle Park High School is again at Oklahoma. However, as their senior seasons wind down, both realize how special their nearly two seasons in the Big 12 Conference with the Sooners have been.
"Obviously, it's been pretty incredible. This is something you dream about when you're a kid, is playing on this stage against all these teams and the competition we get to play against," said Jacob Groves. "We're pretty much living the dream. We love it. We've had a lot of fun. It's sad for us but also exciting. The time's winding down and we're in our final few months playing together."
Tanner clearly agrees. "It's been great. I really enjoy playing here. It's a great university, a lot of great people," he said. "Just had a lot of fun meshing with this group of guys this year. Big fan of Coach (Carter) Moser and really think we have the program going in the right direction. It's cool getting to play in the best college basketball conference with your brother. Not a lot of people get to experience it. It's a pretty incredible opportunity."
On Saturday, the brothers experienced the best of it. Oklahoma throttled second-ranked Alabama 93-69 in Norman and both were in the middle of the throng of fans celebrating at midcourt afterward. Tanner Groves had 14 points and 12 rebounds for the Sooners (12-9). Jacob started but was held scoreless.
To date, both Groves have started all 21 games for OU, giving the Sooners a solid veteran presence on the floor for what is a young squad. Jacob Groves is averaging eight points and 2.6 rebounds while Tanner is averaging 10.2 points, 7.5 rebounds and leads the team with 22 blocks.
Of course, before they were teammates in Norman, they also roamed the hardwood together in Cheney at Eastern Washington, with Jacob playing two seasons there while Tanner, a former Big Sky Conference MVP, played three years there, including a redshirt season.
And with the Eagles currently riding a 12-game winning streak, the Groves brothers make it a point to keep up with how their former school is faring in the Big Sky. "Yeah, it's been a lot of fun (to see). I try to watch all their games when I get a chance," Tanner Groves said. "They're doing some big things right now at Eastern. Our old top assistant (David Riley) is now the head coach there. It's been really cool to see the success they've had. I'm really rooting for those guys."
Jacob Groves is also enjoying the ride with EWU. "We're still pretty close with Coach Riley and with a lot of the guys on the team," he said. "Still big Eags' fans, grateful for what they did for us. Loving what they're doing this year."
These days, it's rather easy to tell the Groves brothers apart with Tanner sporting a rather healthy beard while Jacob has a more clean-cut look, which is more by necessity than anything. "I'm curious (about having a beard). I just can't grow it, there's no chance," Jacob Groves said. "People have told me that it's not a bad thing because I shave my face probably once a week where Tanner's probably trimming his up every day. It's not the worst thing ever."
Of course, long before they were teammates at EWU and now at OU, they teamed up at Shadle Park, where Tanner earned all-state honors as a senior and Greater Spokane League MVP honors as a junior. During their time as Eagles and now Sooners, neither big man has ever lost sight of the fact that they represent Spokane every time they hit the hardwood. "I've got a ton of pride. I love where I come from and think the culture of hoops that we have in Spokane, it's really growing," Tanner Groves said.
"It's just a huge basketball community that the town loves to get behind. I know that a lot of people are Gonzaga fans, but I can't tell you the amount of texts and messages I get during the season. When I come home after the season, a lot of people care about us and basketball. It's really cool to have that support system."
Jacob Groves also takes immense pride in his Spokane roots. "Once you move away, you take for granted everything that Spokane is all about. You really miss it, everything about it and grew up doing," he said.
"I live for the long, extended weekends I get to go home or the couple weeks in May I get to go home or the Christmas (break). Those times are awesome. There's no question I love Spokane. It's Hooptown. It's home to some incredible basketball, some incredible basketball players and obviously it's home for myself and for Tanner. It's definitely a spot when my basketball career is over, I look to move back into that area and just grow the basketball tradition that it has."
And since they've both called the Sooner State home for almost the past two years at OU, both Groves have come to embrace some of Oklahoma's most popular foods, like fried catfish, not surprising since they're both big fish eaters when back home in Spokane.
"Oh yeah, the catfish is really good. I'd never tried it before I got down here," Tanner Groves said. "I'm a big fan of fishing. I do a lot of that up in the Northwest. The steaks are obviously great down here, too. Obviously, a lot of great food down here in this area of the country. It's been fun trying to explore and trying different things."
Jacob Groves has even developed an affinity for Oklahoma barbecue. "I've gotten into the catfish down here a little bit, which has been pretty good. Just tapping in with a little bit of the barbecue. There are a couple spots in Norman that you can go to get some pretty decent BBQ," he said. "Really tapping into some food that isn't quite Spokane's forte."
Stephen Hunt is a freelance writer based in Frisco, Texas.
Local journalism is essential.
Give directly to The Spokesman-Review's Northwest Passages community forums series -- which helps to offset the costs of several reporter and editor positions at the newspaper -- by using the easy options below. Gifts processed in this system are not tax deductible, but are predominately used to help meet the local financial requirements needed to receive national matching-grant funds.
Subscribe to the sports newsletter
Get the day's top sports headlines and breaking news delivered to your inbox by subscribing here.
---