Sports > High school sports
"Railroad Rumble": Cheney sweeps Rogers on the court; Pirates win spirit competition in second year
Jan. 30, 2023 Updated Mon., Jan. 30, 2023 at 10:09 p.m.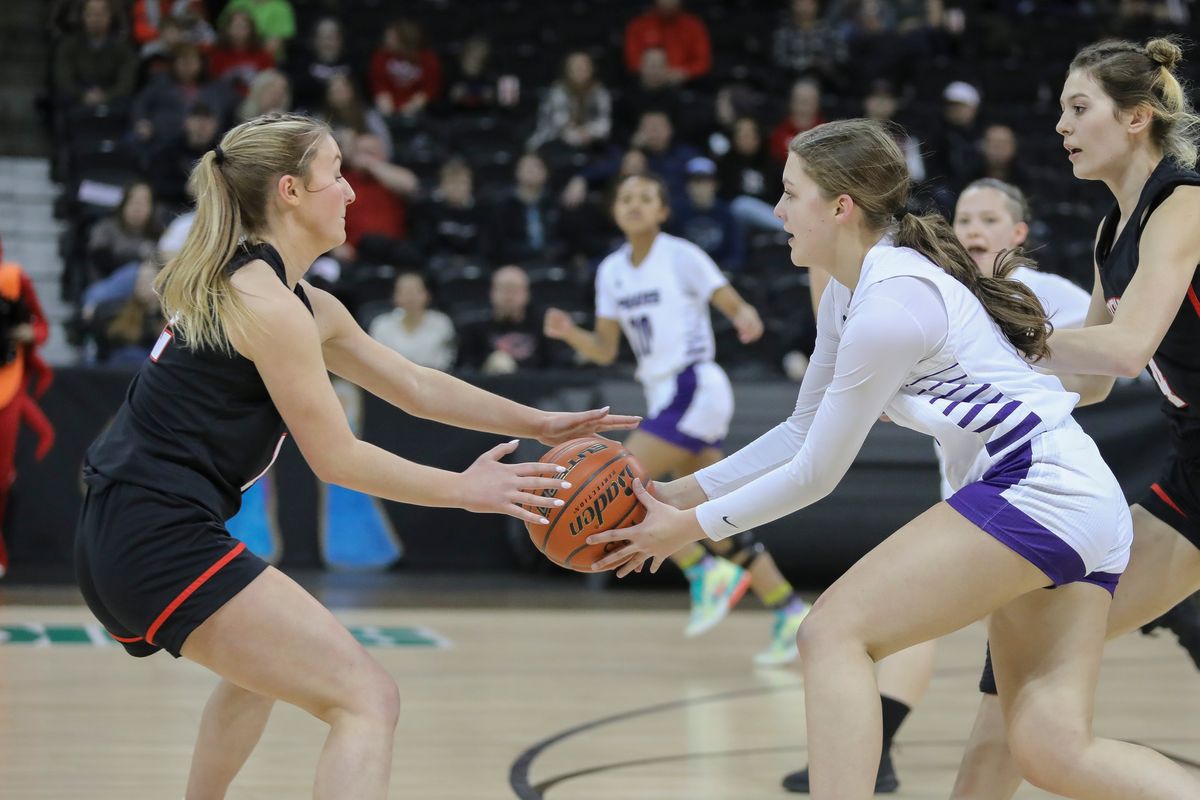 Cheney's Paige Evans, left, and Rogers' Angelica Cue-Leon fight for the ball during the "Railroad Rumble" at Spokane Arena on Monday (CHERYL NICHOLS/For The Spokesman-Review)
Playing on the big stage of the Spokane Arena in front of a good chunk of your student body during Spirit Week is a good time to find your offense.
For a couple of teams that might not have postseason aspirations, it was the highlight of the season.
Shauna Elliott scored 17 points, Macey Richards added 12 and the Cheney girls team set a season high for points, topping Rogers 68-37 in a nonleague game on Monday as the "Railroad Rumble" kicked off four nights of Greater Spokane League games at the Arena.
Emily Peabody led Rogers with 11 points.
Cheney (6-13) made the most of its size advantage.
"We've been doing that all year," Cheney coach Ken Ryan said. "We just haven't always been making the shots. We've been getting our share of shots all year, even against the GSL teams, so we'll just keep on doing it."
This is the second year for the Rumble. The teams faced each other last season at Eastern Washington.
Elliott said the Arena posed a different challenge from the game last year.
"Just the bigger area and the depth perception. It was just like, all the lights around. It's all flashing. I don't know it's a different atmosphere."
Elliott appreciated the size of the crowds. "Not a lot of people come to girl basketball games, so it was a lot of fun," she said.
"It was an awesome environment for both schools, and we get to show our spirit and in this awesome environment that our kids can take part in," Ryan said.
"It's super cool with the audience and just everyone being here, your school showing up," Richards said.
"It was fun," Elliott said. "I really liked the high energy from both crowds."
"The atmosphere is fun, energy is fun and it's a good experience for our kids," Rogers coach Lindsay Hernandez said.
"It's just a cool opportunity for our kids. Now we get to play in the Arena. Rogers has never been able to play a spirit game in the Arena. And so now, my girls being able to do that, it's just a really cool experience for them."
Cheney got off to a quick start. Mia Ashcroft hit a 3-pointer from the wing and added a medium-range jumper and the Blackhawks raced out to a 15-5 lead.
Richards made two of her four baskets in the quarter late, and Cheney led 22-8 after one. Paige Evans had six in the second quarter, including a steal and layup at the buzzer, and the Blackhawks went up 37-13 at the break.
Rogers (2-14) post Emily Peabody scored five quick points at the start of the third quarter, but Richards converted a fast break layup midway through the quarter to push Cheney over its previous season high.
A 3-pointer from the corner by Ashcroft (10 points) made it 53-27 entering the fourth.
BOYS
Cheney 61, Rogers 48: Jakeb Vallance and Gentz Hilburn scored 17 points apiece, and the Blackhawks (6-12) topped the Pirates (9-7) in the late game.
Deon Kinsey led Rogers with 14 points and Treshon Green added 10.
"Great experience. Awesome," Vallance said. "So special as a senior, it means a lot for all of us, the fans, to come out here. The whole community, really. Great, great experience."
"The seniors really stepped up for us in this big environment," Cheney coach Travis Peevey said. "Big crowd, big arena, fun environment."
Tavionce Trammell scored seven points in the first, including a long 3, as Rogers took a 15-14 lead after one.
Cheney used a 9-0 run, including a four-point play by Vallance, to go up 26-21 midway through the second. Rogers tied it at 26 after Devin Holyfield converted three straight free throws.
But Vallance drained a pair of 3s right before halftime, and Cheney led 32-26 at the break. Vallance had 15 points in the first half.
Hilburn went 5 of 5 at the line and ended with nine points in the third as the Blackhawks extended their lead to 49-38 entering the fourth.
Local journalism is essential.
Give directly to The Spokesman-Review's Northwest Passages community forums series -- which helps to offset the costs of several reporter and editor positions at the newspaper -- by using the easy options below. Gifts processed in this system are not tax deductible, but are predominately used to help meet the local financial requirements needed to receive national matching-grant funds.
Subscribe to the sports newsletter
Get the day's top sports headlines and breaking news delivered to your inbox by subscribing here.
---