100 years ago in Spokane: Two divorces with little in common were front page news
Tue., Jan. 31, 2023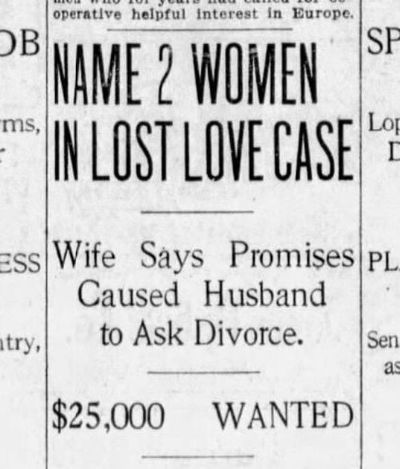 Two different divorce proceedings made front page news in Spokane.
In the first, Roberta Ryan sued Lucy Mead and Edna Adair for $25,000 for "alleged alienation of the affections of her husband, James M. Ryan."
Roberta Ryan declared in her lawsuit that the two women caused her husband to start divorce proceedings by "promises and false accusations."
Roberta Ryan's attorney said that Mead – an elderly, wealthy woman – had been "aiding Miss Adair in her attempt to get Mr. Ryan."
Adair, described as being a wealthy young woman, retorted that "the charges are ridiculous."
"Mrs. Mead and Miss Adair have only known Mr. Ryan for a short time and there is no basis for the suit against them," their attorney said. "It is true they are women of means, but they certainly had nothing to do with the trouble between Mr. and Mrs. Ryan."
He promised to prove their innocence.
In the second case, Fred Billings, 68, obtained a divorce from Clara Billings, 54, because of a row over his table manners.
Among other things, she objected to the fact that he "drank coffee from his saucer."
Billings said he tried to have better table manners, but his wife then told him that he couldn't smoke. Nor would she let him chew tobacco.
He eventually built a "smoking den" outside, and was finally "obliged to do my own cooking out there."
Local journalism is essential.
Give directly to The Spokesman-Review's Northwest Passages community forums series -- which helps to offset the costs of several reporter and editor positions at the newspaper -- by using the easy options below. Gifts processed in this system are not tax deductible, but are predominately used to help meet the local financial requirements needed to receive national matching-grant funds.
Subscribe now to get breaking news alerts in your email inbox
Get breaking news delivered to your inbox as it happens.
---