News > Nation/World
Cook County prosecutors dismiss all charges against R. Kelly
Jan. 31, 2023 Updated Tue., Jan. 31, 2023 at 8:43 p.m.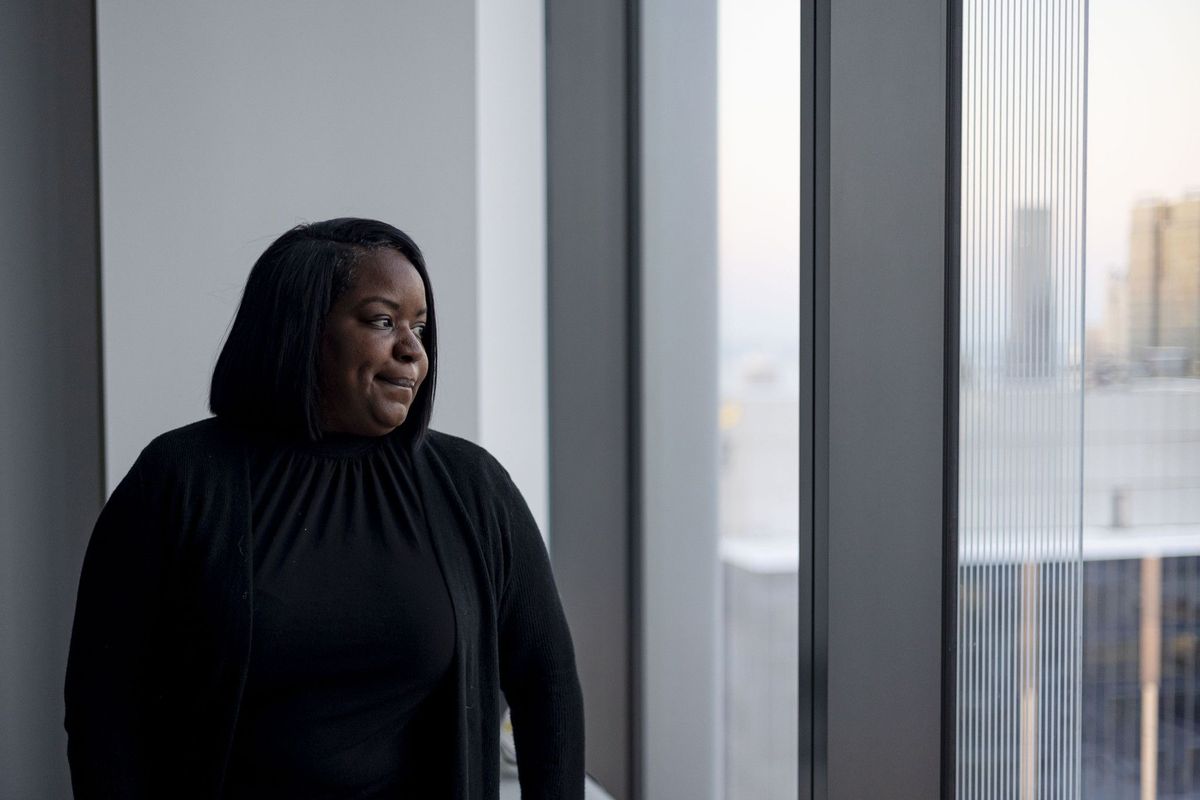 Lanita Carter, one of R. Kelly's accusers, is seen before speaking about her assault and the decision by Cook County State's Attorney Kim Foxx not to pursue the case on Jan. 30. (Tribune News Service)
Cook County prosecutors formally dismissed all charges against imprisoned R&B star R. Kelly on Tuesday, marking a subdued end to indictments that made international headlines when they were announced four years ago.
State's Attorney Kim Foxx announced the office's intention to drop the cases at a news conference Monday. While they believe the allegations against Kelly to be credible, she said, the singer is already facing decades in prison on separate federal convictions and her office has chosen to spend its limited resources on other matters.
During a brief hearing before Judge Lawrence Flood, prosecutors moved to nolle prosequi, or dismiss, the four indictments alleging Kelly committed sexual abuse and assault.
The four Cook County cases were announced in 2019 after Foxx made an unusual public plea for Kelly's accusers to come forward, saying their cooperation is necessary to bring Kelly to justice.
But those indictments were soon overshadowed by bombshell charges from federal prosecutors in New York and Chicago. The county cases took a back seat for years while Kelly was convicted in one federal courtroom, then the other.
Kelly was sentenced to 30 years in prison for racketeering in the New York case. He is scheduled to be sentenced in Chicago next month on convictions related to child pornography and sexual misconduct with minors.
The federal convictions forced Cook County prosecutors into a tough calculation. If they brought him to trial and won, it would have little concrete effect on Kelly, who is expected to spend decades in federal custody no matter what they do. If they lost, it would prove embarrassing for the office that announced charges earliest and with great gusto.
Either route would have cost significant time and resources, and potentially require victims to relive traumatic moments on a very public witness stand.
Foxx said Monday that the office had consulted with the women at the center of the indictments before dropping charges, and reactions were mixed. Some were connected to the other cases and were satisfied with the ultimate outcome, given they had already endured the stress of the federal trials, Foxx said.
Foxx said Kelly's accusers "are to be commended for their bravery and their relentless pursuit of justice no matter how long it took."
One Kelly accuser, Lanita Carter, told the Chicago Tribune she was devastated when she heard the news.
"If you believe me, then you fight for me. If you believe me, you advocate for me," she said.
One of the Cook County cases centered on Jerhonda Pace, who was a key witness against Kelly at his New York federal trial last year. Another focused on videos of Kelly abusing his then-teenage goddaughter, which jurors in Kelly's Chicago federal trial viewed over the summer. Kelly's defense had previously indicated it would attempt to have a judge throw out those cases on the grounds they were similar to the conduct for which he was convicted federally.
A third Cook County case centered on a woman identified as H.W., who accused Kelly of having sexual contact with her when she was just 16. A fourth indictment centered on Carter's accusations.
Local journalism is essential.
Give directly to The Spokesman-Review's Northwest Passages community forums series -- which helps to offset the costs of several reporter and editor positions at the newspaper -- by using the easy options below. Gifts processed in this system are not tax deductible, but are predominately used to help meet the local financial requirements needed to receive national matching-grant funds.
Subscribe now to get breaking news alerts in your email inbox
Get breaking news delivered to your inbox as it happens.
---